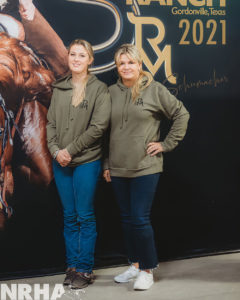 Corinna Schumacher, of Givrins, Switzerland, has parlayed the performance of exceptional horses based at her CS and XCS Ranches into National Reining Horse Association Million Dollar Owner status, one of only 16 owners to reach that milestone. With earnings at $1.2 Million and counting, the ranches have become known for quality in horses and in horse care.
Although she grew up with a love and passion for horses, reining competition wasn't a given for Schumacher. As the wife of legendary Formula 1 racecar driver Michael Schumacher, her time was spent traveling around the world with him.
But, as most parents know, children can and will change the path of one's life.
When the couple's daughter, Gina, first got a Shetland pony, the groundwork was laid for a new and ultimately very successful pursuit. Corinna purchased more horses and began showing them herself in American Quarter Horse Association competition, concentrating on trail and pleasure classes. She enjoyed showing but looked at other events – and that's where her reining story began.
Eventually, Corinna would go on to earn NRHA European Affiliate titles and an NRHA Intermediate Non Pro World Championship. Corinna wasn't the only Schumacher enamored with reining, as Gina had graduated from the world of English saddles and also turned her attention to the sport. She first showed a pony in reining at the age of 9, then moved on to her mother's horses. A workable and successful pattern evolved where Corrina would ride a horse for a few seasons before passing it on to Gina.
She established CS Ranch in Givrins, Switzerland and it became the base of operations, home to about 25 reining horses and host to multiple prestigious reining events. When Corinna recognized the scope of the discipline in the United States, that led to the purchase of 460 acres in Gordonville, Texas, upon which she built a state-of-the-art facility. Named XCS Ranch and completed in 2012, it is home to an impressive show string and 130 broodmares with NRHA $2 Million Rider Duane Latimer as the resident trainer.
Now the two ranches work together. Horses are shipped from XCS Ranch to CS Ranch each year where they are shown in Europe then sold to European clients.
It's been a successful program for both Schumacher women. In her career, Corinna won more than $53,000. Gina, now 24 years old, holds NRHA earnings over $716,000. She has amassed major reining championships and accolades in both Europe and the United States and was the only woman and Non Pro to qualify for the 2021 Run For The Million presented by Teton Ridge.
For Corinna, the milestone Million Dollar Owner accomplishment is not the focal point of her time involved in reining. Rather, it is the moments and memories along the way that she has shared with her daughter.
She explained, "This is something that Gina and I have done together. That has been the most important thing."
Plus, she feels that they have become part of a larger family – one that is worldwide. "For us, being involved in reining is like being part of a family," she said. "The reiners have been so accepting that we feel welcomed and comfortable wherever we go to show."
Schumacher's top earners (at time of ownership) include:
Revolution Is Dun – $120,294
Snip O Lution – $107,114
Gotta Nifty Gun – $69,906
Shine N Whiz – $63,054
Oh Starry Nite – $56,776
For more information about CS and XCS Ranches, visit cs-ranch.com
For a complete list of owners, riders, sires, and dams who have reached Million Dollar Milestones, visit nrha.com/milliondollar