The Run for a Million (TRFAM) has continued to grow immensely after its inception in 2019, and it will continue that growth by adding a Youth Championship to the event in 2023.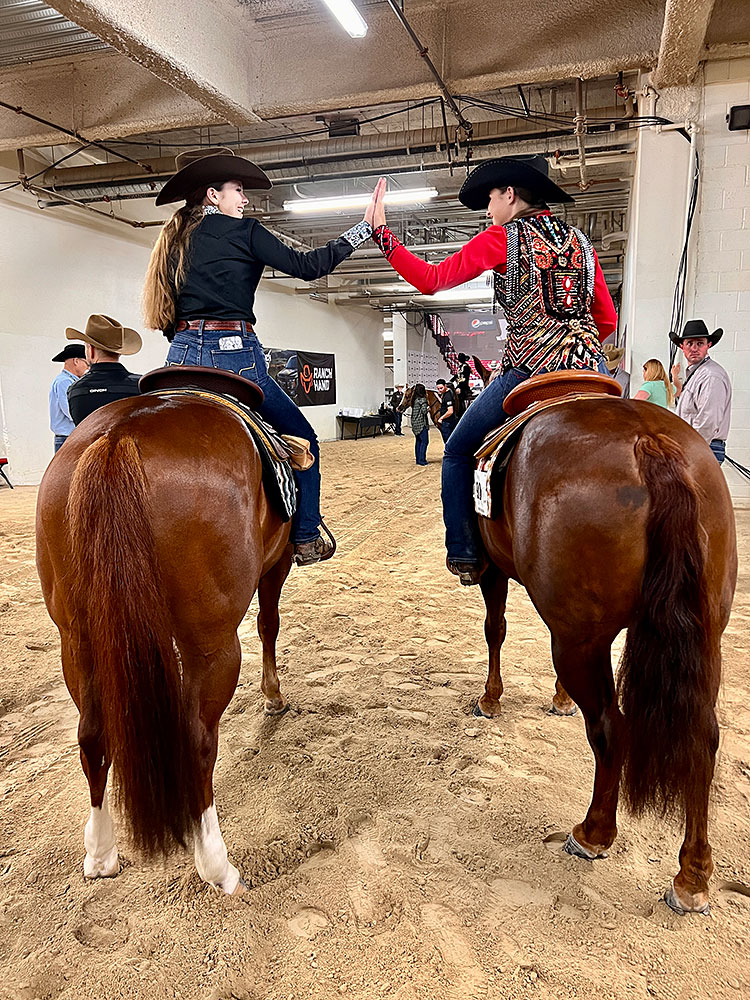 The Youth Championship will function similarly to the Non Pro and Rookie Championships by having a qualifying process. For the Youth Championship, a single qualifier will be held at the 2023 6666 NRHA Derby presented by Markel, with the Top 10, plus ties, to compete at the championship event on August 20, prior to the Million Dollar Competition.
"I really wanted to have some sort of youth program ever since we started this event," said Amanda Brumley, Event Producer and Vice President of The Run For A Million. "The event is such a huge production, having to cancel in 2020, not totally sure we could have it in 2021, made the decision-making process difficult. Last year we were more prepared in advance, knowing it wouldn't get canceled so we added so much, and the train is running full steam forward!"
Each year the event has added additional pieces to its lineup to encourage involvement from all levels of competition, and now across three disciplines, including reining, cutting, and reined cow horse. This year the $200,000 Cutting Horse Challenge will be the feature performance Thursday evening with the Youth Cutting Championship opening. The $200,000 Cow Horse Fence Challenge set for Friday evening will have their Youth Championship as an opener, and the Youth Reining Championship will compete Saturday morning," Brumley said.
There will be no prize money for the Youth Championship, but there will be big prizes, big publicity, and events to make the youth feel part of the entire production, according to Brumley.
"We want the youth competitors to feel special before and during the event and have an all-around great experience," she said. "Saturday, there is no competition scheduled during the day, so it is a great opportunity for the youth reiners to compete. We are planning special youth activities during The Run For A Million, including all the Youth Championship competitors, reining, reined cow horse, and cutting to get together for some fun. We want it to be a goal for them to want to qualify and participate in this event each year. Finally, all the planets and stars aligned for this!"
It is encouraged to plan your trip in advance as tickets and rooms at the host hotel often sell out early. For more information about The Run for a Million, visit trfam.com.
FAQs
Only one Youth Reining Championship qualifier will be held in 2023.
Qualifier runs in conjunction with the NRHA Derby Youth divisions Saturday, June 24, concurrent with the Unrestricted Youth class.
The top ten riders, plus ties, from the NRHA Derby qualifier will advance to the RFAM Youth Championship Saturday, August 20, in Las Vegas.
There is a $250 qualifier fee to enter.
The Unrestricted Youth Class is open to all youth members to enter on any horse, without ownership restrictions, even one not owned by them or their family (similar to the Youth 10 & Under Short Stirrup, Rookie, and Green Reiner classes).
Qualified riders have to agree to participate at TRFAM or management will jump down to the next rider in the results.
Just like TRFAM Non Pro and Rookie, qualified riders are based on the rider, not the horse.