The 6666 National Reining Horse Association Derby presented by Markel is in full swing at the OKC Fairgrounds in Oklahoma City, Oklahoma. While the aged-event rocks the Jim Norick Coliseum, NRHA-approved classes are held in the Adequan® Arena. The first of the ancillary champions were crowned Friday, setting the bar high for the days to come.
Non Pro & Prime Time Non Pro (1) Champion- Morris Kulmer & NVR What A Lucky Joe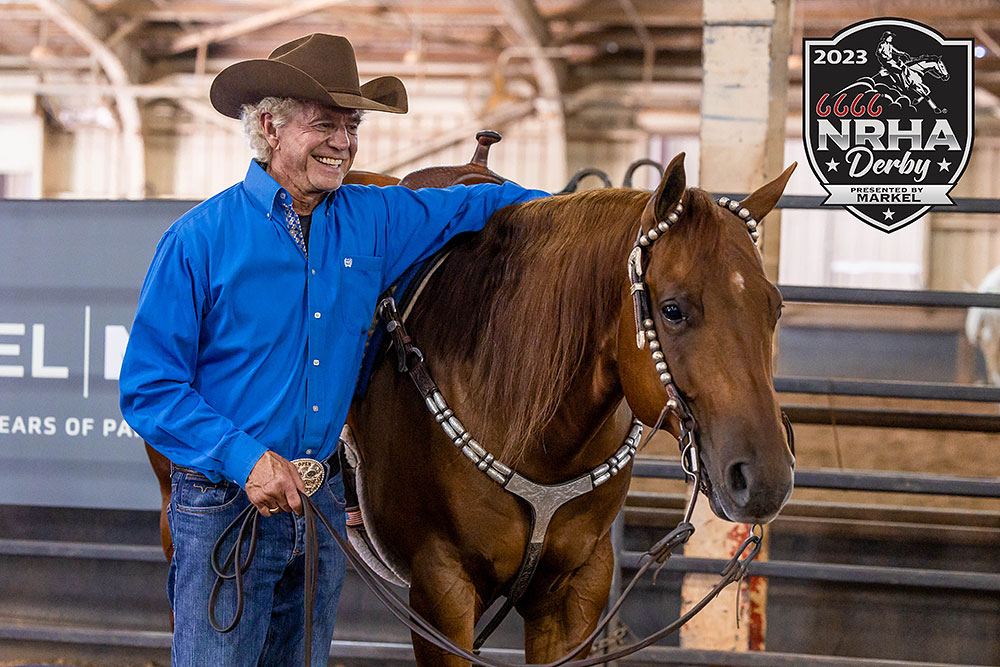 Morris Kulmer and NVR What A Lucky Joe took the first slate of the ancillary Non Pro and Prime Time Non Pro with a score of 145.
NVR What a Lucky Joe, affectionately called Joey, is a 2014 gelding sired by NRHA Two Million Dollar Sire Lil Joe Cash and out of What A Lucky Hit. The gelding, bred by Gary Vickery, is the current highest-earning offspring of Lil Joe Cash, with over $158,000 dollars in lifetime earnings.
Kulmer wasn't certain he was going to bring 'Joey' to the NRHA Derby but ended up bringing him on a whim after a missed run-off resulted in a lower placing at the National Reining Breeders Classic in April.
"I've got another horse here that I had hoped would outshine Joey, but I'm not so sure that's going to happen. He's setting the bar pretty high with this run," says Kulmer.
Intermediate Non Pro (1) Champion- Kathleen Armenta & Off N Running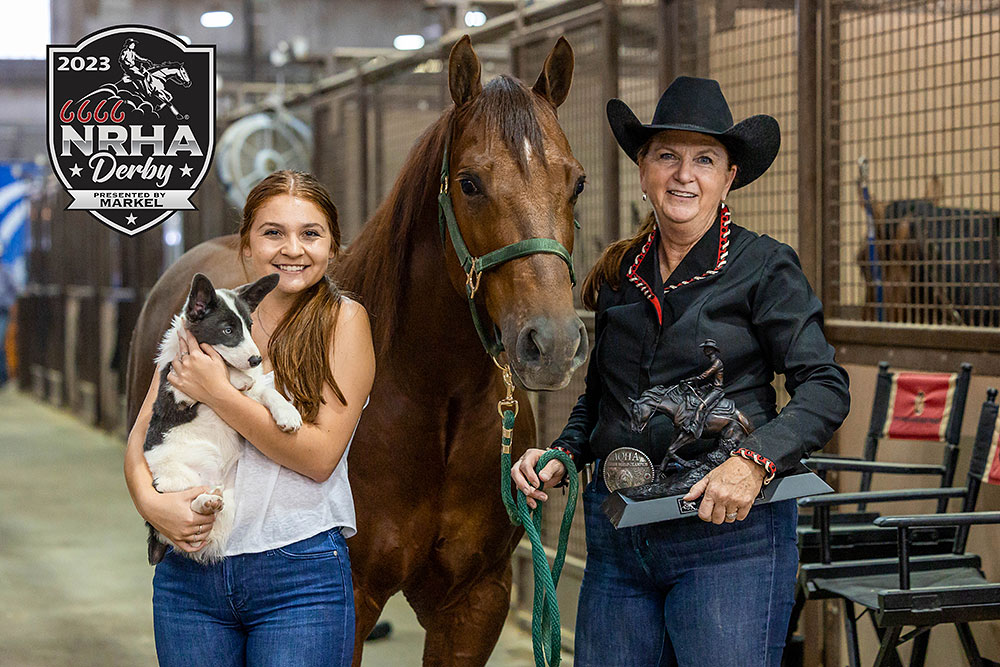 Kathleen Armenta and Off N Running started off the Derby on a strong note, winning the first slate of the ancillary Intermediate Non Pro.
"He's probably the best horse I've ever had," Armenta remarked. "He's a great horse. He's good enough to be in the open."
The 2015 gelding, sired by NRHA Four Million Dollar Sire Walla Walla Whiz and out of Spook Off Sparks, has earned over $69,000 to date. He was bred by Arcese Quarter Horses and is owned by Armenta Quarter Horses.
The pair also finished second in the Non Pro and the Prime Time Non Pro. "He was really good today. We were a 144.5. It held for a really long time until Morris came in and beat me by half a point. But that's what happens, so I was really happy with him," said Armenta.
Limited Non Pro (1) Champion- Adele Cunningham & KB Bucks N Guns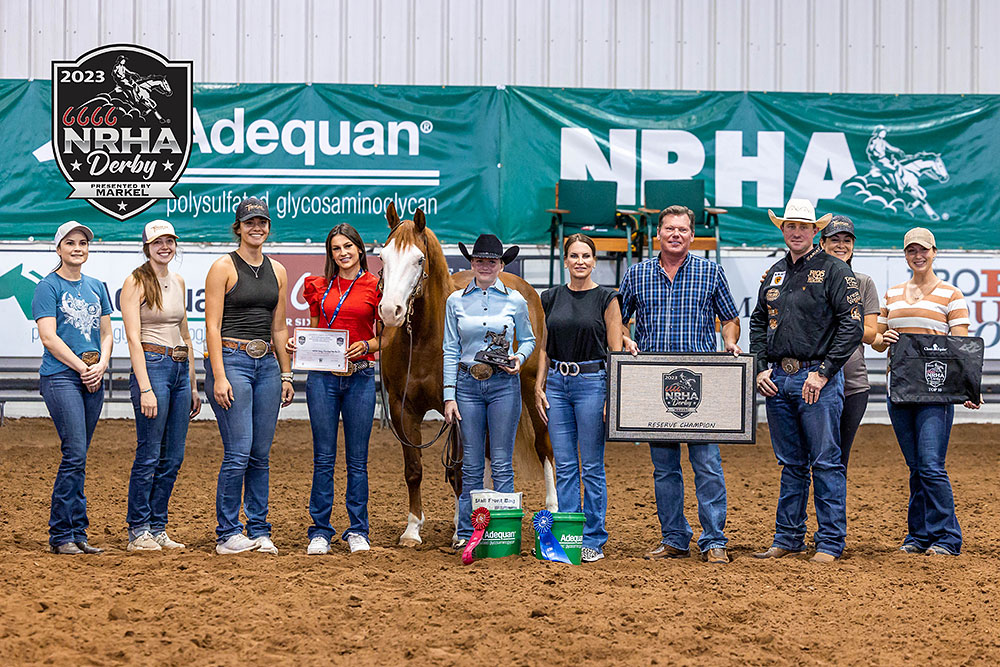 Adele Cunningham and KB Bucks N Guns, owned by Kaylene Cunningham and sired by NRHA 13 Million Dollar Sire Gunner and out of Smart Whizzin Jenny, started the week with a bang winning the NRHA Limited Non Pro class. The 2014 gelding was bred by Koen Brutsaert.
The Oklahoma heat and humidity can make a challenging week for horse and human alike, but Cunningham is focusing on lunging in the mornings and riding at night to keep KB Bucks N Guns legged up and ready for action.
"This run was amazing. He was just a little strong on the run downs, and I could've gone a little stronger on my run in, but overall just really good," Cunningham shared with a smile.
This team won the class with a score of 142.5, with Cunningham giving a special thanks to the Tishman barn, her parents, and her sister for allowing her the opportunity to ride KB Bucks N Guns.
Classic Equine Green Reiner Level 1 & Level 2  (1) Champion- Caroline Nielson & Hot Hollywood Whizky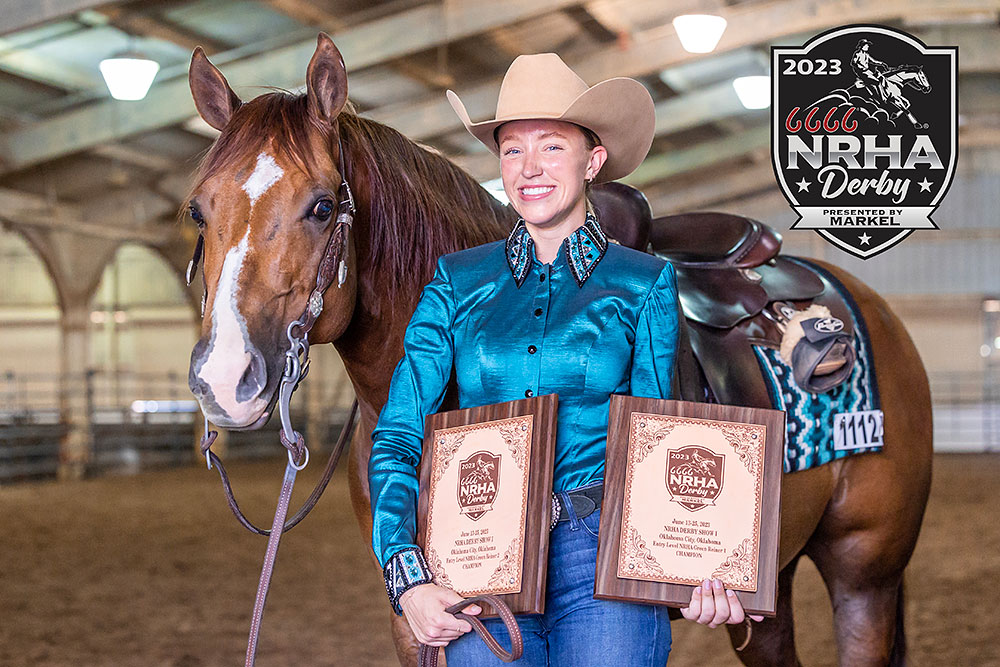 Caroline Nielson and Hot Hollywood Whizky, a 2012 gelding by NRHA 12 Million Dollar Sire Topsail Whiz out of Hot Hollywood Jewels, won the first slate of the Classic Equine Green Reiner Level 1 and Level 2 with a score of 139.5.
Hot Hollywood Whizky, known around the barn as "Money," is shown through a partnership between Nielson and Kent Ray Taylor (KRT/MAN LLC). The talented reiner, bred by Turnabout Farm Inc., has earned more than $120,000 in his career.
"On a whim, we were like, let's just do it. I'd never ridden a reiner before, but it seemed fun, so I figured I should just do it," Nielson said, beaming.
Although Money has an extensive reining resume, this was only Nielsons third time to be in the pen with him. She took the time to thank her family for their unwavering support, Craig Schmersal, Mandy Faust, and most of all, Money.
For complete results and a competition live stream, visit NRHADerby.com.