It was all about the kids in the Adequan Arena on Saturday at the National Reining Horse Association Derby presented by Markel Insurance. More than 80 young riders competed in the first slate of youth ancillary classes. Many will return to the Oklahoma State Fairgrounds on Sunday to compete in the second slate of classes.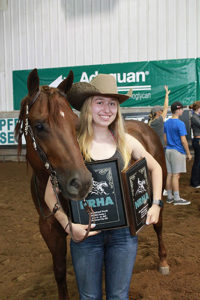 Unrestricted Youth [1] and Youth 14 – 18 [1] Champion – Siena Krueger and Shining On Spook 143.5
With a score of 143.5, Siena Krueger won both the Unrestricted Youth [1] and the Youth 14-18 [1] on Shining On Spark. "He was my mom's derby horse last year. She got a new one and gave him to me because he had aged out, and I'm forever thankful for that," Krueger said of her horse, who's by Smart Spook out of Shining High Roller. "I love his looks and his personality. He's very talented, but he can be a jerk sometimes."
Krueger wasn't excited about her draw position but was determined to make the most of it. "We were draw one, but my horse loped off and he was great and did everything I asked him to do. It was one of our best runs I'd say," she said.
Krueger, who lives in Washington, rides with Kari Klingenberg. "We will show again tomorrow. I plan to memorize the pattern and not overthink anything. I thank my mother for letting me show her horse," she said.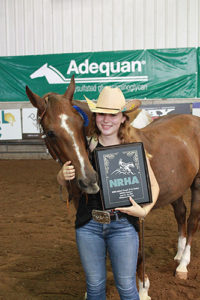 Youth 13 & Under [1] Champion – Addisyn Schmersal and CC Enterprise
Addison Schmersal topped the Youth 13 & Under class with a 144.5 on veteran show horse CC Enterprise. "Today he spun really well and stopped good. I missed the middle marker in my circles, but he was good," the 13-year-old said.
CC Enterprise, by Wrangle Whiz out of Rems Little Sugs, was a successful show horse with Addisyn's father, NRHA $4 million rider Craig Schmersal. "We had him when he was younger, and my dad showed him and won the SWRHA Futurity. He's always been my favorite. We sold him and got him back, and I'm so glad we did," Schmersal said.
The week's not over for Schmersal and CC Enterprise. They'll show in the youth classes again on Sunday. "I just plan to do the same thing I did today. I thank all my friends for helping me, and my parents for letting me show him here," she said.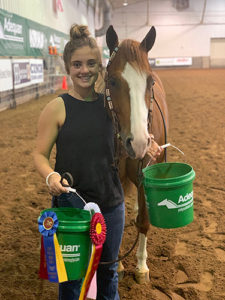 USA Reining 14 – 18 [1] Champion – Taylor Zimmerman and Shiners Smoking Gun
It's been a good week for Taylor Zimmerman. She made the Non Pro Level 4 and Level 3 Derby finals on her horse Gotta Get A Diamond. On Saturday she won the USA Reining 14-18, and finished second in the NRHA 14-18 and Unrestricted Youth classes on Shiners Smoking Gun. Shiners Smoking Gun, owned by Vaughn Zimmerman, is by Gunner out of Shiners Madam.
"He's my brother's horse, and this was my first time showing him," Zimmerman shared. "I took him in the pen, and he was a lot of fun. He was very good and honest. There's not much to worry about with him. He's not very hard to show."
Next up for Zimmerman? "I'll be going to Switzerland for Team USA with my horse Wimpys Dolled Up. After that we start futurity season," she explained.
USA Reining 13 & Under [1] Champion – Carlee McCutcheon and A Special Sidekick
Carlee McCutcheon and A Special Sidekick topped the USA Reining 13 & Under [1] and finished third in the 13 & Under [1] with a 142.5. A Special Sidekick is by Gunners Special Nite out of A Shining Sidekick.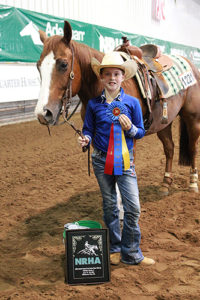 Short Stirrup [1] Champion – Kynley Bell and Chics Want My Number
With an impressive score of 144, Kynley Bell and Chics Want My Number bested the field of 13 to win Saturday's Short Stirrup [1]. Bell, only nine years old, gave credit to her horse. "He did good. He spooked by the gate and that's it. I'm not sure why," she said.
Bell added that Chics Want My Number, by Wimpys Little Step out of Dixie Chic Olena, has quite the personality. "He's very silly. He's always funny and he always messes around if you don't lope him a bunch. I loped him a lot today," she said. "I like that he's silly and that he likes me."
Bell, of Purcell, Oklahoma, added, "I thank my mom and my dad and my sister. They've helped me along the way."
Bell and Chics Want My Number will show again in Sunday's short stirrup class.
Finishing second with a 143 was Becca Schaffhauser and Lil Rene Gun. Lil Rene Gun, by Gunner out of Sail Away Rene, is owned by James Fanello.