The Tulsa Reining Classic showcases some of the top reining horses and riders in the industry, but it also highlights the industry's prospective champions – youth reiners. Sunday in the Mustang Arena Youth riders showed off their skills in classes for riders ages 10 & under all the way to 21.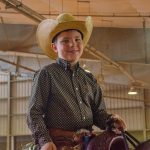 Colt Mitchell took top honors in the 10 & Under Short Stirrup with a score of 147 riding, Playgun Chic Olena, who's by Smart Chic Olena out of Mamas Pakin. Mitchell and his 13-year-old gelding have had a big show, winning Saturday's 10 & Under Short Stirrup class, as well.
"He was great. He didn't do a single thing wrong," Mitchell said. "He couldn't have run faster; we've never seen him run that fast."
The 10 & Under Short Stirrup ARC champ was Taylor Bagby riding Suzy Que Wrangler (Starlights Wrangler x Spanish Dun It) to a score of 136.5.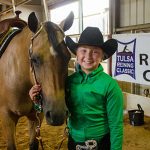 "I had a few problems, but it was a pretty good run overall," Bagby said. "She takes really good care of me and we get along really good."
The Youth 13 & Under champion was Raeanna Thayn riding Coded N Karma. Thayn and "Karma" also earned the ARC Youth 13 & Under, the American Quarter Horse Association 13 & Under and the USA 13 & Under win. They added the Unrestricted Youth title, as well. Coded N Karma is a 2011 gelding by Electric Code and out of Whiz N Snap.
"He was really good. He circled the best he has in a long time and he ran down there and stopped really well for me," Thayn said. "He's always consistent and he loves to be rode."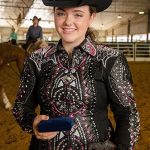 Coded N Karma will also be going to the World Equestrian Games with Glen Estival for Team France.
The Youth 14-18, ARC Youth 14-18 and USA Reining 14-18 champion was Margaret Sue Dunn riding Spooks Smoken Wimpy, a 2009 gelding by Wimpys Little Step out of Please Don't Spook. Dunn said she had things to improve upon from Saturday's classes and thanks to her trainer Yonathan Baruch's advice she was able to accomplish her goal. Dunn and Spooks Smoken Wimpy scored a 145 for the win.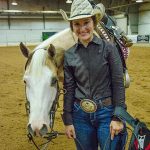 "I was really nervous, but my trainer (Yonathan Baruch) said just stay calm and composed and he'll do the same, so I did that and he was perfect," Dunn said. "The hardest part for me was the change from big to small, slow circle in the lead change and he nailed it. I knew he would, but when I hit the middle my heart was pumping. He was super good. He stayed with me through everything."
The Rookie Youth winner was Kylie Baker riding See U Saturday Night, a 6-year-old son of Star Spangled Whiz out of Wimpys Rose. The duo turned in a score of 141 for the win.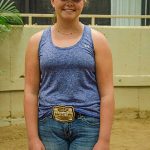 "I was really proud of him, because yesterday he got the whole day off," Baker said. "He did really great and I'm really proud of him. It was a really great last run."
Non Pro riders competed for championship honors Sunday at the Tulsa Reining Classic, held at Expo Square.
A three-way tie in the Non Pro and ARC Non Pro classes saw Stephanie Nelson riding Custom Banjo (Banjo Whiz x Custom Bobbie) and Emily Coultrap riding Pale Of Gold and Sparkys Shining Doll share the co-championship with scores of 145.5.
Coultrap's mount Pale OF Gold (Pale Face Dunnit x Sailors Starbuck) is a 5-year-old gelding that's been a solid mount for her both in their career together, but also in Tulsa.
"He was on. He was like a robot," Coultrap said with a laugh. "He was just awesome. We connected and we were in sync. I couldn't have asked for a better ride. It was great."
Sparkys Shining Doll (Friday Night Shiner x BB Holly Doll) is a 6-year-old that Coultrap recently purchased and says the stallion is helping her to improve as a rider.
"I just purchased him at NRBC in April," Coultrap said of Sparkys Shining Doll. "He's a lot of fun. He's teaching me a lot. He's a strong horse and I have to step up to the plate and step up as a rider, and so far it's working."
Coultrap also tied herself in the Intermediate Non Pro, ARC Intermediate Non Pro, Limited Non Pro and ARC Limited Non Pro aboard her two mounts.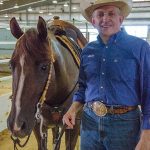 Mike Hancock took home the Non Pro Prime Time win riding Nics Custom Dually (Mister Nicadual x Custom Whizer) with a score of 143.
"This is my derby horse, so it was really just a nice easy ride," Hancock said. "I wanted to go show him and not put a lot of pressure on him and that's just what he did." Had since 3 and showed in futurities and derbies and he's done well."
In the ARC Prime Time Randy Golden and A Great Red Bingo (Itsa Bingo Greyhound x Great Red Kalico) took the win with a score of 140.5.
The National Reining Horse Association is not responsible for information contained in this press release. Please contact the author or submitting organization for further information, requests or questions.