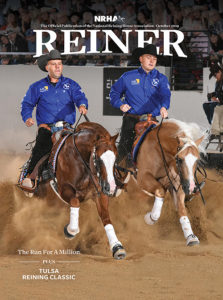 We've had an exciting 18 months with the NRHA Reiner experiencing many highs to celebrate and a few lows to learn from. We're pleased to announce that the Reiner will come back in house for all production phases beginning with the March 2020 issue.
Bringing the magazine back to Oklahoma City allows us to offer member-friendly advertising deadlines, a larger trim size, and higher-quality paper for the product. This all helps the Reiner better serve the NRHA membership by telling the stories of the members and their horses, reporting on important industry activities, and helping members become the best horsemen and horsewomen they can be for their equine athletes.
For sales inquiries, please contact Bucky Harris at bharris@nrha.com or Chris Maedche at doubleoranch@hotmail.com. To share feedback about the Reiner, email reiner@nrha.com.