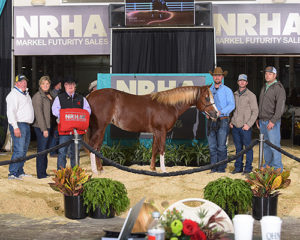 On December 7 during the 2019 National Reining Horse Association (NRHA) Futurity and Adequan® North American Affiliate Championships, 56 horses walked through the ring at the NRHA/Markel Marketplace Sale. As Xtra Half N Half strode into the sale arena, bidders sat up and took notice.
The handsome 2018 sorrel colt (Shiners Voodoo Dr x Cremes Chic Olena x Smart Chic Olena) brought a final bid of $64,000 from Jimmy Nichols, of Templeton, California, making him the highest seller of the day. Consigned by Heritage Farms, he is a half-brother to the earners of more than $250,000. Xtra Half N Half is enrolled in the NRHA Nomination Program and the National Reining Breeders Classic (NRBC).
"We just liked the way he's bred, the way he's made. He's so pretty-headed," Nichols said. "Watching him in his video, he's just really physical, but he seems really quiet-minded."
Nichols planned to send the colt to Mathieu Buton for training.
Nichols and his wife, Nancy, also purchased the second-highest-seller Lil Whizin Inferno (Inferno Sixty Six x Miss Jacspins Whiz x Conquistador Whiz), a 2018 red dun filly who was consigned by Terry and Warnetta Martin. Nichols said he saw the same characteristics in her that interested him in Xtra Half N Half.
"She's not very big, but she's so physical," he added. "We're going to take her home, and I'll ride her myself and get her ready. I've shown in the Open all my life and trained there in California, and we've had our own now for five or six years. I'm actually considering going back and doing the non-pro with her."
Lil Whizin Inferno was in training with Josh Visser for 60 days at the time of the sale. She is five panel negative and enrolled in the NRHA Nomination Program, NRHA Euro Nomination Program, and NRBC.
The gavel fell at $31,000 for Heritage Farms/Parker Slavin Performance Horses consignment HF A Winforthechics, a 2018 buckskin filly. Purchased by Gabriel de la Torre, the mare (HF Mobster x Win Smart Chicy x Smart Chic Olena) is a half-sister to National Reined Cow Horse Association (NRCHA) money-earner and American Quarter Horse Association (AQHA) point-earner Duallers Smart Chic.
HF A Winforthechics is enrolled in the NRHA Nomination Program and NRBC.
The NRHA/Markel Marketplace Sale wrapped up the NRHA Futurity Sales. Complete results can be found online at nrhafuturity.com/lives.