A Look Back at This Year's Champions!
Provided by the Washington Reining Horse Association. Article by Sally Sutherland. Photos by Elizabeth Knight Photography.
The Evergreen State Fairgrounds in Monroe, Washington was once again the host of the Washington State Reining Horse Association's Classic and Derby. This year an extra day was added to accommodate the increasing number of competitors at the show. The show featured both an open derby and a non-pro derby and the popular John Slack Memorial beginning rider buckle class sponsored by Charles Schramm. There were also two slates of non-pro, limited non-pro and open classes held during the show. Our judges were Reid Fady and Jared LeClair both of Texas.
NON PRO – Steven Cresap won the non pro and tied for first in the limited non pro with Makenzie Preston. Steven was riding ARC King Snapper (Master Snapper X Custom Mahogany) and Makenzie was riding her new horse Thelmas Whiz (Topsail Whiz X Kachina Oak Olena). Vicki Ann Sandvig won the masters non pro class riding Salt and Peppy Guy (SR Roosters Kid X Salt N Peppy Please).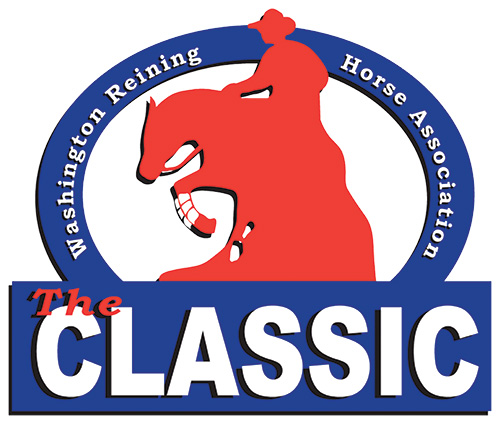 OPEN – The slate one open had the husband and wife team of Hutchings Performance Horses topping the class. Nicole rode Lise Anderson James horse Red Hot Whizkey (Whizkey N Diamonds X Roosters Redhot) to first while Cory rode Black N Boom (Boom Shernic X Blazing in Black) for owner Kelsey Davis to second place. Breanna Coston of Stancik Quarter Horse rode both the first and second place horses in the rookie professional class. She took first with Lori Soma's Hot Spook (Smart Spook X Shes Flamin Hot) and second with David Stroud's Baileys Muddslide (Gunners Special Nite X Chic Olena Starbuck)
GREEN REINER – The green reiners are always very passionate about performing to their best and very few zero scores occur. Level I was won by Deborah Walk on Easy Money (Shine With a Twist X Badgers Stealth) with Sophia Cheslock close behind on Hes Plum Tuckered (Plum Masterful X Tuckers Little Queen). Level 2 had Hilary Friesen on SLJ Custom Style (Custon Legend X SLJ Stainless Style) in first and Michael Jackson riding his wife's horse Riverama QT Star (Dunnits QT Dynasty X Poco Star Peppy J) in second place.
NOVICE HORSE OPEN – Level one was won by Jim Greendyk on Dunit Magnum Style (Magnum Chic Dream X Shes Einsteins Girl) for Angel Rose Marsh and second was Tamarack Ranch's Shinehollywoodshine Shine Chic Shine X Sweet Hollywood Babe) ridden by Travis Wigen. Level two was won by Nicole Hutchings riding Sally Sutherland's Skeets Steppin Out (Wimpys Little Step X Smart Lady Skeet) with Dunit Magnum Style in second.
JOHN SLACK MEMORIAL – The John Slack Memorial buckle class is open to beginning riders and it is often the first buckle they get to win in their show careers. The class is limited to riders who have not yet won $200 and allows a simple lead change. John Slack had his start in Washington State and he always championed the beginning riders, the club remembers him every year with this Buckle class. This year Stacey McQuade on Peptos Deputy (Sweet Lil Pepto X Berettas Shorty Girl) topped the class, this is a pair to watch out for in the future!
OPEN MATURITY – The day finished up with the open maturity level 4. Mike Stokes was top of the class on Lynn Johnson's Spicy Chic Dreams (Magnum Chic Dream X CF Spice Girl) Lynn bought the mare to be a broodmare as she was diagnosed with a career ending injury. Maggie had a year of rehab and seemed to be wanting to go back to work. She is now a rookie, little boots and open level horse. Nice recovery for a horse that was supposed to be done competing. Salt N Peppy Guy came back to show in the open with Shawn Church and finished a strong second for owner Steven Sandvig.
ROOKIE – Lucas Oil donated a lovely saddle for the winner of the rookie class and there was a huge turnout of riders attempting to win it. Steven Cresap came back on ARC King Snapper to win both the level 1 and level 2 and the saddle. Sophia Cheslock was right behind him in second for level 1 on Hes Plum Tuckered and Alex Hutchings in second for level 2 on Designed To Shoot (Tinker With Guns X Taris Designer Genes).
NON PRO MATURITY – The non pro maturity level 4 and prime time came next.   Ann Westund won both on Getting Magnumtized (Magnum Chic Dream X Gettaway Lark). Maverick lives at home and had been owned by Ann's daughter Kylie since 2006. After a fantastic career with Kylie, Ann has stolen him to show. Way to go Mom! Salt N Peppy Guy was back in the arena with Vicki Ann Sandvig to be second in both classes, these over 50 riders are getting really tough.
NOVICE HORSE NON PRO – Taryn Bakker won the level 1 on her horse Love Playin Tag (Loveable Nic X Whiz N Tag Chic). Krystal Reeves was first in the level 2 on her new horse Tuckleberry Tag (Whiz N Tag Chex X Tuck My Piney). Janet Hurlburt took time out from all her duties keeping the show running to be second in both levels with her horse ARC Magnum PI (Magnum Chic Dream X Peppys Little Orphan)
SLATE 2 NON PRO – Skeets Steppin Out won the non pro, intermediate and prime time non pro with owner Sally Sutherland and Debbie Estrin was in hot pursuit on her horse Gotta Nu Gun (Spooks Gotta Gun X Ambers Holly Chex). The limited non-pro was won by Graysen Stroud on Chics Tidal Wave (Tidal Wave Jack X Nic N Chic) and second went to Carla Spackman on Chicsdigthewestcoast (West Coast Whiz X Juanita Chic Olena).
YOUTH – Sam Stevens riding Got Spooked (Smart Spook X Custom Harmony) won the 13 and under with Sophia Chesloc in second on Hes Plum Tuckered. The 14-18 had many really good riders and Kylie Robinson on Xtra Bamstep (Wimpys Little Step X Miss Bam Bam Command) came out on top with Caitlin Lyons on Codys Red Pine (Topsail Cody X Great Black Pine) in second.
SLATE 2 OPEN – Sunday ended with the slate two open and the intermediate and limited open. Jordan McBurney won the open on Cam Essick's Loveya (Gunnatrashya X Love Em N Lena) with Kyle Kellmer riding Jenna Kellmer's Custom Spook Berry (Smart Spook X Custom Roan Berry). Sue Muir on Ms Jac Daniels (Jac Daniels Neat X Santalina Command) won the intermediate and the limited.
WRHA Derbies
Matt McAuslan worked hard to get marvelous prizes and line up sponsors so that the Derby classes would have saddles for level 4, Lawsons, Morrisons and great prizes throughout. Friday was the Protect the Harvest non pro level 1, 2, 4, prime time and youth derby classes. Level 4 had Jennifer Gillam winning both the first and second places with both her horses in a tie score. She trains with Rhodes River Ranch and showed The Prima Ballerina (Topsail Whiz X Dancer Nic) and Crystalized Gunner (Gunner X Shiners Crystal) to co-champions. She has only owned Crystalized Gunner since March so she is just getting to know him at this point. Shelby Jackson won the level one on Nuttin But Whizkey (Whizkey N Diamonds X Crunchy Or Creamy).  Shelby also rides with Rhodes River and she has been having a lot of success with Moose.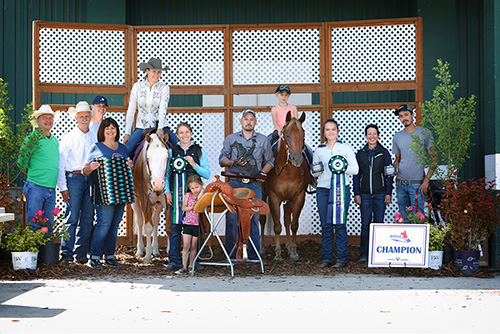 Kylie Robinson was second in level one, first in level two and first in the youth derby. Kylie rides with Hutchings Performance Horses and has had "Wilbur," Xtra Bamstep (Wimpys Little Step X Miss Bam Bam Command) less than a year. At first they struggled together in the show pen but Kylie is now figuring Wilbur out and getting some nice consistent goes on him.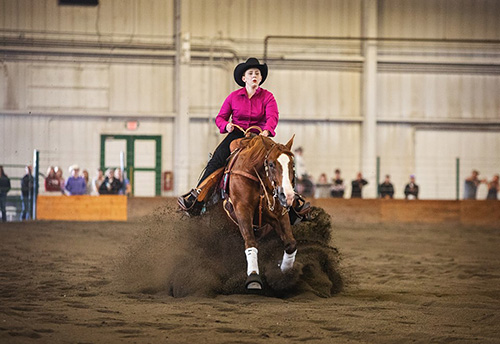 Tracy Burnside won the non-pro prime time derby and second in level 2 on her beautiful horse Pale Conquistador (Pale Face Dunnit X Luz Del Conquistador) with Michael Coe in second in the prime time on CR Smart Chic Dance (Chics Luv Money X CR Dancin Dunnit)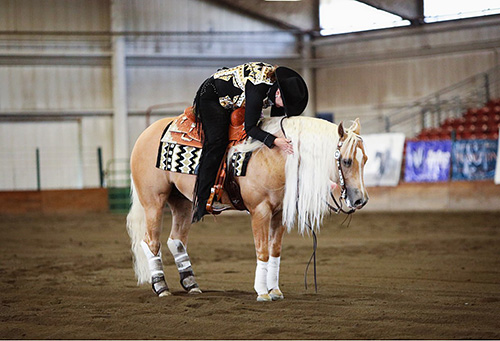 Saturday had the Rhodes River Ranch/CDR Farms open derby. Competition was fierce and Deanna Lally won all the levels on Susan Pearson's amazing Whizzen In The Wind (Whizkey N Diamonds X Very Smart Flo Jo). Deanna laid down an amazing go that was a joy to watch. Susan was looking for a derby prospect last year and while at the Best Little Derby Deanna spotted him and knew he was the one. They have earned a pay check on him in every derby that he has been entered in since then. Susan says he has a great personality and just keeps getting better all the time. Jordan McBurney was second in the level four on Debee Thoms Waitin On A Diamond (Whizkey N Diamonds X This Chicsdundreamin) Sean McBurney was second in level two on Chicsntheirdiamonds ( Whizkey N Diamonds X Spark Chic Olena) owned by CDR Farms and level one had Nicole Hutchings on Skeets Steppin Out tied again with her husband Cory Hutchins on Black N Boom for second place.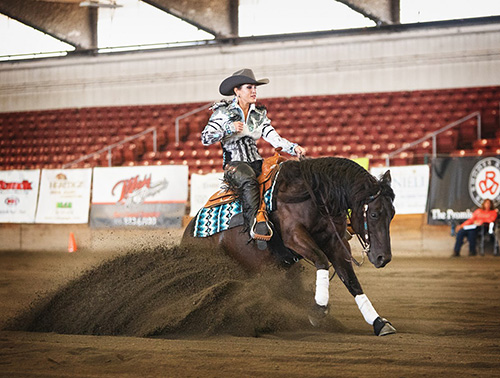 A SPECIAL THANKS
The WRHA wishes to thank our fine sponsors without whom this would not be possible!   Diamond; Heritage General Building Contractors, Sky River Equestrian Center, David & Terri Stroud, Maria Danieli Real Estate & Timberland Homes. Platinum; Evergreen Equine Vet, Guild Mortgage, Presco Telecommunications, Red Pony Insurance, Eve Willett , Rhodes River Ranch & Stancik Non-Pros. Pendleton Woolen Mills, 20 Corners Brewing Company Gold; Eric Carlson, DDS, Stokes Performance Horses and the University of Washington Hematopathology Department. Our special sponsors for the derbys included CDR Farms, Form to Function, Hutchings Performance Horses, Lucas Oil, Protect the Harvest, Markel Insurance, Reiny Day Quarter Horses, Rhodes River Ranch, Stroud Ranch and Tamarack Ranch.
The National Reining Horse Association is not responsible for information contained in this press release. Please contact the author or submitting organization for further information, requests or questions.