Ancillary competition at the National Reining Horse Association Derby presented by Markel Insurance continued Wednesday, June 19. The Non Pros reigned supreme in the Adequan arena, competing in the normal ancillary classes as well as the 7 & Up divisions.
Non Pro 7 & Up Levels 4-1 & Non Pro/Int. Non Pro [2] Champion – McKinnon Larcombe & Designed With Shine, owned by Shauna Larcombe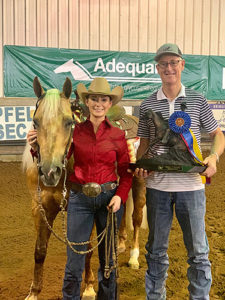 McKinnon Larcombe won every class she was eligible for with the standout mare Designed With Shine. The pair topped the 7 & Up Non Pro Levels 4 – 1, as well as the Non Pro [2] and Int. Non Pro [2] classes. All totaled, Wednesday's earnings were $10,375.
Earlier in the week, Larcombe and Designed With Shine won both sections of the Limited Non Pro, finishing as the high point champion.
It's only the second show for Larcombe and Designed With Shine. The pair also had a lot of success at the National Reining Breeders Classic, where they gathered several wins including the NRBC's 7 & Up Classic Challenge Non Pro Levels 2 and 1.
"I'm so happy. I didn't get her shown quite as well as I'd hoped for at the NRBC in the 7 & Up but coming here I had more of a game plan and she was more tuned into me. Today she was so good, and we were on the same page," Larcombe said. "The goal every time is to show to the best of my ability and let her do her thing. It paid off today."
Larcombe credits their success to Designed With Shine's consistency. "I didn't have to prepare her much between the classes earlier this week and today. I just kept her happy and then went and showed her. I love how consistent she is. Every time I show I have the same horse underneath me," she said.
Designed With Shine is owned by McKinnon's aunt Shauna Larcombe, who purchased the mare from Rosanne Sternberg. Designed With Shine, by Smart And Shiney out of Taris Designer Genes, had more than $69,000 in lifetime earnings before Wednesday's wins.
"My aunt's best advice was to just trust her, and to trust her ability," Larcombe said. "I thank my whole family and the Sterling Ranch crew."
Non Pro/Int. Non Pro High Point Champion – Shelby Clausen & Smart Tinseltown, owned by Clay Clausen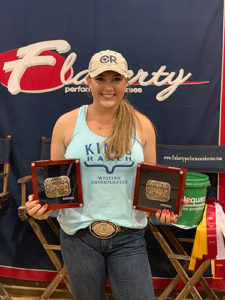 Finished Reserve in the 7 & Up Non Pro Levels 4 – 2 and the Non Pro [2] and Int. Non Pro [2] classes were Shelby Clausen and Smart Tinseltown with a 148. That second place finish clinched the High Point Championship of the Non Pro and Int. Non Pro, and Clausen was presented with two beautiful Montana Silversmith's buckles. Clausen also collected more than $6,185.
"The buckles are so pretty and I'm so excited to have won them," Clausen said.
Earlier in the week Clausen and Smart Tinseltown, a 9-year-old by Smart Spook out of Tinseltown Lil Step, won the Non Pro and Int. Non Pro classes with a 146.5. "My score was two points higher than it was on Saturday. He was a lot better in the places that he wasn't as good. We were happy to have him back to how we really like him," she said.
Clausen noted that Smart Tinseltown usually has easy works. "We spent a lot of time making him be really good. We usually let him go easier because he's an older gelding, but we made him be good and it paid off," she said.
Clausen rides with Patrick Flaherty, a connection made five years ago when her family moved to Arizona from Washington. "We moved when I was in seventh grade. Before that, in Washington, I rode with Patrick's dad Steve," she explained. "I thank Patrick. I couldn't do it without him and I'm so thankful. Also, thank you to my parents for letting me do this and supporting me through everything."
Clausen and Smart Tinseltown are finished showing for the week. "We get to relax the rest of the show and I can cheer on and support my friends. I'm looking forward to the next one," she said.
Finishing second in the Non Pro Level 1 7 & Up was Sally Berg, who piloted Highlanders Scandal to a 144.5. That high finish garnered a check for $338. Highlanders Scandal, owned by Barn 66 LLC, is by Conquistador Whiz and out of HR Short Wheel Base.
Prime Time Non Pro High Point Champion – Adam Donahue & Thata Shiner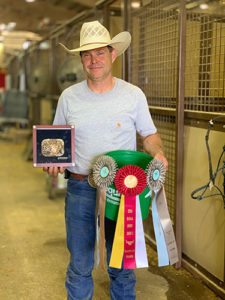 Adam Donahue and Thata Shiner placed in several of the day's classes, earning more than $809. More importantly, Donahue and Thata Shiner won the Montana Silversmiths high point buckle for the Non Pro Prime Time!
"I've had her the last five years. She's been a real steady performer," Donahue said. "She's an older mare so we don't have to do a lot with her. We just ride her here and there, and then go in. She's the perfect kind."
Thata Shiner is by Smart Spook and out of SLJ Smartlikewhinny. "She's a pleasant, nice horse to have around, and is a joy to have in the barn. We're done showing her this week," Donahue, of Marshfield, Missouri, said.
He added, "I thank Kenny and Nancy Eppers for helping me, and Jose Vazquez for breeding such a nice horse."
Prime Time Non Pro [2] Champion – Jose Vazquez & Like Shiner, owned by Jose Vazquez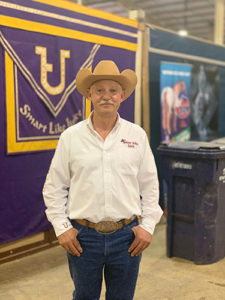 Jose Vazquez topped the Prime Time Non Pro [2] on Like Shiner with a score of 147.5. Vazquez also placed in the Non Pro [2] and the 7 & Up Non Pro Level 4, earning more than $2,525.
Like Shiner is by Vazquez's $3 million sire, Smart Like Juice, and out of the blue hen mare Wind Her Up Shiner. Last year, the pair finished as the Non Pro Level 4 Derby Reserve Champions. "This mare has done really well. She's always real honest in the pen. Today she went really smooth and stopped good," he said.
Vazquez plans to continue showing Like Shiner. "We got a couple embryos from her already. As long as she's showing fresh, I'll keep showing her and trying to get a couple embryos a year. I hope I can raise another one like her," he said with a smile.