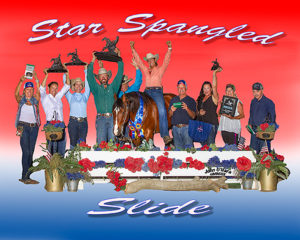 By Eileen Maxinoski, Photos by John O'Hara
The Star Spangled Slide slid into action on July 4th at the West Coast Reining Horse Association's last affiliate show of the year. Red, white, and blue decorated the grounds of the Brookside Show Park in Elk Grove, California, from USA flags greeting exhibitors as they drove in to patriotically colored awards presented to class winners to the giant USA flag which was unfurled in the arena prior to the derbies. Many of the exhibitors use this show as a "showcation" for the family, as there are plenty of after-the-show activities to keep everyone busy. On-site meals were available every evening, preceded by libations and munchies beforehand at the Wine Down Bar conveniently located next to the Warm Up arena, and many families enjoyed the pool between and after classes.
Saturday was a busy day for the WCRHA Youth. Youth reining classes ran all morning. Then, youth riders and non-riders were kept busy with, not one, but two fund raisers. During the day found the kids busy at the wash rack, holding their annual Horse Wash using groom products generously sponsored by Farnam. Saturday night was extra special as the kids held a dessert auction at the "In Honor of Delbert Tullos" potluck dinner. Delbert was a past WCRHA president and loyal supporter of the WCRHA youth. Michelle Devine reported that the evening was filled with great food, love, and laughter. Ollie Galligan, WCRHA in-house auctioneer, was supported by spotters Mike Boyle, David Hanson, and Jason Richards in procuring bids for the yummy desserts which averaged $75 to $100 per item. Top selling dessert was a chocolate cake that brought in $300. In order to boost the bids on the last couple of items, Auctioneer Ollie offered to display his dancing best. The bidders met his challenge, and Ollie enthusiastically responded with his native country's Irish Jig. Kudos to the youth and their advisor Tereasa Canada and supporter Michelle Devine for raising over $2500, proceeds of which will go towards the Year End Youth award saddles. Great job, WCRHA Youth!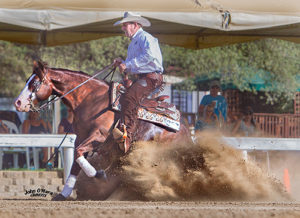 The highlight of the show was undoubtedly the $13,000 Added Open Derby. Eighteen riders answered the challenge put forth by WCRHA trainers via Facebook—"Are you in it to win it?" And, they did not disappoint when it came to executing speedy, precise maneuvers in the show pen on Saturday evening. Their efforts were rewarded by a "standing room only" crowd that encouraged every rider with enthusiastic and raucous cheers and whistles. In the $10,000 Added 7M Ranch Level 4, Jordan Larson took Champion and Reserve with two horses owned by Tzvika Knaani who resides in Israel. Gunnashine Ya earned a score of 148 and Rio Killer Gun scored 147. The two horses earned $10,000 for their efforts. With scores of 144.5, third place was a tie between Reddy Aim Shine On, ridden by Ollie Galligan and owned by Elizabeth Atkins, and The P I Guy shown by Chuy Chavez and owned by Linda Barsalou. Fifth place went to Mister Smartypants, exhibited by Gabe Davide and owned by Eileen Maxinoski. In the $3000 Added Level 1, Ollie Galligan emerged the Champion on Reddy Aim Shine On. Reserve Champion went to Sam Kawanishi's The Prima Ballerina with John Irish showing, scoring 143.5. Tieing for third and fourth with scores of 143 were Thad Carr on his own Heza Mega Watt and Mister Smartypants shown by Gabe Davide. Fifth place awards went to Mob Dolled Up ridden by John Irish, owned by Deborah Walker, who tied with Whizky Drinkn Princess, shown for the McLeod Family Farms by Kelly Keenan.
The Non Pros came to play in their $7,500 Added Carr Performance Horses/Boyle Ranch Non Pro Derby. Nine hopefuls laid out their best efforts to claim money and prizes. In the $5000 Added Level 4, Brooke Boyle scored a 145.5 to emerge victorious on Sunset Nite, owned by her dad, Mike Boyle. Close behind for the Reserve Championship honors, with a 145, was Cam Essick on her own, home bred and raised, Loveya. Scores of 140 was good enough to split third and fourth monies between Lady Bang Bang, owned and shown by Britta Jacobson, and Whizky Drinkn Princess, shown by Campbell McLeod and owned by the McLeod Family Farms. Fifth place went to Nicole Cox piloting her own Gotta Smart Whiz to a score of 138.5. In Level 1, congrats go to Britta for winning the Championship and to Nicole Cox for the Reserve Championship. With a score of 137, Derek Brummett came in third on Ima Shiny Mister owned by himself and his wife, Kelli. Rica Macalvey was fourth on Doree Sims' Got Guns A Blazin. Cam was Prime Time Champion with Britta coming in Reserve. Derek took third place honors with Vicki Dias coming in fourth on her own ARC Dun With Ya. Great job of showing from all the Non Pros.
A mega thanks goes to all those who financially supported the Open and Non Pro Derbies—7M Ranch, Grocery Outlet Bargain Market, Carr Performance Horses, Boyle Ranch, Galligan Performance Horses, Dr. Bo Felix, Dr. Marty Gardner, Larson Performance Horses, Hanson Performance Horses, Gilson Performance Horses, GD Performance Horses, Padilla Performance Horses, 55 Performance Horses, Chavez Performance Horses, and Walden Performance Horses. Aged Event Buckles were sponsored by Dave & Lisa Dentoni, Ed & Connie Glavis, Dave & Anne Driscoll, Geir & Jill Ramleth, Candice Thompson, Debbie Avila, Gretchen Vogelsang and Peterson Wealth Management.
Other exhibitors had great results with their reining steeds in the NRHA Affiliate and WCRHA classes as well as an assortment of AQHA approved classes. This was the last opportunity for WCRHA riders to qualify for the NRHA Regional Affiliate Finals to be held in October at the Idaho Horse Park. Pleasant temperatures, which continued throughout the show days, greeted Non Pro riders as they started the day on Thursday. Ken Hamilton laid down the winning run in the Novice Horse Non Pro Level 1 class on his wife's reiner California Girl with a 70.5. Close behind by just half a point was Derek Brummett on Ima Shiny Mister. There was a three-way tie for first place in the Novice Horse Non Pro Level 2. Scoring 70s were Tereasa Canada on her EZ On The Slide, Britta Jacobson with her Ms Benz, and Megan Lynch on Revolutionic owned by herself and Ashley Lynch.
The Open riders hit the arena next. Earning the Championship in the $2000 Added Grocery Outlet Open Maturity Level 4 was Mike Boyle on Elizabeth McHugh's Chics Dream with a score of 145. Martin Padilla, on Cassandra Kindle's Ill Be Smokinum, scored a 144.5 for the Reserve Championship. In the $1000 Added Grocery Outlet Maturity Level 1, Kain Emmons took the Championship on Morgan Davis' Ghostsliderinthesky, earning a 141 from the judges. Christian Rammerstorfer on his faithful Maddox scored 139.5 for the Reserve. Mike Boyle also won the Open as Mr Twister Whiz, guided by David Hanson and owned by Lisa Dentoni, tied with Westside Rambler, shown by Martin Padilla and owned by Kurt Tate, for the second place awards. Mr Twister Whiz also won the Intermediate Open with his score of 144.5. Mister Smartypants was shown to a score of 143.5 by Gabe Davide to claim first place in the Limited Open as well as second in the Intermediate Open. Second in Limited Open was Chics Revolutions owned by Anna Lohr and shown by David Worley. The Prime Time Open class was the largest of the Open classes and was won by Mike Boyle and Chics Dream. Lady Bang Bang slid to a 138 to win second with her rider/owner Britta Jacobson.
The younger riders started off a beautiful morning on Friday. With a solid 70, Logan Lindberg and his sister Tessa's trusty gelding Chicadero took the top prize in the WCRHA Youth class. Trevor Skadden, riding Bills Sparklindiamond, was second with a 66.5. Margaret Chancellor on her Dunnit With A Shine was first in the AQHA Youth with 69.5.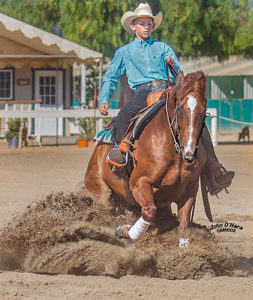 The NRHA Green classes followed and were very competitive with close scoring taking the high placing spots. Besting a large class of 21 exhibitors in the Level 1, Rob Di Napoli rode Hand Painted Tag to a winning score of 71.5. Close behind with a 71 was Kelly Staley on her own Like Madd. Rob's score was good for second place in the Level 2 right behind Paley Capachi on her Lights In The Waves with a 72. Great showing from the Green reiners.
The Novice Horse Open riders were next on the scene. Martin Padilla, riding Cassandra Kindle's Ill Be Smokinum, laid down a serious run of 73.5 which topped the Level 2 class. David Hanson was second on Melinda Gaw's Rockabilly Banjo with 72. Eighteen horse and riders showed up for the Level 1 class. The top two placings proved to be a family affair. Mike Boyle gathered first place awards with a 71.5 on Pam Hurst's Rock N Roll Baby while his sister, Jeanne Levine, was close on his heels with a 71 showing her own Dreaminofchicsncash.
The younger reiners were up and at 'em bright and early on Saturday morning to show the judges their best. Trevor Skadden on Bills Sparklindiamond and Madison Stephenson on Lil Miss Mddox shared first place honors in the Youth 13 & Under with scores of 69. Abby Lubin on Stars Revolution and Megan Lynch on Revolutionic turned in "revolutionizing" scores of 70.5 to share first place in the Youth 14 – 18. The two cowgirls also won the Unrestricted Youth class topping a class of eleven riders. As winners of the Unrestricted Youth class, Abby and Megan were presented with commemorative buckles sponsored by "Friends of Delbert Tullos." Then, Abby gathered her third first place win of the morning in the Youth Rookie as Madison Stephenson was second. Great job of showing your horses, WCRHA Youth.
Seven ten and under equestrians showed up to ride in the Short Stirrup class. Coming in first with a commendable score of 72 was Steven Allen, Jr. on his dad's Crome Topsail. Isabella Hall showed the renowned Reeboks Rerun, owned by McLeod Family Farms, to a score of 72 to gather second place honors. It was great to see the enthusiastic and very capable "up and comers" show their reiners.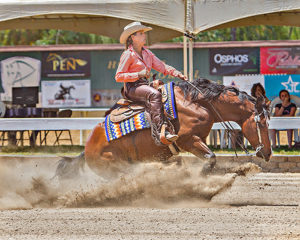 The Non Pros filled the rest of the day with concurrent runs in ten classes of NRHA and AQHA classes. Kathleen Cook on her Chics Double Magnum was the happy winner of the Championship buckles in the NRHA $2000 Added Grocery Outlet Non Pro Maturity Levels 1 and 4 with a score of 144.5. Britta Jacobson on Ms Benz and Debi Murnan on Jacs Red Pine shared second place honors in Level 4 with 144 scores. Britta was also second in the Level 1. The three reiners were also the top of the class in the $500 Added Prime Time Maturity as well as the Non Pro affiliate class. Finally, Britta and Debi split first place monies in the Prime Time Non Pro affiliate class. Britta captured first in the Intermediate Non Pro and Terry Holland on Holly Rowdy Whiz was second with a score of 143. Way to go, ladies.
Topping a class of 24 entries in the Limited Non Pro was Megan Lindberg on Custom Banjo with 142.5. Mark Faley was second on Crome Starlight with 141. Thirteen "60-years plus" riders showed off their expertise in the Masters class with Kathleen Cook proving that age is just a number. She took the class with her high score of 144.5. Mark Faley was second. Cam Essick won the AQHA Amateur class scoring 141.5 and Caitlin Fike was second with 138 in a class of 6 entries. Kathleen Cook was difficult to beat once again in the AQHA Amateur Select as she bested a class of eight reiners. Megan Lindberg was second. Congratulations to all the exhibitors for an afternoon of great goes in the Non Pro reining pen.
A large class of 22 horses in the Snaffle Bit/Hackamore class began the last day of the show on Sunday. David Bunfill took the class with a score of 71.5 on his Gunnatrashya Dream. With scores of 70.5, David Hanson, on Anne Driscoll's Brooks and Gun, and Martin Padilla, on Tobyann Faingold's Nickis Special Nite, shared second place.
Youth exhibitor Abby Lubin and her Stars Revolution continued with their winning ways as they won the Green As Grass class with a score of 70.5. Lauren Crutchfield, showing Mike Silva's Shewhiz Electric, was second with 68.
The last classes of the show featured the Rookie reiners. Kurt Tate, scoring 72 on his Westside Rambler, proved victorious in Rookie 1 and 2, Prime Time Rookie, and the WCRHA Green classes. Danica Caravetta, reining on her Mister Big Gun, was second in the Rookie 1 as well as first in the AQHA Amateur Level 1 with a 71. Laetitia Loubser and her pretty palomino gleding, Coronas In Hollywood, was second in both Rookie 2 and Prime Time Rookie with a score of 71. Natalie Cook, on Marlena Got Nicd, shared second place in the WCRHA Green class with Casandra Kindle, on Ill Be Smokinum, with scores of 70.5. In the AQHA Amateur
All in all, the four day Star Spangled Slide, with $33,500 added money, provided great show conditions for the reining horses and their riders and exciting viewing for the spectators. Thank you to the WCRHA Board of Directors and all others who work behind the scenes to provide this great opportunity to show reining horses, coming from all over California, Oregon, and Nevada. Thanks again to all the wonderful and generous sponsors who made this a very special show. The next and last WCRHA show will be the Year End show on August 22–25. See you all there.
The National Reining Horse Association is not responsible for information contained in this press release. Please contact the author or submitting organization for further information, requests or questions.