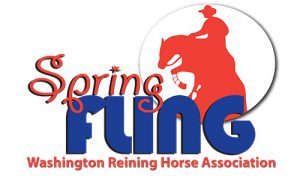 The Washington Reining Horse Association (WRHA) kicked off their reining season at the Appleatche Rider's arena in Wenatchee, Washington, with their annual spring show, sponsored by David and Terri Stroud. This year the show was run April 11–14, and the classes were huge. According to Cathy Martin of the show committee, the show increased by 26 runs since 2018, which was a huge show itself. The 2019 event had 29 more entries and paid out over $4,500 more than in 2018. Reining in the Pacific Northwest is definitely alive and well! Part of the reason for the increase may be that this year we are awarding 5 year end high point saddles in non pro classes. We have a saddle for combined youth, rookie 2, limited non pro, prime time non pro and novice horse non pro Level 2. The judges, Dave Belson of Arizona and Johnette Burman of Montana, got to watch some very fine horses show their stuff.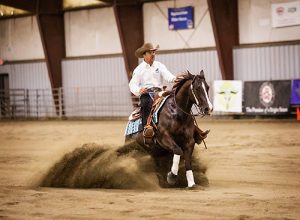 The highlight of the show was the open and non pro derbies. The open Level 4 derby was held Friday evening, and the crowd came to cheer. Dual Surprise (Mister Nicadual X Jerrys Surprise), owned by Steven Sandvig of Graham Washington and ridden by NRHA Professional Shawn Church, bested the pack to be named champion. Vicki Sandvig says they purchased "Dually" two years ago. They were impressed with his strength and good mind. He has been very consistent for them, and Church has only been out of the money on him twice.
NRHA Professional Jordan McBurney rode Chicsntheirdiamonds (Whizkey N Diamonds X Spark Chic Olena) for WRHA sponsor CDR Farms to the reserve champion title. The mare was raised at Rhodes River Ranch, and McBurney had a great deal of success with her at the High Roller Reining Classic and Reining By the Bay as a three-year-old, then Sean McBurney showed her as a four-year-old. Jordan is happy to be back to showing her again this year.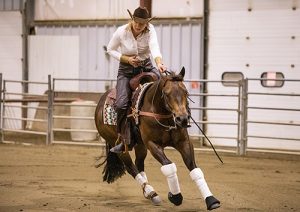 The non pro derby ran on Saturday and included Level 4 and prime time. Jennifer Gilliam won the Level 4 on her mother's horse Magnetizde (Magnum Chic Dream X Dunnit N Continental). Magnetized was picked out by Sean and Jordan McBurney for Gilliam's mother Janiene to show, but Gilliam is having a blast showing him in the derbies. Reserve champion in Level 4 went to Joanna Anstensen on Rides Like A Porche.
The prime time champion was Tim Beck on his Kat Two H Cashup (Nu Steps To Cash X Otoes Kit Kat). Beck has done his own training on Tinker with the help of NRHA professionals Tony Kirschner and Darren Stancik. Per Beck's wife Charlene, he gets to have one project horse at a time. At the moment there seems to be a dispute on Tinker's future as both Charlene and their son Conner think she is going to be their next horse. Reserve champion prime time went to Gloria Grove on her beautiful paint Smartacus (Colonels Smart Spook X Gotta Mark This).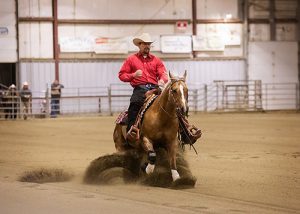 The open maturity had Jordan McBurney in the winner's circle again, this time on Snip O Remedy (Very Smart Remedy X Snip O Chex) for owner Hilary Friesen. "Jlo" was started by NRHA professional Todd Bergen and the pair made the finals in the NRHA Open Derby. This was McBurney's first chance to show Jlo, and she really had fun on her. Reserve in the open maturity was WRHA sponsor Matt McAuslan on Chicsdigthewestcoast (West Coast Whiz X Juanita Chic Oleana), who rode for owner Carla Spackman.
The non pro maturity had Gilliam back at the top, this time on her own horse, Darlin Get The Gun (Gunner X Darlins Not Painted.) They bought the mare in February from WRHA sponsor Rhodes River Ranch where she was a brood mare. The plan was for Gilliam's daughter Naudia to show her in short stirrup, but "Shastika" has proved herself to be a very capable show horse while still being a wonderful teacher. Vicki Ann Sandvig took the reserve champion on the ever-steady Salt And Peppy Guy (SR Roosters Kid X Salt N Peppy Please).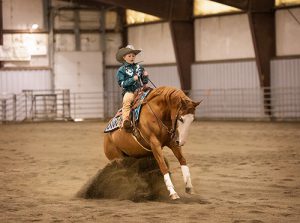 Darlin Get The Gun continued her winning ways by carrying Naudia Gilliam to the top in short stirrup, and taking top honors in novice horse Level 1 and 2 as well as the non pro first and second slate for Naudia's mom. She is definitely turning into an amazing family horse!
The youth classes are always strong at the WRHA shows. At this show, Airana DeJong on White Chocolat Chunk (Chocolate Chic Olena X Meadow Jac) won both the slate 1 and 2 youth 14 to 18. She is now leading the standing for a year-end saddle! Valerie Knight rode Starbucks Vaquero (Smart Starbuck X Paps Vaquero) to the win in slate 1 youth 13 & under, and Alyssa Rossmeier took slate 2 on Nics Tricky Chic (Smart Chic Olena X Stop N Dot).
The Green Reiner and Rookie classes 1 and 2 were gigantic, with Melissa Parson winning Level 1 green reiner on Wing N A Prayer and Bess Fairbank winning the Level 2 on Jacs Special Reserve (Jac Daniels Neat X Zee Mint Chablis). Rookie Level 1 was Kady Didtel on Dun Doin It Easy (Easy Otie Whiz X Okie Dun It Sooner) and Level 2 had Samantha Etsell leading the class and the run for the rookie Level 2 saddle on Devils Cut Whizkey (Whizkey N Diamonds X A Great Lena).
Two slates of non pro and limited non pro classes were run; Slate 1 limited non pro was won by Alex Hutchings aboard Designed to Shoot (Tinker With Guns X Taris Designer Genes). Taryn Baker won the limited non pro slate 2 on Love Playin Tag (Loveable Nic X Whiz N Tag Chic), while her mother Debbie Estrin won the prime time on Gotta Nu Gun (Spooks Gotta Gun X Ambers Holly Chex). Estrin is leading for the prime time saddle, and Tiffany McAuslan and Alex Hutchings are in a dead heat after two goes for the limited non pro saddle! The masters non pro was won by Janet Hurlburt on ARC Magnum PI (Magnum Chic Dream X Peppys Little Orphan), and the intermediate non pro had Kim Lansidel riding Maddmann (Maddox X Olen Starlight), owned by her parents Karl and Marjorie Eilers. Novice horse non pro Level 2 also has a saddle up for grabs, and Jennifer is leading that on her Darlin Get The Gun, having won both the Level 1 and the Level 2 classes.
The professional riders got to start and end the show. We had 2 slates of open with Jimmy Brown on his own horse Shiney Magnum Chic (Twice as Shiney X Little Cup A Joe TGE) winning the slate 1 open and Jordan McBurney back in the lead on Snip O Remedy for slate 2 open. Brown also won the intermediate open, while Jim Greendyk took the limited open on Cortney Vandepol's Smokin Tinsel Mint (Smokin Ammo X Tinsel Mint). The rookie professional winner was Breanna Kelley riding HA Mobster Tears for owner David Stroud. Breanna has been riding for WRHA sponsor Stancik Quarter Horses, and the great work Darren has been doing with her showed in the arena. NRHA professional Nicole Hutchings won the novice horse Level1 on Gloria Grove's beautiful gelding Baby Love (Spooks Gotta Whiz X Stylin Jac) and the Level 2 on Sally Sutherland's Skeets Steppin Out (Wimpys Little Step X Smart Lady Skeet).
Finally, we held two classes just for the Arabians that come to our show. Weston Sage won the non pro on Wiley Quixote PGA and (Okie Paul Quixote X HJ Allelujah Bey) and Allison Mostowich won the open Arab/part Arab on Easy Dun It (Walla Walla Dun It X Basyna).
The WRHA appreciates the support of their wonderful sponsors for 2019! Diamond sponsors were: David and Terri Stroud, Maria Danieli, Sky River Equestrian Center, and Timberland Homes. Platinum Level were: Evergreen Equine Veterinary Practice, Presco Telecommunications Inc., Rhodes River Ranch, Stancik Non Pros, Tamarack Ranch, and 20 Corners Brewing Co. Gold Level included: Eric Carlson D.D.S., P.S., Red Pony Equine Insurance, Mike Stokes Non Pros, University of Washington Hematopathology, and Virginia Handbags. Our Silver sponsors were: McKinley Peters Equine Hospital, Pendleton Wollen Mills, Rocking "E" Feeds, Silver Aspen Ranch, and St Hilaire Non Pros. Thank you all for your help in making these shows succeed.
By Sally Sutherland
Photos by Elizabeth Knight
The National Reining Horse Association is not responsible for information contained in this press release. Please contact the author or submitting organization for further information, requests or questions.