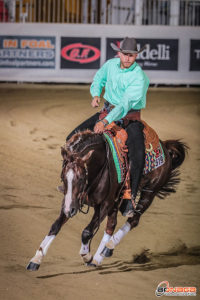 Cremona, May 16—The 36th edition of the Italian Reining Horse Association (IRHA) 3-year-old Futurity will remain in the history books due to complications caused not only by the pandemic but also by the unfortunate EHV-1 outbreak. IRHA, IRHBA, NRHA, Team For You, Italy's NF (FISE), and CremonaFiere joined forces to make the 2020 edition happen in conjunction with the 2020 NRHA European Futurity and 2020 Elementa Italian Reining Championship Finals. Over 600 horses made their way to take part in the event which debuted on Saturday, May 15.
The qualifying go round of the Quarter Dream IRHA Non Pro Futurity counted 50 horse-rider combinations entered across the four levels with one duo posting a 216.5 to lead the €51.000-added Level (L)4, €26.250-added L3, €11.250-added L2, and €7.500-added L1: Vittorio De Iulio and Mr Magic Chex (ARC Magic Enterprise x Miss America Chex), a stallion owned by his uncle and mentor, Fabio De Iulio. The story gets even sweeter as Fabio, aboard his own Gunnaroostyah (NRHA Four Million Dollar Sire Gunnatrashya x Del Cielo Shining), rode to the second highest score in the L4 division a point behind.
"This stallion is very athletic and able to plus each and every maneuver," said the 21-year-old Italian rider who has represented his country multiple times in international competition. "Because we haven't shown for so long, I was a little insecure before going in but he gave me all he had thanks to his huge heart." Bred by Angelucci Quarter Horses and trained by Stefano Angelucci, Fabio recently purchased the stallion. Both he and Vittorio ride under the guidance of NRHA professional Pierluigi Chioldo.
On Tuesday, May 18, riders eligible for the Quarter Dream IRHA Non Pro Futurity Consolation will have a chance to join the qualified riders in the Finals which will be held on Friday, May 21.
The 2020 IRHA/IRHBA Futurity is held behind closed doors. For those that would like to follow the action, see below:
Livescore and full results:  https://www.showmanager.info/Eventliste.aspx?turnierID=1024
Livestream: https://iframe.dacast.com/live/e2eec26b-7144-f2c7-b0df-0153dcd0c24b/700a9c79-2f1c-cf5b-44b3-6ba65280613c
For further information: www.itrha.com
Photo by Bonaga Communication
IRHA/IRHBA/NRHA Futurity Media Contact:
Simona Diale/International Horse Press
internationalhorsepress@gmail.com