Wednesday at the Tulsa Reining Classic continued with flashy reining horses and top-notch competition at Expo Square in Tulsa, Oklahoma with the advent of two highly competitive but separate futurities.
Ruben Vandorp and Spooks Gotta Shoot (Spooks Gotta Gun x Lipstick Lies), owned by Laurie Hauck, topped the Equo Developing Horse Futurity in both Level 4 and Level 3. Vandorp and Spooks Gotta Shoot scored a 218 to claim the championships.
Vandorp and 3-year-old stallion work well as a team despite their short partnership together and their showing in Tulsa promises for a bright future.
"We're just getting to know each other," Vandorp said. "I had a blast on him. He did everything I asked him to do and I was so happy; he felt like a real show horse in there."
Vandorp says the win is special for him, because Wednesday was the first time Hauck had the opportunity to watch him show, which made the win especially emotional for the team. All totaled they collected $5,586.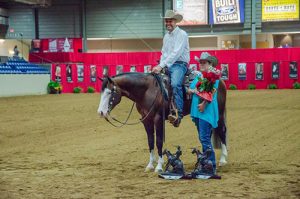 The Equo Developing Horse Futurity Levels 2 and 1 champ was Nicole Schneider-Westset riding Donttinkerwithmygun, owned by Triple U Quarter Horses. The duo marked a 217 to take the win.
"This horse can really, really stop," Schneider-Westset said admiringly. "She's a pretty special mare with a big heart and always tries."
Schneider-Westset said she took every maneuver one at a time and focused on showing the 3-year-old mare correctly.
"I tried to show the horse I had and not over-show her and it worked out," she said.
Schneider-Westset and Donttinkerwithmygun also took home the reserve championships in the Equo Developing Horse Futurity Level 4 and Level 3. All totaled the duo banked $5,444.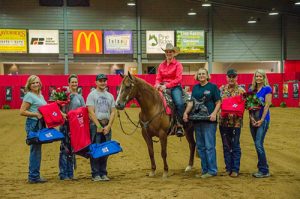 Stefano Calcagnini and KR Crackerjack won the championship in the Tamarack Ranch Developing Horse Futurity in both the Level 4 and Level 3 with a score of 219.5 for owner Donadeo Stables ASD.
For their first time in the show pen Calcagnini says he couldn't be more proud of the 3-year-old stallion by Smart Spook out of A Ruf Mistress.
"My run was consistent. I just tried to stay out of his way," Calcagnini said. "He was pretty focused and went through the pattern really easy."
For Calcagnini it was two in a row as he won the Developing Horse Futurity in 2017 as well. He and KR Crackerjack earned a total of $5,603 for their efforts in the Tamarack Ranch Developing Horse Futurity.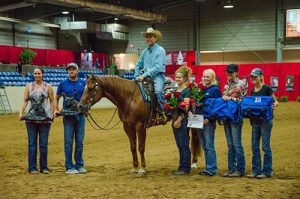 Patrice St Onge and Little Thunder Whiz topped the Tamarack Ranch Developing Futurity Level 2 with a score of 217.
The duo's first time in the show pen together started rather conservative, however they finished strong for the win. St Onge said the 3-year-old by Who Whiz It out of Little Smart Jac came into his stride during the run.
"I could have trusted him a little bit more in his turn around — that was my fault," St Onge admitted. "The more he went the more I felt like he was really hooked up and doing his job, so I just relaxed and let him do his job and he got better and better. I'm very, very excited about it."
St Onge has had Little Thunder Whiz since he was a yearling and after Wednesday's performance is hopeful for his future. The duo has a great start to their career picking up $1,310 for owner Cheryl Lauder.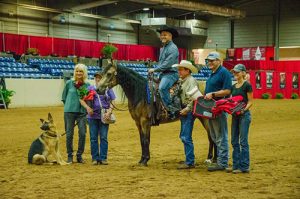 Mike Flarida and Xtra Little Playgirl scored a 216 to claim the Tamarack Ranch Developing Horse Futurity Level 1 championship worth $792 for owner Patrice Schreiber.
Flarida took the opportunity to school the 3-year-old mare by Wimpys Little Step out of Playin For Crome in Tuesday's schooling class, which boosted his confidence going into Wednesday's show.
"I let her down a little bit in my last stop, because I kind of leaned back, I didn't look forward and I leaned back," Flarida admitted, "but she was good everywhere else. She showed really true."
Xtra Little Playgirl's joyful personality made an impression on Flarida, which he credits to the ability to enjoy riding her and showing her well.
"She's probably one of the most fun horses I've show in a long time. She's very easy to show and she's got a lot of personality," he said. "She's an easy horse to get along with."
Wednesday Horse Show Action at the Tulsa Reining Classic
In the Novice Horse Non Pro Level 1 Morris Kulmer and Nvr What A Lucky Joe (Lil Joe Cash x What A Lucky Hit) topped the field with a score of 140.5.
Kulmer admitted Wednesday's run wasn't as perfect as he would have liked.
"It wasn't my best run, for sure. Matter of fact, I didn't think I'd be [collecting awards] today," Kulmer said. "I was getting ready for the derby and I always like to get in a class before a derby run. It was pretty good, but we have some things to work on."
Still, the 4-year-old pulled through to take the win and make his owner proud.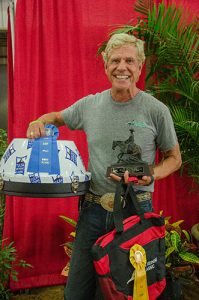 Steven Mitchell took home the top two places in the Novice Horse Non Pro Level 2 aboard Tinsletown Tuffy and Playgun Chic Olena, respectively. The wins were special for Mitchell, because both horses have been with his family for seven years and his kids typically are the ones riding these two particular horses.
Tinsletown Tuffy is a 2011 gelding by Hollywoodstinseltown out of CT Raffian and does well in the show pen for both Mitchell and his children. On Wednesday, he showed up in top form for Mitchell and scored a 142.5.
"My kids always show him and they are usually the only ones that show him and I never get to show, so I thought you know what I'm going to show him," Mitchell said. "So it was fun, because all my life this is all I've done and I love the competition."
Playgun Chic Olena is a 2005 gelding by Smart Chic Olena out of Mamas Packin and scored a 142. Typically the gelding shows with Mitchell's son in the short-stirrup classes.
"We've owned this horse probably seven years and my boy has been showing him… [the kids] haven't gotten here yet, so I snuck him in the pen," Mitchell said with a laugh. "He's kind of tricky, because he's old so the biggest thing is just to get him to not think about what you're going to do. It was good though and he stayed in the show pen."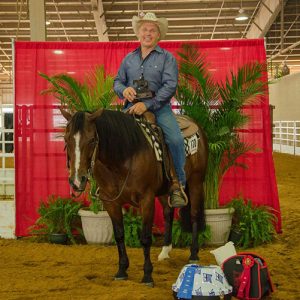 In the Open classes held in the Mustang arena competitors showed up in top form to claim honors and prizes. Steve Archer and Smart Stepin Lena (Wimpys Little Step x Smart Shiney Lena) took home the win with a score of 144. Owned by Carolyn Tellepsen, Smart Stepin Lena has been in the hands of Archer for a little over a year and proving his worth in the show pen.
"We're trying for the [Affiliate Regional Championships], so we're going to do that tomorrow and I'm going to show him in the derby on Sunday," Archer said. "He's a special horse."
Brad Giesbrecht and Frame Draggin (Einsteins Revolution x Coronas Major) topped the Intermediate Open with a score of 146. Wednesday's class was the first time Giesbrecht had the opportunity to ride the 2012 gelding owned by Don Byrne.
"I was happy with the run. I'm going to show him on Sunday, so I was just kind of testing him," Giesbrecht said. "He showed how I wanted him to, so I was real happy."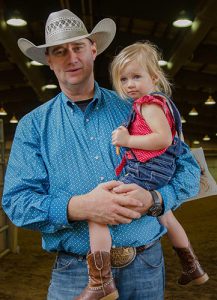 Sean Pulley and Setting Off Spookles took home the win in the Limited Open with a score of 143.5. The 5-year-old mare has been with Pulley since July, but Tulsa is their first show together.
"She's a nice, gritty mare and she's pretty fun to ride and show she's pretty athletic and talented and just pretty cool," Pulley said. "I'm pretty excited to go on with her next year."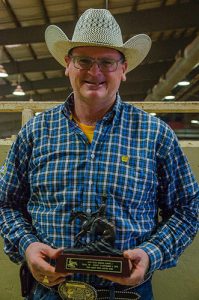 Courtney Sheely and Jess Prior shared the championship in the Rookie Professional with scores of 139.5.
Sheely rode the 15-year-old Taylor Made Jac, whom Sheely says allows her to be confident in the show pen. Sheely used the Open classes to prep the veteran reiner for tomorrow's classes.
"He's been around the block and today I was just taking him in to see how he felt in there, because I have a Green Reiner that's going to show him tomorrow," she said. "He was good, he's a simple as they come. He's a gem that's for sure."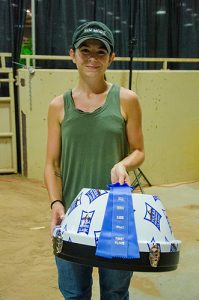 Prior rode Take A Boww, owned by Tim McQuay, to the co-championship. Prior had been working recently on her lead changes and took the opportunity Wednesday to make a laid-back, but correct run.
"I was just trying to have a nice, relaxed run," Prior said. "I schooled her yesterday and she was going a bit more than I wanted her to, so today I was just working on leads and I was happy with how relaxed she was."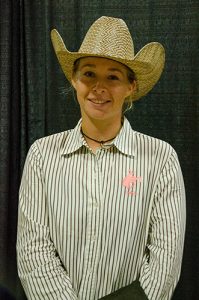 Felicia VaughnStuhr and Customs Pistol Pete (Custom Pistol x Docs Lil Pepolena) swept the Green Reiner Levels 1 and 2 with their score of 71. The 7-year-old owned by Fred Berschauer resides at Right Lead Ranch and VaughnStuhr says he's been a great horse for her. Wednesday marked the team's first time at the Tulsa Reining Classic and they are hopeful for their future.
"I'm excited," VaughnStuhr said. "He's a great horse and he showed well, so I'm excited to show again tomorrow."
AQHA All Age Reining champ from Monday and Tuesday's classes, Trevor Dare rode 4-year-old Xtra Magic Doctor to the win.
"That horse is just here to prepare for the [High Roller Reining Classic]," he said. "He's been a really good horse for us. I needed to make some adjustments on myself and I think it helped the horse out."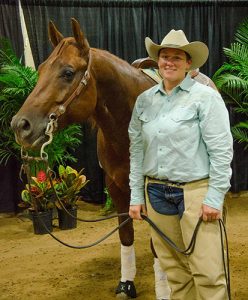 Don't miss a second of the action and make plans to watch RFD-TV's Horse of the West coverage of the Tulsa Reining Classic, which will air on Monday, September 24th and October 1st at 1:30 and 9:30 pm Central Time.
Go to www.horseofthewest.tv to find an episode schedule, search for RFD in your area, or watch past episodes. Be sure to subscribe to the Horse of the West YouTube page to see more videos, features, and interviews.
Catch all the action of the Tulsa Reining Classic at www.tulsareining.com and by following along on social media.
The National Reining Horse Association is not responsible for information contained in this press release. Please contact the author or submitting organization for further information, requests or questions.