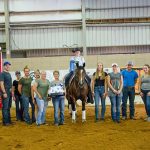 The up-and-coming talents of the reining industry sported their skills in the show pen Saturday at the Tulsa Reining Classic in the youth classes held in the Super Duty Arena at Expo Square.
The 13 & Under Youth champion was Carlee McCutcheon riding Katy Dun It, a 2009 mare by Dun Gotta Gun and out of Dun Kissed Peaches. McCutcheon posted a score of x earning her the win as well as the 13 & Under USA Reining title.
"Today was really good. It was a little hard to find the ground today, but she did her best and we just stuck with it," McCutcheon said. "[My plan] was to just go in and whatever happens, happens.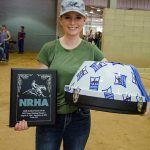 The plan paid off. McCutcheon and Katy Dun It have had a big week in Tulsa so far, starting off the week with Friday's USEF 13 & Under win.
In the Youth 14-18 McKinnon Larcombe and Taris Dreamer (Magnum Chic Dream x Taris San Cutter) took the win with a score of 145. The duo has already picked up checks in Tulsa and hope to continue their success in the affiliate classes on Sunday.
"Coming out of the pen the other day from the win I was kind of on a high and hoping he would go in there and be the same for me and he was," Larcombe said of Saturday's run. "I went in there with the mentality of not showing him too hard, because I want to save him for tomorrow for the affiliate stuff and he was great for me."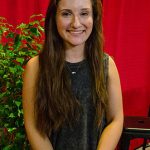 Margaret Sue Dunn and Spooks Smoken Wimpy (Wimpys Little Step x Please Don't Spook) turned in a score of 138 to take the win in the USA Reining Youth 14-18.
The Rookie Youth champion was Giorgia Medows riding Suprizentheprincess (Jerry Lees Surprise x Princess In Diamonds) with a score of 139.5. Surprizentheprincess is usually seen with Medows' brother, Jack Medows, but in Saturday's class Giorgia took the veteran reiner into the pen for the win.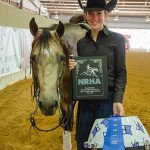 "This was actually my first time showing her, she's been a broodmare the past couple years and she was Jack's horse, so I just started riding her and she's so consistent and she was so good and relaxed for everything."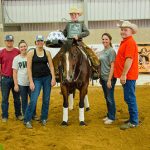 In the Short Stirrup 10& Under class Colt Mitchell rode Playgun Chic Olena (Smart Chic Olena x Mamas Pakin) to the win with a score of 69.5.
"He is a really, really good horse; probably one of the best horses we've ever had in the barn," Mitchell said. "I've won a lot of stuff here on him, so I had high hopes for him."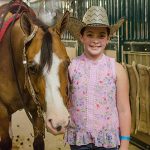 In the Youth Reining Horsemanship Class Becca Schaffhauser rode Dinitwithasmokingun (Colonels Smoking Gun x Dun It Doll) to the win. The 2009 gelding has been Schaffhauser's main mount for several years and she says they have a special bond, which translates into the show pen.
"I had to make sure I did the maneuvers good and clean and make sure your horse understands what you're doing," she said. "You want your horse to always understand you otherwise you might not always be able to the right things."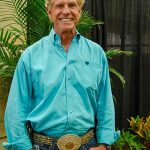 In the Mustang arena the non pros took center stage, again. The Novice Horse Non Pro champion was Morris Kulmer riding Nvr What A Lucky Joe (Lil Joe Cash x What A Lucky Hit) from a score of 143.
"The run today was better. We're getting a little better every time. He was really good today," Kulmer said. "The horse is there. I just have to get my nerves settled down. One of these days' we'll get there."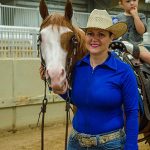 The Affiliate Regional Championships Novice Horse Non Pro winner was Kristen Avila riding Gunnerspecialplayboy (Gunners Special Nite x Shameless Playgirl) to a score of 142.5.
"The run today was pretty good. Our goal was to get through the pattern without any problems, so it was good.," Avila said, adding that Gunnerspecialplayboy will also be shown in the Youth 10 & Under Lead Line with her son Saturday night.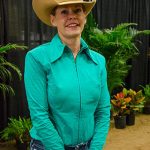 Emily Coultrap and Pale Of Gold (Pale Face Dunnit x Sailors Starbuck) took home the Novice Horse Non Pro Level 2 and the ARC Novice Horse Non Pro Level 2 wins from a score of 144.5.
"He was on," Coutrap said. "He was kind to me and it was just an awesome run."
Saturday night featured one of the fan favorite events, the Youth Lead Line and sponsored by Oklahoma Equine Hospital and Dr. Joe Carter. Some of the industries brightest young stars made their mark in the arena to the applause of the Tulsa Reining Classic fans and contestants. All contestants received the signature Tulsa Reining Classic Commemorative Teddy Bears and a Breyer horse.
In the 10& Under Walk/Trot Class Charli duPree took home the win riding RLJ Ruff Like Juice.
Groom Award
It takes a team to show horses and this year Tulsa Reining Classic joined with Shapley's Equine Products for the first ever TRC-Shapley's Greatest Grooms awards.
Twelve grooms were nominated for our Shapley's Groom Awards and a panel of Tulsa Reining Classic judges including staff at all arenas had a tough time choosing the winners.
Nominated were Damien Rico with Xtra Quarter Horses, Jackson Curtin with McQuay Stables, Chrissy Monterroso with Petroll Reining Horses, Lindsey Sewalt with Tom McCutcheon Reining Horses, Amelie Guilmont and Katie Davis with Buton Reining Horses, Jan Fisher with Sam Schaffhauser, McKinnon Larcombe with Martin Larcombe, Miguel Sepada with Matt Armenta, Zoe Compagne with Jared Leclair Reining Horses and Delaney Brannen.
The winners – in no particular order – were: Damien Rico with Xtra Quarter Horses, Chrissy Monterroso with Petroll Reining Horses, Katie Davis and Amelie Guilmont with Buton Reining Horses, Jan Fisher with Sam Schaffhauser, and Zoe Compagne for Jared Leclair Reining horses.
Each of the grooms received a gift pack from Shapleys. Congratulations to the TRC-Shapley Groom Award winners!
Catch all the action of the Tulsa Reining Classic at www.tulsareining.com and by following along on social media.
The National Reining Horse Association is not responsible for information contained in this press release. Please contact the author or submitting organization for further information, requests or questions.