At the conclusion of each show season, the top reiners in the world receive NRHA year-end titles. Last month, we shared some candid responses from the 2018 Open Reserve World Champions, and now we've chatted with the Non Pro and Youth Reserve Champions. Each of these remarkable riders told us a little about their campaign, their horses, and their success. Read about it here, and be sure to follow NRHA on Facebook to see spotlights of all the 2018 World Champions and Reserves.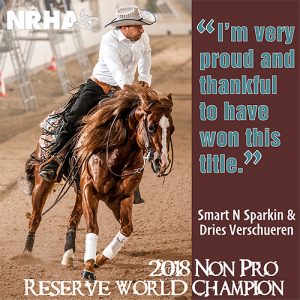 Non Pro Reserve World Champion
Smart N Sparkin, ridden by Dries Verschueren
2008 AQHA Stallion
Owner: Golden Paint Ranch
Sire: Smart Chic Olena
Dam: Setting Off Sparks
Location: Putte, Belgium
Partnership History: We bought "Spark" from Seven Heaven Reining Horses because we really believe in him as a sire. At the 2017 FEI European Championship, Spark's first show after we bought him, Bernard Fonck rode him to an individual gold and helped earn the team gold. At Americana, they became finalists, ending up sixth in the finals after marking a 224.5. Then it was my turn. In February 2018, we attended the Flanders Horse Expo in Belgium, where we wanted to win for sure, and we did! At the CS Classic, we marked our first 220 and were named non pro reserve champions. After several shows, our chef d'equipe, Dany Welter, made the decision for me to ride Spark at the 2018 FEI World Equestrian Games™ (WEG) in Tryon. Being part of the Belgian team at the biggest event in the horse industry was a dream come true! It was a privilege to compete against Gina Maria [Schumacher] all year, and I'd like to congratulate her on her 2018 NRHA World Champion title!
Spark's Personality: Spark loves the show ring like no other, and he has more heart than any other horse I've ridden.
Proudest Moment: Showing at WEG in September 2018 was an unbelievable experience. It's not easy to ride in the same class as the best open riders from all over the world. Just before I went in, my dad called me and said, "Son, go in, do what you can, and trust him. I believe in you and Spark." That was the perfect pep talk. Spark was there for me 100%, and we marked a 219.5. After this run, I received so many sweet messages from a lot of friends and family. The Belgian team won the Silver medal, and I'm so thankful to Dany [Welter], Cira [Baeck], Ann [Fonck], Bernard [Fonck], and the entire team for believing in Spark and allowing me to be part of their team.
Biggest Obstacle: The biggest obstacle was when we had to go to England to earn our seventh paycheck. The good thing was Bernard also needed a seventh paycheck, so I didn't have to go alone. We were only in England for two days, but the trip to England was not easy. We needed to take a boat, but the sea was too stormy. Instead, we had to find a place to sleep the horses and a hotel for us, which wasn't easy, but everything turned out alright in the end.
What Winning Means: I'm very proud and thankful to have won this title. It never would have been possible without all the help from my parents, who are always behind me, supporting me any way they can. I am also very thankful to Bernard for coaching me and teaching me how to show, train, and work with Spark. Finally, I'd like to thank everybody who supported me this year. Your encouragement means a lot to me. But most of all, I'm thankful for my parents, my biggest fans. Without them, this beautiful story would be impossible!
The Future: In 2019, we plan to do more non pro competitions and continue building Spark's breeding program.
---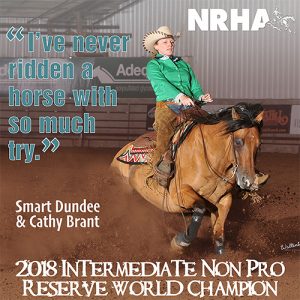 Intermediate Non Pro Reserve World Champion
Smart Dundee, ridden by Cathy C. Brant
2007 AQHA Gelding
Owner: Cathy C. Brant
Sire: Conquistador Whiz
Dam: Smart Oaklynn
Location: Belle Center, Ohio
Partnership History: My husband, NRHA Professional Brandon Brant, picked out this horse as a 2-year-old, trained him, and took him to the 2010 Open Futurity Finals. Due to an injury in 2011, "Mick" missed most of his derby career, but we brought him back as a 6-year-old to be my non pro horse.
Mick's Personality: He's very confident. Mick lives in the pasture and is the herd leader wherever he goes—but he prefers to be pastured with the mares. In the arena, he's all business. He knows his job and gives his heart every time. I've never ridden a horse with so much try.
Proudest Moment: Our success at the 2018 NRHA Derby in the non pro and 7 & Up maturity was the proudest moment for me. I tend to get very nervous on bigger stages like the Derby. In past years, I have let my nerves get the best of me. In 2018, we were able to overcome that hurdle by a long stretch. We ended as champions in the $3,000-added intermediate and tied for reserve in the non pro and Levels 1 through 3 for 7 & Up. We would've tied for reserve in Level 4, but I decided not to enter that division to keep the pressure lower.
Biggest Obstacle: My nerves. Mick is an amazing horse that my husband did very well on, so I put a lot of pressure on myself to keep that momentum going. It took me a while, but once I learned to fully trust my horse, it gave me amazing confidence. With that combination and the coaching of my husband, I was able to team up with Mick, and now it feels like the sky is the limit!
What Winning Means: I didn't realize I was in the running for this title until after Congress. Learning the news was amazing. This is somewhere I never thought I would be, so I never even thought to look at the standings. We ended the season on a huge win at the Congress, taking home the Intermediate Non Pro Championship. After that, I was happy to turn him back outside with his "ladies" to give him the rest of the year and winter off.
The Future: I plan on showing this old man in the bigger money-added non pros and 7 & Ups as long as he lets me. We definitely plan on returning to the Buckeye 7 & Up in April, the NRHA 7 & Up, and the non pro at Congress.
---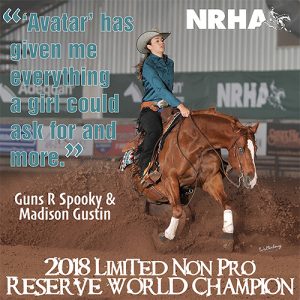 Limited Non Pro Reserve World Champion
Guns R Spooky, ridden by Madison Gustin
2010 AQHA Gelding
Owner: Madison Gustin
Sire: Smart Spook
Dam: Berry Yer Guns
Location: Weatherford, Texas
Partnership History: We bought "Avatar" from the Waggoner Ranch almost four years ago after my trainer, Casey Deary, suggested he would be a good fit for me. Avatar was trained by Ben Baldus, who did an outstanding job. I started showing him in the youth classes, then moved up to Rookie Level 1 and 2, and eventually started the non pro classes. Over the years, we have continued to learn and grow as a team, which has been amazing.
Avatar's Personality: In the arena, Avatar can be pretty stubborn, but he's a very hard worker and I can always trust him. On the ground, he has so much personality. He's very antisocial and does not enjoy being loved on, but he can untie himself and figure out a way to open any kind of latch with his lips. If anything is on a shelf within his reach, he's going to knock it down. He thinks it's funny to throw my show shirts in his water bucket. At times, he tries to pick a fight, but if you just laugh at him, he will let out a loud sigh and forget he was mad. He has even learned his name and will respond to it when called.
Proudest Moment: My proudest moment was competing at the NRHA Derby. I spent the month of June at Casey's place riding every day, which helped us get in our best shape. At the Derby, we won the first slate of all the limited non pro, intermediate non pro, and non pro, as well as the second slate of limited non pro and youth 14–18. Funniest Moment: We found out Avatar loves sweet tea during the AQHYA World Show. I had a cup of sweet tea and Avatar kept nudging it, so I decided to let him have a taste. He ended up drinking almost the whole thing! Later that day, after we ate dinner, my brother had set his cup full of sweet tea on the table in our aisle. I was about to get on Avatar to go practice when I stopped in front of the table to fix his boot. By the time I stood back up, he was licking his lips and the cup was empty.
Biggest Obstacle: This year I became very self-conscious about my riding. I felt like I should have been improving in places I wasn't and couldn't get rid of a few bad habits. I even made some silly mistakes I hadn't made since I showed in short-stirrup, like loping off on the wrong lead. After many tears, pep talks, and hours of watching previous show videos, I was able to regain my confidence and recognize all the improvements I have made.
What Winning Means: Winning this title means the world to me. It represents the journey Avatar and I have made together. Looking back on the last four years, I never would have expected us to come this far, especially considering I have done all the training on him myself, under Casey's guidance. Avatar has given me everything a girl could ask for and more. Our goal at the beginning of the year was to try for top 10 in the limited non pro, which makes getting Reserve World Champion that much better. My bond with Avatar is so strong! He has changed my life and given me so many great memories.
The Future: Our future as a team will most likely move to some other disciplines, possibly involving cows or anything ranchy. Avatar seems ready to do something different and have some fun. He has given me everything, so now it's my turn to return the favor to him.
---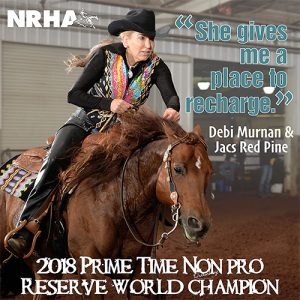 Prime Time Non Pro Reserve World Champion
Jacs Red Pine, ridden by Debi Murnan
2010 AQHA Mare
Owner: Debi Murnan
Sire: Jacs Electric Spark
Dam: Shes Flamin Hot
Location: Grass Valley, California
Partnership History: I have owed "Tommy" since the end of 2013, which was her 3-year-old year. I purchased her and her dam from Dick Randell's Lost Trail Ranch. Tommy mostly stays at home with me, and I haul her two hours to Boyles' Performance Horses for lessons once a week. Not much bothers her, and she is super-easy to be around and haul.
Tommy's Personality: Outside the arena, she is a character—very playful, but sweet and kind. In the arena, she is gritty, has a good work ethic, and likes her job.
Proudest Moment: The Regional Affiliate Finals in Idaho and the Affiliate Finals in Oklahoma City were my two proudest moments with Tommy. To see Mike and Barbi Boyle and Kim Yancey's faces smiling at me when I finished my runs was the best. I think they were on her back with me. The support from all my friends was wonderful. Funniest Moment: The night before I leave for a lesson or show, I have my truck and trailer packed and ready to go. Early the next morning when I am ready to head out, I start the diesel truck. When Tommy hears the engine, she starts pawing the ground. She will circle, stop, and paw again. I have tried to feed her before, but she still does the same thing. She has bucked, spun, and played waiting for me to come get her. Normally she's not in a hurry when I halter her, but going to the trailer, she loads up like "let's get going." I can start the truck when I'm not going to haul, and she doesn't get excited. When she first started doing this, I thought it had nothing to do with going for a ride. But it definitely does; she's like a dog that loves to go in the car. She loves doing her job and seeing her horse friends.
Biggest Obstacle: Hauling by myself to far-away shows was a huge obstacle for me. I have gotten brave, but I may need a little dog companion to ride in the cab with me since Tommy cannot.
What Winning Means: This title is huge to me. It is not easy to be in the top 10, so to win reserve despite not having as many shows out west is really cool. I am so grateful and thrilled to receive this title. I owe a lot to my husband, Mark; Kim Yancey; Mike and Barbi Boyle; Kelly Cianan; and Torri Sims. It takes a tribe!
The Future: As of now, our future will continue together. My husband was diagnosed with stage 4 cancer right after I got home from the NRHA Futurity. This mare is my friend and partner. I really need her right now to help me with this challenge. She gives me a place to recharge and let everything go for a few moments.
---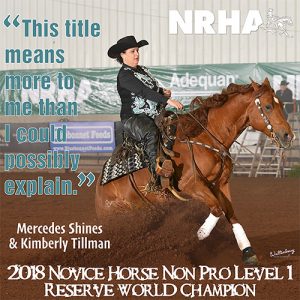 Novice Horse Non Pro Level 1 Reserve World Champion
Mercedes Shines, ridden by Kimberly P. Tillman
2011 AQHA Gelding
Owner: Kimberly P. Tillman
Sire: Cromed Out Mercedes
Dam: Shining Maid
Location: White Hall, Maryland
Partnership History: I bought "Mercedes" in March 2018 from a friend who changed disciplines. Before Mercedes came to my barn, my friend had turned him out for about six months and only ridden him on trails. I showed him for the first time only three or four days after our first ride together. The previous year, I had a horse fall on me, and I broke my collarbone and ribs, fractured my knee, tore my calf muscle, strained both my groin muscles, and pulled various muscles on my right side. When Mercedes came into my life, I was excited to feel safe on a solid, older horse. I knew Mercedes hadn't earned very much NRHA money, but I thought we could give each other the confidence we both needed. In my first class with him, I made a few mistakes, but still had a nice ride. The second day I showed him, he liked the pace. We kept that up for the first couple shows, still winning weekend highpoint awards despite our learning curves. Mercedes and I quickly found a speed that worked for us both and helped us be comfortable with each other. All year long, Mercedes was as honest in the show pen as when I rode him outside the arena.
Mercedes' Personality: I learned about Mercedes' personality along the way. I found out he loves licorice, which is my favorite show and travel treat—another reason we got along so well. Mercedes would actually beg for his licorice. Before we showed, I always gave him black licorice, then switch to the red variety after our class.
Proudest Moment: I think one of my proudest moments showing Mercedes was winning the weekend highpoint in Tryon, North Carolina. It was an amazing honor to ride among so many great trainers in the warm-up pen and show arena and to watch the WEG trials. What an amazing horse show! I was also extremely proud when Mercedes and I won the Northeast Affiliate Championship finals in the Novice Horse Non Pro Level 1 and L2 as well as the Novice Horse Open Level 1. Funniest Moment: I think one of the funniest moments was at one of the shows we attended near the beginning of the year. As I changed leads and came around the circle, I heard my longtime coach Bob LaPorta say "keep showing," then I felt the wind—my shirt had somehow come unbuttoned. I heard Tricia Tillman, my daughter who is also my trainer and coach, say "ignore it, you got this! Just keep showing." Easy for them to say. Thankfully, I had a tank top under my shirt. Another funny moment happened at the Northeast affiliate show. I had Mercedes in crossties, and as I was rushing to get to the show pen, I took his halter off and started to walk away. I got about 10 feet from him and realized I was carrying the bridle. I looked back at Mercedes, who was still standing in the crosstie area with his head tilted, as if he was saying, "I think you're having a bad day, Mom. Are we staying or going? If we're staying, I need my licorice." Mercedes tolerated a lot from me rushing to and from the show pen throughout the year.
Biggest Obstacle: I overcame several obstacles this year, one being my fear that a horse would fall with me again. In the middle of the show season, my mom had to have a lung biopsy. After that, her lung collapsed and she got pneumonia three times, so I took time to be with her. Unfortunately, I contracted pneumonia and could no longer be around my mother. During that time, I had been looking at the standings and noticed I was still leading for the world title. So I worked with my doctor who helped me be able to show. My mom encouraged me to go for it and told me she believed in me. With the help of my family and nurses to care for my mom, I was off. Even though I was still sick, I went on the road for almost five straight weeks. My mom was diagnosed with stage 4 small-cell lung cancer in December, and she lost her battle on December 29, 2018.
What Winning Means: This title means more to me then I could possibly explain. Winning this title allowed me to make my mother so proud. The day she found out she had stage 4 cancer she was bragging to her doctor that I won a world title. I couldn't have been at my mother's side all those months without the help of my daughter, Tricia. She is such a blessing to have in this industry. This year, she helped keep my horse tuned and supported me when I didn't have confidence in myself. Bob LaPorta, who introduced me to the reining industry, continues to support my dreams to be the best I can be. I have so many people who helped make this possible—more than I could list. You all know who you are, and I thank you from the bottom of my heart. It truly does take a village to accomplish goals like this one.
The Future: Mercedes has moved to Florida to continue his career with a new special person in his life. Mercedes gave me the confidence to move on to another horse to spoil, love, and find a new rhythm with. I look forward to what 2019 has in store for us both. I encourage anyone who has ever thought about running for a title to go for it. This accomplishment brings pride at being one with your horse, and that is worth all the money and time in the saddle.
---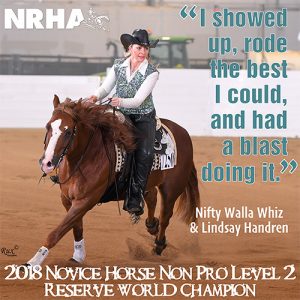 Novice Horse Non Pro Level 2 Reserve World Champion
Nifty Walla Whiz, ridden by Lindsay M. Handren
2010 AQHA Gelding
Owner: Lindsay M. Handren
Sire: Walla Walla Whiz
Dam: Custom Nifty Nic
Location: Ferndale, Michigan
Partnership History: The 2018 show season was my first year with "Freckles." I had only recently moved from California to Michigan with a different horse that I owned and showed, so I wasn't in the market for a new one. After seeing Freckles' big personality day in and day out at the barn, I eventually fell in love. Because we were so compatible on the ground, my trainers, Tim and Cindy Katona, who owned Freckles at the time, offered to let me ride him to see how we'd get along under saddle. From the very first ride, we clicked. I knew he was a special one that I couldn't pass up, so I jumped at the chance to have him. I'm really glad I did—that opportunity led to a tremendous year!
Freckles' Personality: He's like an oversized lap dog. Freckles always greets me with a slobbery lick right across the face and loves to snuggle up with his head in my lap when I catch him in the middle of a nap. He has such a loving but silly personality and is an endless source of entertainment, constantly making people laugh at his funny faces. When it's time to show, he puts the silliness aside and gets his game face on. He really lights up in the show pen—it's obvious he loves to do his job. The moment we walk out, he's right back to his sweet, goofy self.
Proudest Moment: Reflecting on the past year, I had many memorable moments and achieved several personal milestones, but my proudest moment was probably the first time we marked a plus on every maneuver. I've been fortunate enough to have shown some amazing horses in the past, but I had never been able to reach that goal. Freckles puts his heart into every run, but there are usually a few pilot errors on my behalf. On that particular day, everything just came together so well—our energies matched, we felt super in sync, and our bond was stronger than ever. It ended up being one of our best runs to date and a career-high for me. Funniest Moment of the Campaign: I can't pin down one specific moment, but there was always something happening to make me smile, not take things so seriously, and remember the goal of all this: to have fun and enjoy the ride!
Biggest Obstacle: Overcoming self-doubt. Over the past season, I competed at some of the biggest, most prestigious shows I have attended in my entire show career. NRHA has so many incredible riders, so when I started competing at this level, I doubted my capability. I began to wonder if I had what it takes to share the arena with such high-caliber riders. Tim, Cindy, and the entire Katona team were always there encouraging me and cheering me on, never letting my worries get in the way. With their endless support, I showed up, rode the best I could, and had a blast doing it.
What Winning Means: This win means much more than words can describe. The past year was one of the hardest I've had in every aspect of life outside of horses. My mom, who passed away a few years ago, always told me I could do anything I put my mind to. So, despite the many obstacles I faced in my personal life, I never stopped moving forward. Honestly, achieving this title was not even on my radar; I just knew riding was the one thing that could get me through all of life's other stressors, so I poured my heart into it. I am so grateful for the endless support and love I've received from Tim and Cindy and my team. With them by my side and my mom in my heart, I never gave up. This title will forever be a reminder to me that no matter how difficult life gets, I am strong enough to overcome. That's a pretty incredible feeling.
The Future: The future looks bright! I plan to continue into the next season with Freckles and make more amazing memories. I've never been to Oklahoma during the Futurity, so I'm hoping we will make our way there this year for the Adequan® North American Affiliate Championships. Freckles and I are just getting started as a team, and we have lots more goals to accomplish together.
---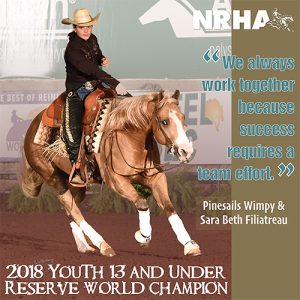 Youth 13 & Under Reserve World Champion
Pinesails Wimpy, ridden by Sara Beth Filiatreau
2009 AQHA Gelding
Owner: Chris Ballard
Sire: Wimpys Little Step
Dam: Pinesail
Location: Bardstown, Kentucky
Partnership History: My history with "AJ" started during the 2016 Congress when we bought him from Bob and Arlene Santogata of the Santa Hill Ranch. Before that, AJ was trained and shown by Dean Brown. I'm very thankful to Dean for training AJ and to Arlene for allowing us to buy him. After Congress, I couldn't wait to get him home so I could learn to ride him.
AJ's Personality: Outside the arena, AJ is very nice and calm. He doesn't really care what people do most times, but he'll occasionally nip at my fingers. I think that's his way of being friendly. In the arena, AJ is serious, listens carefully to every cue, and reacts quickly. He gets a little restless, so I have to work to settle him down. Not every ride can go exactly the same since we both mess up sometimes, but we always work together because success requires a team effort.
Proudest Moment: My proudest moment with AJ was at a show in Findlay, Ohio. On Friday, I didn't think we had the best run, but I marked a 72.5. On Saturday, I showed again and thought we had an amazing run. We marked another 72.5 for that run. Finally, on Sunday, I showed one more time and thought the ride was pretty good. Once again, I marked another 72.5. This is not the highest I've marked, but I was very proud of our consistent scores. Funniest Moment: I had just hosed off AJ and tied him in his stall by the fan. I wanted to get some lunch, but I grabbed a few potato chips while I waited for my sister. I was leaning against AJ's stall eating, and he started licking my chips through the stall door. Everybody started laughing, and now we know he likes chips.
Biggest Obstacle: The biggest obstacle to achieving my goal was finding time to ride. I play volleyball, high school basketball, and seventh-grade basketball, so getting to shows is difficult without missing a game.
What Winning Means: This title means a great deal to me because I worked hard to get to the barn and ride as much as possible every week. It also shows my improvement since last year and how much my family has supported me in busy times by making sacrifices to allow me to ride.
The Future: AJ and I will be together a few more years, so we can keep showing and improving. I will always love him. We have a special bond that I didn't have with other horses I have ridden in the past, and that impacts our performance.
---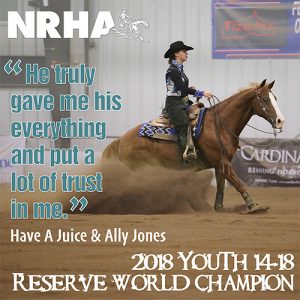 Youth 14–18 Reserve World Champion
Have A Juice, ridden by Ally N. Jones
2005 AQHA Gelding
Owner: Stacey Evans-Jones
Sire: Smart Like Juice
Dam: Navahope
Location: Franklin, Kentucky
Partnership History: My mom bought "Jose" from one of her customers in 2013. I liked him so much that I made a bet with her: whoever scored the highest with him, Mom in Rookie and me in Youth, at the last KRHA show of the season would get to show him the rest of the year and the following year. I worked with my coach in the warm-up pen and beat my mom's score in our classes, so he became my horse. I am so glad we made that bet.
Jose's Personality: Jose is very loving and sweet in and out of the show pen. He thinks I am his instead of him being mine and gets upset when I ride other horses. He would stand in the back of the stall every time I got on my other horse, Colonelsmokintari, and stay there until I came back. At home, he loves riding outside and running around the fields with his buddies.
Proudest Moment: The proudest moment I had with Jose was when we worked really hard and scored our first 73 at the KRHA Show. He truly gave me his everything and put a lot of trust in me. It helped us both realize we could do it, and we were able to score quite a few more 73s after that. Funniest Moment: We were riding on a loose rein to our top arena to practice when Jose saw a squirrel and jumped like a ghost was after him. When he realized what it was, he acted embarrassed and ran after the squirrel.
Biggest Obstacle: There were many obstacles this season, but the biggest was due to our show schedule, my school commitments, and our remote location in Kentucky. This made it hard to find time to ride with a trainer between shows, so I rode at home all week long. My mom and I hauled to shows late at night, then I had to get up early to go to school before the show started. I kept both of my show horses tuned up at home and got lessons from several great trainers along the way. In the fall, we had a couple of weekends off when I was able to go ride with Andrew Fox who showed me exercises to keep the horses going after a long show season. Andrew also helped me at the last Frankfort, Kentucky, show and the Southeast Affiliate Championships. While running for this title, I was able to keep my grades up, study for the ACT, and start on my CNA license.
What Winning Means: Campaigning for this title was a dream I've had for years and it meant a lot for me to be in the running this year. Reining is one of my passions. I've always loved horses and competed in the sport of reining since I was old enough for Short Stirrup. Jose is a wonderful horse and gave me everything he had for us to be successful. I couldn't have asked for a better horse to run for a title on. There were a lot of highs and lows, but through it all he was really consistent, which Shannon told me was key to running for a title. I also loved being on the road with my mom, getting to explore amazing places, and having Mom there every step of the way. We learned a lot about each other and became best friends.
The Future: In 2019, Jose is on a well-deserved vacation for being such a consistent and steady show horse. As for me, I plan to show several horses in 2019. One is our stallion, Colonelsmokingpep, also known as "Champ." We'll show in non pro and some 7 & Ups. I'll also continue showing Colonelsmokingtari in youth and Carmens Gotta Gun in some small derbies. I hope to ride on an equestrian team in college, but I will take Jose with me so we can show some on weekends. He and I will be forever friends.