Proudly sponsored by NRHA Corporate Partner MS Diamonds TX, "Official Diamond Jeweler of NRHA"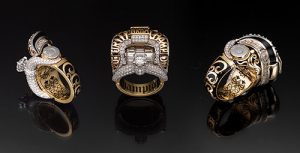 Each one-of-a-kind diamond ring by NRHA Corporate Partner MS Diamonds TX is a masterpiece that tells a story. The same can be said about the one and only National Reining Horse Association Futurity Championship ring. Inspired by the deep traditions of NRHA, MS Diamonds TX created a unique trophy ring design that clearly defines the 'Champion.'
The internationally known company has gone to great lengths to develop a diamond jewelry line that is as bold as the name suggests; Sleipnir. The mythological creature is an eight-legged horse with supernatural strength that belonged to the Greek God Odin. MS Diamonds TX's Sleipnir, the 'sliding one,' brought forth the first NRHA Futurity Level 4 Open Champion's ring to the 2016 NRHA Level 4 Open Futurity Champion Rider and Owner. A ring so rare that it was first revealed at the 50th Anniversary of the NRHA Futurity and is an exclusive product for NRHA.
NRHA Five Million Dollar Rider Andrea Fappani captured the 2016 NRHA Level 4 Open Futurity win as well as the very first coveted Champion's ring riding Spooky Whiz for NRHA Million Dollar Owners Rancho Oso Rio who also received the one and only NRHA Champion Owner's ring by Sleipnir. In 2017, NRHA Three Million Dollar Rider Craig Schmersal conquered the Futurity crown and the Championship ring riding Face The Attitude for owner Hickory Creek Ranch LLC, recipient of the Owner's Futurity Championship ring.
"We are thrilled to continue our partnership with MS Diamonds TX in order to grow the sport of reining and to elevate the honor and prestige associated with the NRHA Futurity Championship. Carat by carat, MS Diamonds TX is making a lasting impression on the title and the sport," said NRHA Commissioner Gary Carpenter.
Proud of the partnership with NRHA, MS Diamonds TX, Official Diamond Jeweler of NRHA, looks forward to offering more prestigious awards to the members and to presenting the prestigious ring to the 2018 NRHA Open Futurity Champion rider and owner.
The National Reining Horse Association is not responsible for information contained in this press release. Please contact the author or submitting organization for further information, requests or questions.