The Time Has Come! The Competition Is Set! We've Broken Tradition!
The first Wild Card Reining Challenge in Las Vegas, Nevada was held May 25th through the 29th, 2016. Hosted by the South Point Hotel, Casino and Equestrian Center, the "Wild Card" was specifically created to offer young reining horses more time to receive the training they need to begin long and sound careers in the demanding sport of reining.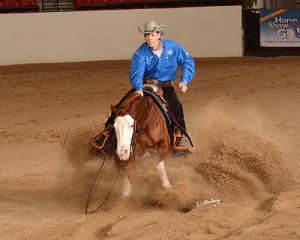 "For years I have been listening to horsemen lament the fact that some very good horses are not ready for the extreme physical and mental stress that can come with three-year-old reining competition," says Amanda Brumley of Brumley Management Group, LLC., creator of the Wild Card Reining Challenge. "Horsemen say that some horses are not ready for it. They need a little extra time; some slower preparation. Talk about a Four-Year-Old Futurity has been floating around here for a lot of years. I think it's an idea whose time had come."
A lot of folks agree with Amanda. The concept not only allows for slower development of valuable, top quality equine athletes, it also precipitates longevity for the horse's ultimate career in the show pen. The event dates for the Wild Card show in late May provide an additional nine months of training time past the three-year-old deadlines. Those nine months can be critical to the development of muscle, bone, strength and dexterity.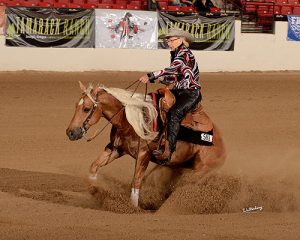 A big supporter of this concept and now the title sponsor of the Wild Card Reining Challenge Four-Year-Old Futurity is Tamarack Ranch of Joseph, Oregon. Owner Suzy Simar is a longtime supporter of the Brumley Management shows. "Without the financial support of sponsors like Tamarack Ranch, the shows I produce just wouldn't happen," states Brumley. "These premier events are very costly to produce. A facility like the South Point and all that it has to offer is a perfect location for a horse show, but comes at a high price. The folks at South Point are fantastic to work with and bend over backward to make my events a success so to me, every penny is worth it!"
In addition to the $65,000 Added Tamarack Ranch 4 Year Old Futurity, the Wild Card Reining Challenge has added a $40,000 Added 4 Year Old Stakes. While the Futurity has eligibility requirements, the Stakes does not. It is open to all 4 year old horses. Also if Futurity exhibitors wish to cross enter into the Stakes as well, they have the opportunity to win even more money.
Eligibility for the Wild Card Four-Year-Old Futurity requires the entry to be a four-year-old at the beginning of the calendar year and cannot have been shown in ANY Age Event Competition/Futurities (NRHA Category 2) as a 3 Year Old. These horses can be shown in AQHA, NRHA or NRCHA events in order to receive the show seasoning required as part of the training process, as long as the added money and 3 Year Old Aged Event category restrictions are maintained. Horses are allowed to show in Aged Events as a 4 year old prior to the Wild Card event. "Our plans are to make the Wild Card Reining Challenge just as unique as its "sister shows": the Cactus Classic, Arizona in March; the Reining By The Bay, California in July, and the Las Vegas High Roller Reining Classic, Nevada in September," says Amanda Brumley. "We have included two full slates (NRHA Category 1) of competition and a 7 & Up Non Pro SmartPak Maturity at the Wild Card Reining Challenge, and classes for our friends from the World Para Reining Organization. In addition the Wild Card is hosting two slates of National Arabian Reining Horse Association qualifiers for the fall NARHA World Championships."
The educational seminars, sponsored by Horse & Rider Magazine, on training, horse health care and judging were a huge hit in 2016. NRHA Judges Chairman Jody Brainard hosted the "Inside the mind of a NRHA Judge" seminar. Samples of runs on video were reviewed to help spectators understand what judges are looking for in reining maneuvers, in addition to reasons for penalties. Dr Kris Crowe gave an extremely well detailed look into how to care for a performance horse prior to and after competition. Four Million Dollar NRHA Professional Andrea Fappani shared his insight into speed control and lead changes. Fappani pointed out what he sees exhibitors doing that sets them up for penalties and offered detailed instruction as to how to work with a horse to simplify cues so the horse can clearly understand what the rider is asking.
The Wild Card Reining Challenge has also joined forces with the United States Equestrian Federation (USEF) and USA Reining to offer a youth qualifier for the FEI Youth and Young Rider Reining World Championships August 9-12, 2017 at the CS Ranch in Givrins, Switzerland. Another qualifier is being offered to Open riders interested in competing on the US Team at the 2018 World Equestrian Games held at the Tryon International Equestrian Center in North Carolina (USA) September 10 – 23, 2018.
When asked about how the first year of the Wild Card Reining Challenge went, Brumley stated, "Fantastic! Of course I expected it to be small the first year and it was, but so was High Roller when it started ten years ago. The concept of the 4 Year Old Futurity needs time to evolve. Although I don't think it's going to take long. We are already expecting double the entries this year."
For additional information contact Amanda Brumley (602) 677-3774. brumleymanagementgroup@gmail.com or visit the event website at www.WildCardReiningChallenge.com
The National Reining Horse Association is not responsible for information contained in this press release. Please contact the author or submitting organization for further information, requests or questions.