Max Ruggeri and MR No Guns In Town win the Elementa IRHA 4-year-old Open
Cremona, November 28 — Provided by Simona Diale, International Horse Press — The 35th edition of the Italian Reining Horse Association (IRHA) Futurity this year was made even more prestigious with the Elementa 50.000 euro-added 4-year-old Futurity. Run in a qualifying go round and seeded finals, the Open and Non Pro divisions closed the sixth day of competition in Cremona, Italy.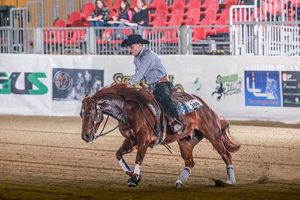 Italian Professional Massimiliano Ruggeri aboard MR No Guns In Town (Gunstar x Dunnit With Cash) owned by Az. Agr. Equiesse laid down a run worth 219, enough to take home both the Level L(4) and L3 Open Championships. "This victory is for all of us: the breeder, the owner and all my team," said Ruggeri. "I saw this horse when he was a 2-year-old, bred by Max Rudari, and when he was a baby he was already a great mover. One of my clients purchased him; after that I moved and met up with this horse five months ago after his new owner contacted me to ask me if I would be willing to take him in training. He hasn't been shown much, and I am certain he still has a lot of potential as he is very talented and still has a lot to learn. Tonight he showed everyone how good he is and now we'll decide his future step by step."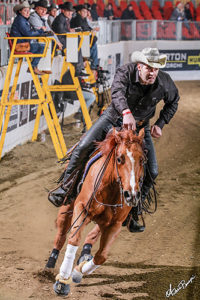 Taking the L2 Championship with a 218.5 was Stefano Ferri and UB Electric (Electric Code x UB Styin With Me) owned by Luga LLC. "I've only been riding this horse for a short while, as a matter of fact he was shown by my colleague and friend Mirko Midili," said Ferri. "I still have to get to know him, it's the second time I've shown him, and I have to thank Mirko for helping me out here. I look forward to showing him in the derbies as I know he has a lot of potential."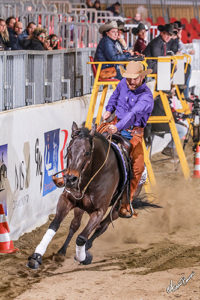 The L1 Open Futurity Championship went to Alberto Ferrara who scored a 212 with Little Bingo Player (Peptos Lil Bingo x Supertrump Out), owned by Riccardo Morichi, between the reins. "This is a particularly sweet win since I convinced the owner [Morichi] to breed his mare to Peptos Lil Bingo," said Ferrara. "This gelding is a product of this cross and I am really happy for this sweet and talented horse. His future includes working on cows, like his sire, and then we'll go from there."
Nogue Puig and A Whiz N Cash do it again!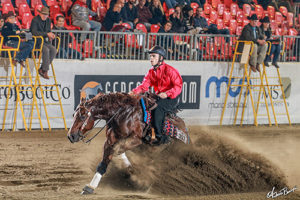 The 50.000 euro-added Elementa IRHA 4-year-old Futurity saw one of Europe's rising star rise to the top of the finals standings in the Non Pro division: winning the Level (L)4 was Andreu Nogué Puig and his faithful companion A Whiz N Cash (Custom Cash Advance x A Whiz N Wranglers) take the prize with a final score of 218. "This is really a special win. It's is our second here at the Italian Futurity since last year we won all levels of the 3-year-old Futurity," said the 17-year-old. "I would like to dedicate this Championship to my grandmother who passed away one week ago. It's still a very fresh loss and I thought about her during my whole run — I felt she was with me from the beginning of the pattern to the end. She didn't care that much about horses but A Whiz N Cash was always special to her. She loved him and she always said that he was great for me. Of course, I need to thank my parents for being such great supporters and sponsors as well as my trainers, Mirko Midili and [NRHA Two Million Dollar Rider] Bernard Fonck for helping me out during this year.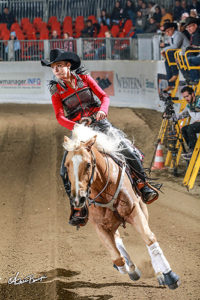 It was yet another win for Swiss Fabienne Kuratl-Suter and her Alpha Top Gun (NRHA Two Million Dollar Sire Hollywoodstinseltown x Smoking Walla Wanda): After topping the L4-3- and 2 qualifier, the pair swept both the L3 and L2 Futurity Championships with a 214.5 after taking home the NRHA of Germany L3 and L2 Futurity titles. "I stopped riding for a couple of years after my second son," said a smiling Fabienne. "I love showing, this is my life, so I going back into the show pen came easy…especially thanks to my great trainer Grischa Ludwig. I really could not have done this without him. He keeps my horses so tuned and in tip-top condition. I am really thrilled with this win and, to tell the truth, I did not know I had also won the L3 until it was time to go in for the awards presentation."
Ludwig was quick to praise his non pro's win: "Fabienne is as good as any open rider in the pen. The only thing you need to tell her is to press the right buttons and she does it!"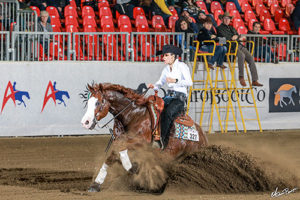 An enthused Susanna Sodi took the L1 Championship aboard her Ladysdreamofblueeyes (NRHA Six Million Dollar Sire Magnum Chic Dream x Check Your Gun Lady). "He's a USA-bred horse. I purchased him from [NRHA Four Million Dollar Rider] Craig Schmersal after last year's NRHA Futurity and this is our first big show together," she said. "He's such a good and nice show horse; he loves to work and he has amazing rollbacks. Also in barn life, he's adorable.
His barn name is "Cinghialone [big boar] — she added with a laugh — he always wants to touch and stay with the humans! I'm planning to show him at the Derby here in Cremona the next May and I cannot wait."
Photos by Bonaga Communication
For complete results: showmanager.eu
For Livestream: www.andreabonaga.it
For further information:  www.futurity.it