Fernando Salgado Wins SWRHA Billingsley Ford Open Futurity on Stars And Sparks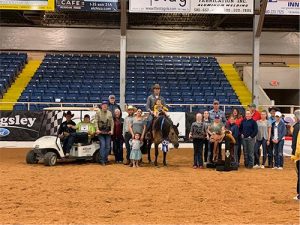 The Southwest Reining Horse Association Billingsley Ford Open Futurity was held Saturday, October 27, at the Hardy Murphy Coliseum in Ardmore, Oklahoma. This year, the Futurity featured a record number of entries – 112! That's up from 75 in 2017.
"We were thrilled to see the increase in Open entries this year," said Cheryl Cody, President of Pro Management, Inc., which manages the event. "We know there are many places for our exhibitors to compete, and we're glad they joined us here in Ardmore."
Billingsley Ford has been a sponsor of the SWRHA Futurity for several years. "Billingsley Ford has been an important part of this event for many years, and that's why I, along with many other reiners, choose to buy vehicles there," Cody said.
With top riders from across the country converging in southern Oklahoma for a last-chance run through before the National Reining Horse Association Futurity in Oklahoma City, it was Fernando Salgado of Aubrey, Texas, who topped the leaderboard.
Salgado was riding Stars And Sparks, by A Sparkling Vintage out of Belle Starr Dun It, owned by Oldenburg Farm LLC. Salgado, who works for Tom and Mandy McCutcheon, had his eye on the talented mare long before he ever got to ride her. "I always saw Tom riding her and she looked really nice, and one day he came to me and said he thought I should ride her since I'm in the Level 3, and they wanted to put some earnings on her to be a broodmare one day. I was very, very happy," he recalled.
Stars And Sparks lost some time near the beginning of the year, but was able to show at the Tulsa Reining Classic. "She was ok, but still showing some green spots. At the beginning of this week I schooled her, and didn't plan to show her here, but Mandy said I was going to. She thought I was ready and that it was best or the mare and me to get ready for Oklahoma City. She entered us without me knowing it." He added, "It ended up working. I love that mare. She fits me really well!"
Salgado actually won the SWRHA Futurity two years ago with the same score, and then went to Oklahoma City and made the Level 4 finals. "I hope I can do it again this year! This show is really important. It's our test drive for the futurity and it pays so well. It lets us know where we need to work more," he said. "I had a bad show in Arizona and my confidence level was low, but this was great."
Salgado has worked for the McCutcheons since the beginning of 2018. "It has been perfect. They take care of me, support me, and I couldn't be happier," he said. "I thank them for the opportunity, and the whole team. Thank you to my wife Sabrina who is with me good and bad."
In addition to checks totaling $25,988, the win (and the win of the Level 3 Open) came with an SWRHA Golf Cart and a saddle sponsored by Scottsdale Western World.
Yonathan Baruch finished in second with Ready N Willing (Walla Walla Whiz x Dainty Dunit), owned by Rodion Cantacuzene. They also finished Reserve in Level 3, for earnings totaling $10416.
Ann Salmon and Tinseltown Joe Win Billingsley Ford Open Level 2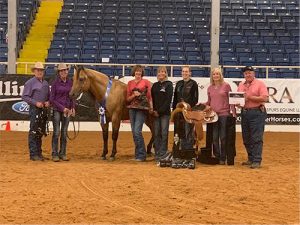 Former SWRHA President Ann Salmon piloted Tinseltown Joe to win the Open Level 2 with a 220, earning $3,695. The pair also placed in the Level 3, worth an additional $3,280. It was a special win for Salmon, who raised the young stallion. "We raised him, my husband started him, and I have been riding him ever since. A very good friend of ours, Dr. John McCarroll, owns him, so it's a real family project," she said with a laugh.
Salmon noted that Tinseltown Joe, by Hollywoodstinseltown out of Joe Cat Jac, was a little bit of a late bloomer, but that changed around August. "He didn't know if he really wanted to be a reiner, but one day he just woke up and said, 'This is easy!' and he's been a dream ever since. This is our third show, and he just keeps getting better. He's actually better in the show pen than the warm up. I don't know how he knows, but he just gets focused," she said.
With the Futurity a month away, Salmon explained her plan to make things smoother. "We'll get it a little cleaner, easier, and dynamic, because it's tough in Oklahoma City," she said.
Although she resigned from the board a few years ago, Salmon still loves the SWRHA Futurity. "This show has been going on a long time. We're so happy that it continues to be successful. It's fun to win a little piece of it. It is a lot of fun to be able to just come and enjoy it, especially with a horse like this," she said. She added, "Thank you to John for letting me show this horse, believing in us, and being a wonderful customer to be a partner with."
Max Fontana and Wimpysred Gaylena Win Billingsley Ford Open Level 1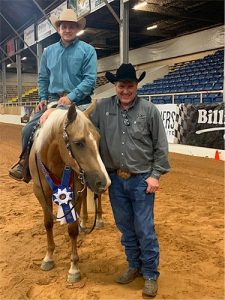 With a score of 216.5, Max Fontana and Wimpysred Gaylena held on to win the Open Level 1 Championship and the reserve title for the Level 2. It was the first big win for the pair, who won $4,126. "I'm very happy. I was a little nervous, but she was really good today. It was our second to to show, and she was very comfortable through all the maneuvers," Fontana said.
Wimpysred Gaylena, a mare by CFR Centenario Wimpy out of Baby Red Gaylena, is owned by Mary Scott Brown of San Angelo, Texas. Fontana began riding her in May of 2017. "We started training and felt she had a good disposition and ability and a good feel. She's very smart and that helped me. She's very talented and steps up every day," he said.
Originally from Italy, Fontana now works at XCS Ranch. "I worked with him a long time ago. He helped me very much on all the horses. I think I have a very good opportunity to ride with him," Fontana said.
There was a three-way tie for third in the Level 1 between Lee Deacon and Benz Special Nite (Gunners Special Nite x Best By Benz), Joe Schmidt and Gunna Cash Ya (Lil Joe Cash x Gunners Blonde Chic), and Marie Kleiner and Xtra Voodoo Shine (Shiners Voodoo Dr x Xtra Vintage Step). All marked a 216 to win $911.
Mandy McCutcheon and Whizzenintothenite Win OE Nutraceuticals Non Pro Futurity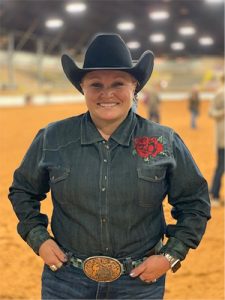 The OE Nutraceuticals Non Pro Futurity was held Friday, October 26, at the Hardy Murphy Coliseum in Ardmore, Oklahoma. The one go-round event provides reiners looking towards Oklahoma City a chance to compete for big money and last-minute experience. It was the first year that OE Nutraceuticals has sponsored the event, and representative Lisa Stafford was on-hand to discuss the products and present awards.
Mandy McCutcheon and Ms Whiz Dunit won the SWRHA Level 4 Non Pro Futurity in 2013. This year, McCutcheon returned on Ms Whiz Dunit's foal Whizzenintothenite to win this year's championship with a 220.
"He's by Gunners Special Nite and we raised him. There are definitely a lot of similarities between him and his dam – they both have a lot of personality," McCutcheon recalled. "He was good everywhere. I think I had a little turn penalty one way, but other than that he was really pretty solid the whole way."
McCutcheon has only shown Whizzenintothenite one other time, and the result was less than stellar. "It didn't go great. I feel better about the (NRHA) futurity after this," she said. The Championship came with a check for $5,411. The McCutcheon's also accepted the SWRHA Golf Cart for Turnabout Farm, owner of Gunners Special Nite.
McCutcheon, her son Cade and daughter Carlee, will all compete at this year's NRHA Futurity, but there's still a question about who will show what horse in Oklahoma City. "We're still trying to decide who's showing what, so the good news about this one is that he's too little for anyone but me and Carlee," Mandy said with a laugh. "Cade has been riding five so he has to decide which ones he wanted to give up."
Mandy actually rode one of Cade's horses, Cody Vintage, for the first time at the SWRHA Futurity, and won the Reserve title with him. "Cade's been showing him all year and doing all the training on him. He did a great job getting him ready. He's very broke, and really easy and fun to show," she said. The Reserve Championship was worth an additional $3,293.
As always, McCutcheon credited her team for her success. "It takes a village to get us ready. Debbie Brown has done a lot of work on the horse, and Fernando Salgado has ridden that horse a little for me. When I got here, Dell Hendricks gave me a few pointers circling. I try to pick everyone's brain," she said. "Tom, Debbie, Fernando, Cade – they're all amazing."
Lawrence, Brown, and Russell Tie for OE Nutraceuticals Non Pro Levels 3-1 Championships!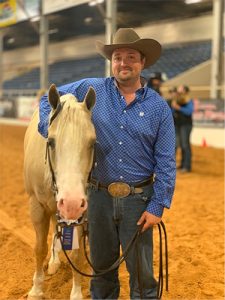 There was a three way tie for the Championship of the OE Nutraceuticals Non Pro Levels 3-1 with all exhibitors scoring a 215.5. George Lawrence, Stoney Russell, and Jillane Brown all also tied for third in the Non Pro Level 4. Lawrence won $4,815.37, while Russell and Brown, who also tied for the Prime Time title, took home $5,512.
Lawrence was riding his horse Time For The Gunshow, by Gunners Special Nite out of Miss Timed To Shine. "He was really pure in there. He turned really well. We could have stopped better, so we'll work on that, but he was good. He was about as honest as it gets," Lawrence said. "I didn't have a game plan for today. We just winged it and he was fun."
George and his wife Chloe purchased the gelding as a yearling. While Luke Gagnon rode the colt for half of his two year old year, George and Chloe have been the main ones training and riding him with help from Casey Deary. "The horse is good. I just need to make fewer mistakes as a rider. The fewer I make, the better he's going to be," Lawrence said.
The OE Nutraceuticals Futurity was the colt's second event, having won a little over $1,000 at the Tulsa Reining Classic. Lawrence's mother, a fan of the show Vikings, named the colt, by Gunners Special Nite out o Miss Times To Shine, after the show's protagonist Ragnar. It's an unlikely moniker for a horse that Lawrence said, "Like's cookies. He'll drag you to a cookie jar!"
Jillane Brown purchased her mare KR Ima Dream from Casey Hinton. "I bought her from him at the Denver show where he did well with her. I've had her a couple weeks. She's with Sam Smith now, and I love her," Brown said. "We were just wanting to go in and have a nice quiet run. I knew she'd be there in my circles for me, so I ran here harder there. I wanted to be quiet in my turnarounds, and knew she'd be there in my stops. She nailed every stop."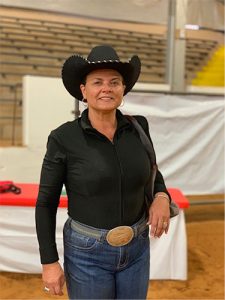 KR Ima Dream is by Magnum Chic Dream out of KR Ima Tejon. "She's sweet, quiet and curious, and very good-minded," Brown said. The next stop for the pair is the NRHA Futurity, and Brown noted that the win in Ardmore was a big confidence booster. "Thank you to Sam for all his work, and to Casey for selling her to me."
Stoney Russell of Longview, Texas, didn't expect his score with Whata Special Nite to hold, so after competing he went back to work. "I went early in the draw. Mathieu called me before the end and said it was still holding, but I couldn't get back for the awards in time," Russell said.
Stoney and his wife Stuart purchased Whata Special Nite, by Gunners Special Nite out of SLJ Sweet N Juicy, from Lindy Longfellow. "We went and rode him. He was actually for my wife, and for some reason they didn't fit, so we swapped horses," Stoney said. "He's a really nice horse. He's good-minded and when you walk into the pen there is nothing that bothers him."
Stoney showed "Big John" at the Tulsa Reining Classic, and marked a 215.5, placing in the top five. Unfortunately, he hadn't entered the Level 4 because it was the pair's first event. "I should have. This time Stuart put us in everything and it worked well," he said.
Stoney noted that Mathieu Buton has been riding Big John to get him prepared for the upcoming events. "I feel a lot better about Oklahoma City after this. Mathieu has been riding him for me and is catching him up because he was just a little behind," he said. "I thank my wife Stuart, and Mathieu who has done a wonderful job. Thank you also the SWRHA who has put on a really good show."