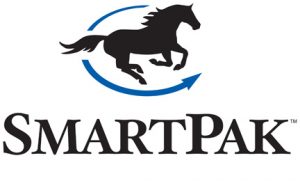 SmartPak introduces new SmartCanine Soft Chew supplements.
From PLYMOUTH, MA – Kelcie Griffith, 774-773-1112 or KGriffith@SmartPak.com – You support your horse with supplements, so why not support your dog as well? SmartPak is excited to announce a new line of SmartCanine supplements.
SmartCanine Soft Chews offer comprehensive support with increased palatability, making them easy to feed. "The SmartCanine supplement line provides the key ingredients and comprehensive support needed to help our canine companions look and feel their best, the same way that our customers have come to expect for their horses," said Casey Fleming, Senior Manager of Product Development at SmartPak. "We put the same extensive palatability testing behind these products, so they're a great choice for even the pickiest dogs. The SmartCanine supplements are available in daily dose SmartPaks, as well as jars, and with autoship our customers never have to worry about running out!"
From joint supplements, to multi-purpose formulas, there are six soft chew options to choose from. SmartCanine™ Joint Ultra provides all the key ingredients for support joints, tendons and ligaments. The combination of time-tested and innovative ingredients such as glucosamine, MSM, collagen, turmeric and resveratrol help to maintain cartilage health and resilient soft tissues. There's also SmartCanine Joint Senior which provides similar support plus specialized ingredients to help support comfortable movement in older dogs.
If your dog tends to get nervous, you can help them feel more at ease with SmartCanine™ Calming, which provides vitamins and minerals to help maintain normal nervous system function. It includes herbs such as valerian, chamomile, and ashwagandha to support a relaxed demeanor.
SmartCanine™ Bug-Off is a tasty, easy way to help your dog avoid bothersome bugs. This formula provides garlic, brewer's yeast, and apple cider vinegar to help deter biting insects. This formula is a great choice for dogs that are sensitive to bug bites or live in environments with a high density of biting insects.
Finally, the newest additions to the line are SmartCanine™ Combo Ultra and SmartCanine™ Combo Senior. These formulas are unique because they support your dog's health in three important areas: joints, digestion, and skin and coat. The SmartCanine Combo formulas provide the same key ingredients for cartilage and soft tissues such as glucosamine, MSM, collagen, resveratrol and turmeric. The addition of pre and probiotics plus Diamond V® Yeast help to maintain normal digestive function. And lastly, omega 3 fatty acids, including DHA & EPA, from flaxseed and fish oil support overall wellness and a gleaming coat. These two products are ideal choices for providing targeted support for three of the most important areas for young, middle-aged, and senior pups.
To learn more about all of the new SmartCanine products, or to get your dog started today, visit www.SmartPak.com
About SmartPak
From the feed room to the tack room, SmartPak offers innovative solutions to help riders take great care of their horses. SmartPak was founded in 1999 with the introduction of the patented SmartPak supplement feeding system. The revolutionary, daily dose SmartPaks are custom-made for your horse, individually labeled and sealed for freshness. With the success of this simple and convenient feeding system, SmartPak has continued to expand its offering of quality products, including its own line of more than 55 supplement formulas called SmartSupplements, and a wide variety of tack, equipment, and supplies. The company has grown rapidly each year and is now the largest retailer of equestrian products in the United States. SmartPak's success has been powered by a passion for delivering an unbeatable customer experience, and the company has been recognized with a Bizrate Circle of Excellence award seven years in a row, as well as receiving an "Elite" rating from STELLAService. A nine-time Inc. 500/5000 honoree, SmartPak is the only equine company ever named to the Inc. 500 list.
The National Reining Horse Association is not responsible for information contained in this press release. Please contact the author or submitting organization for further information, requests or questions.