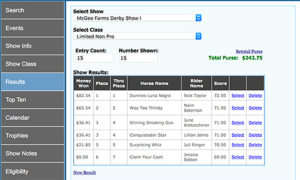 In July, we posted an update on the status of inputting show results in the NRHA office. In just the past few weeks, much progress has been made to attack the mountain of results coming in from the peak of show season. More than 50 shows have been entered in less than one month's time, plus dozens of affiliate rosters were finalized to assist those looking toward their region's NRHA Affiliate Regional Championship (ARC). Amidst this activity, positive indicators show NRHA is up 4% in year-to-date approved shows through the month of August.
As of August 1, all North American Affiliate Regional Championship (ARC) qualifying slates held through June have been completed. Additionally, all have been completed for the first two ARCs (to be held August 29–September 1 for South Central and Eastern Canada Regions). For all remaining qualifying events, we have completed, or are completing, events held through July 14. All other events are being processed in the order received with a small number of June shows next in line.
While doing this, we have been maintaining a less than two-week turnaround on transactions submitted to the office for processing (e.g., memberships, transfers, nominations, etc.).
Did You Know?
Each horse, rider, placing, and score is hand-entered for every class. That's about a half-million in one year, or about 2,000 data points entered and verified for every day the NRHA office is open. Additionally, all memberships, licenses, etc. submitted at an event must be processed before the results can be entered.
Ten Things You Can Do to Speed Up the Process
Want to help make sure this process goes smoothly (and quickly). It would be helpful to make sure:
Your membership is current and is the correct type
a. The owner's membership is current and the correct type
Your horse is licensed
Your horse's ownership is up to date on the license
You haven't entered a class for which you are not eligible
You haven't entered a class for which your horse is not eligible
NRHA receives complete results—with tabulated placings/scores for all slates, and including accurate rider and horse IDs, plus the NRHA 5% retainage and medications fees
NRHA receives complete, accurately calculated payouts
NRHA receives complete affiliate rosters on a monthly basis
Paperwork submitted at the event is complete, and correct payment is given