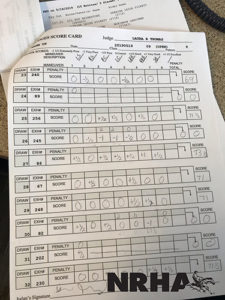 We understand and share your frustration with the posting of show results and updating NRHA standings. We apologize for any problems that this backlog has presented.
Christa Morris-Stone, NRHA's Assistant Commissioner, recognizes the processing time and the steps staff is taking to enhance member services: "We acknowledge that we need to improve the level of service to our members when it comes to our current turnaround time. We have a dedicated and compassionate staff who are taking on this goal head-on, and the results of their efforts will be more apparent over the next few weeks."
We have cross-trained several members of our Member & Show Services Team in recent weeks and also are training additional staff—those already employed elsewhere in NRHA. The training process is extensive because team members entering the results must be fully educated in the rules associated with the input process. Each placing in every class is hand-entered with membership, ownership, and eligibility verified.
At this time of year, we have deadlines for both European and North American affiliate regional standings. Those qualifying shows are being processed as a priority. One key component to producing timely standings is for affiliates to send their membership rosters to NRHA on a monthly basis or immediately following their circuit shows. Delays in sending rosters to NRHA delays the office staff and causes a backlog—especially at a peak time of year when 300 to 400 shows are held over a period of 60 days.
More shows are being inputted daily, and NRHA management is implementing a plan to enter the vast majority of circuit show results before the end of July. Thank you for your understanding, and we will work to get the results posted as soon as we can!