The Adequan® Arena at State Fair Park in Oklahoma City has been bustling with activity all week, as riders from across North America compete in the Adequan® North American Affiliate Championships. Youth competition began Friday with the Adequan® NAAC Youth 13 & Under and the ancillary Short Stirrup class.
Madison Rafacz Wins Third Adequan® NAAC Title with Wimpys Dun Twistin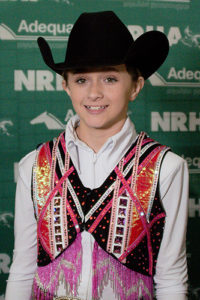 Madison Rafacz has had quite the week. She traveled from Ocala, Flo., hoping to do well in the Adequan® NAAC competition. She started off strong by winning the NAAC Limited Non Pro on her gelding Whizenboonsmal. The pair followed that up with another NAAC title three days later – this time in the Novice Horse Non Pro.
She capped off her time in Oklahoma City on Friday by winning the Adequan® NAAC Youth 13 & Under, but this time on Wimpys Dun Twistin. "It was a really good run today. I was just trying to have a clean ride, and she was really good for me," Rafacz said. "It was great to win these classes. I came out here to show seven times, and was hoping I could win something, so to win these three was great."
Wimpys Dun Twistin is by Wimpys Little Step out of Totally Dun Twistin. "She's been in our barn since she was three or so, and she's around 13 now. A customer owned her, and she (Wimpys Dun Twistin) went away for a while to have babies, but now she's back and we own her," Rafacz explained. "She's back in shape now and winning, and she's just perfect. She's the favorite in the barn."
Although his stablemate won the title, Whizenboonsmal (Peptoleap x She Whiz A Star) still pulled off a run that was good enough to mark a 214 and win second in the NAAC Youth 13 & Under. "He is so tired. He showed four times and he's just over it and ready to be home, but he was good, too," Rafacz said.
The 12-year-old took home many prizes, including a Bob's Custom Saddle, Adequan® vests, Platinum Performance jackets, Montana Silversmiths buckles, product from SmartPak and Classic Equine, and gift certificates to Platinum Performance and Bluebonnet. "I thank my mom and dad, Kyla Thurlow, Steven Borgia, Jenna Webb, Stephen Graycheck, McKenna Ivey, my grandma back home, and everyone for being here for me," she said.
Colt Mitchell Wins Short Stirrup Championship on Playgun Chic Olena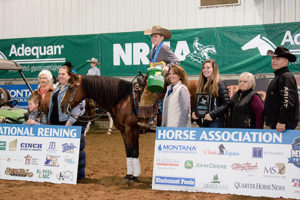 Charismatic Colt Mitchell claimed the Championship of the Short Stirrup division on Playgun Chic Olena. The pair wowed the judges, earning a 217.5. "He was great. The only problem I had was I slowed down after the center. That was our only bobble, but the rest of the run was really good," Mitchell explained.
Mitchell's family has owned Playgun Chic Olena, by Smart Chic Olena and out of Mamas Packin, for several years. "He's actually my sister Molly's horse, but I stole him from her. He's 16 years old now, and we've had him since he was about seven." Mitchell added, "He's just a great horse that is really good at everything. He does it all right. I love him."
The Short Stirrup title isn't the only thing Mitchell is taking back to Missouri with him. He also got a new beagle puppy. "His name is Hank. I'm going to use him to hunt rabbits," he said.
Mitchell, who will turn 11 next year, still has a year of Short Stirrup eligibility left. "I thank the good Lord for keeping me safe and giving me a nice run, and I thank all my family members for coming to watch and support me," he said.
Becca Schaffhauser took the Short Stirrup reserve title on Dun Got My Rest with a 212.5. Dun Got My Rest, by Hollywood Dun It and out of Got My Rest, is owned by Becca's father, Sam.