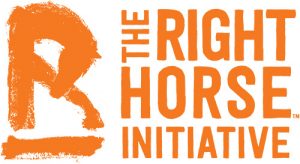 For Immediate Release – April 3, 2019 – Oklahoma City, Oklahoma – Pack your saddle bags and gallop on over to Lexington, Kentucky for the inaugural The Right Horse Summit on May 23. Join equine welfare advocates, visionaries and professionals for a powerful day of networking, ideating and education. Topics to be discussed include adoption-focused philosophies, increasing adoption capacity, marketing and placement tips, training and fundraising techniques among others. Sessions will run from 8 a.m. to 4 p.m.
The Right Horse Initiative invites up to two attendees from each organization to register, in an effort to allow as many groups as possible to attend. All sessions are free to registrants and breakfast and lunch will be provided at no-cost to attendees. Space is limited and due to an overwhelmingly positive response during pre-registration, interested attendees are encouraged to register and plan their trip as soon as possible.
"We are thrilled to be bringing together so many incredible groups and people for a day of ideation, discussion and growth. The positive response we have received so far is a strong indicator that the industry is filled with collaborative-minded individuals that want to come together and innovate on behalf of horses in transition," stated The Right Horse President Christy Counts.
In addition to the sessions on May 23, registrants are invited to a Cocktails and Collaboration reception the evening of May 22.
A hotel block is available for attendees at the Hilton Lexington-Downtown. Book your room early to reserve your spot. The block closes April 21.
About The Right Horse 
The Right Horse Initiative is a collective of industry professionals and equine welfare advocates working together to improve the lives of horses in transition through a dialogue of kindness and respect. Through collaboration with over 50 industry and adoption partners, The Right Horse is able to innovate new and better adoption standards and practices. Together, the goal is to shatter the stigma and reframe the conversation around equine adoption in order to massively increase horse adoption in the United States. To learn more, visit www.therighthorse.org.
Media Contact: Cailin Caldwell
cailin@therighthorse.org