The National Reining Horse Association Futurity also includes the Adequan® North American Affiliate Championship, which features horses and riders from across North America competing for big money, prizes, and bragging rights.
On Thursday, Rookie riders took over the Adequan® Arena, with many competing for the title of Toyon Ranch Rookie of the Year.
Kalena Reynolds and Gun Whiz It Win Toyon Ranch Rookie of the Year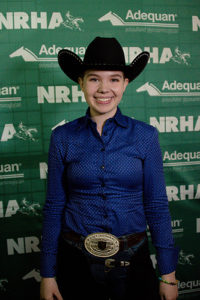 Kalena Reynolds has had her eye on the Toyon Ranch Rookie of the Year title for several years, and on Thursday evening, that dream became reality. She and her horse, Gun Whiz It, marked a 215.5 to win not only the Toyon Ranch Rookie of the Year title but also Reserve in the Adequan® NAAC Rookie Level 2.  "I can't describe how excited I am. This is amazing," Reynolds said following the class. "I'm so incredibly grateful for it all. Just to have the chance to win is absolutely amazing. I'm so thankful to have it and I owe it all to my mare."
Although Reynolds has won quite a bit with Gun Whiz It, she still had some setbacks during the year. "I almost fell off in the finals at the (AQHA) youth world, and that hurt my confidence a bit. Then I didn't have a great run at the Run For a Million, but I was still happy to be here," she said. "I pulled it together and had the mindset of whatever happens, happens. I walked in, and she spun so well for me, and she was good for the entire performance."
Reynolds won a Bob's Custom Saddle, an Adequan® champion vest, a Montana Silversmiths buckle, product from Classic Equine, and gift certificates to Bluebonnet, Platinum Performance, and SmartPak.
The 16-year-old, who competes in the Oklahoma Reining Horse Association and represents the South Central Region, has owned the mare for 3.5 years. The 8-year-old mare is by Gunner and out of Roll Whiz It. "She's my absolute best friend in the entire world. I love her so much. She loves oranges and hanging out with people," Reynolds shared. "I thank her for always being there. I thank my mom who is my number one supporter. I also thank Fred and Dany Tremblay, and Ethan and Angie Wiley."
There was a tie for reserve in the Toyon Rookie of the Year and the ancillary Rookie Level 1 between Jenna Webb and Sydney Friedman. Both riders marked 214s on their horses. Webb rode Ima Blonde Chic, a 5-year-old mare by Magnum Chic Dream out of Im Not Blonde. Friedman rode her 7-year-old stallion Spooks Full Throttle, by Spooks Gotta Gun out of Angierilla Boom.
Webb and Friedman split prizes which included a Montana Silversmith's buckle, Adequan® vests, Classic Equine products, and gift certificates to Platinum Performance, Bluebonnet, and SmartPak.
Kyla Thurlow Wins Adequan® NAAC Rookie Level 2 on Kachina Olena Tag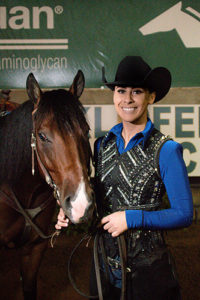 Kyla Thurlow wasn't feeling too confident riding into the Adequan® Arena for the NAAC Rookie Level 2. The night before, her horse had shown he had his own ideas. "I was a little nervous, but he was wonderful today. When we got in the arena I knew he was going to let me show him," she said of their run. "We had a penalty to the right, but he circled better than he ever has, and he stopped really good for me. I couldn't have asked for more from him."
Not only did Thurlow win the Adequan® NAAC title, she also won the accompanying ancillary class, winning a bevy of prizes including a saddle from Bob's Custom Saddles, an Adequan® vest, a Montana Silversmiths buckle, Classic Equine product, and gift certificates to Bluebonnet and SmartPak.
"I never thought I would win here. I did the Rookie of the Year many years ago, and it's changed for sure. Now you have a lot of steps to get here, and you have to conquer them all. It's been wonderful," Thurlow said.
Although Thurlow lives in Massachusetts, her horse, Kachina Olena Tag (Whiz N Tag Chex x Kachina Oak Olena) resides in Florida with Mark and Shannon Rafacz. "I fly down for the weekend a couple times a month to see him and ride. I don't get a lot of time in the saddle, so I'm fortunate he's as nice as he is," Thurlow said. "I thank Shannon and Mark. I owe them. They make this possible for me. I also thank everyone who has a hand in this – my mom and dad, Madison Rafacz, and my boyfriend Steven."
Debbie Good Wins Adequan® NAAC Rookie Prime Time on Chics Love Me Wimpy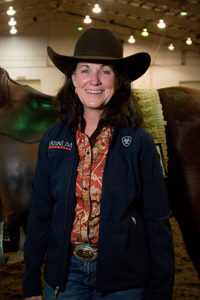 Debbie Good and her 9-year-old gelding Chics Love Me Wimpy (Wimpys Little Step x Dream About Magic) marked a 213 to win the Adequan® NAAC Prime Time Rookie. Winning an NAAC title has been a goal of hers since purchasing the gelding three years ago. "It feels absolutely amazing. I can't even express it. Josh (Tishman) won so many awards on this horse, and I've just been trying to win one of my own," Good shared."
The first ever Adequan® NAAC Prime Time Rookie Champion received a saddle from Bob's Custom Saddle, as well as an Adequan® vest, a Platinum Performance jacket, a Montana Silversmiths buckle, Classic Equine product, and gift certificates to Bluebonnet and SmartPak.
"We've been practicing in the arena all week and working on our circles. We were finding the holes we had and working on them. I broke my shoulder nine weeks ago, and my goal was just to get back here," Good said. "Our goal was to go in the arena and not get overwhelmed by it. I felt very confident when I walked in. He was locked into me, and we really went for it on our rundowns, slides, and rollbacks."
Dentoni & Brokaw Claim Ancillary Rookie Prime Time Co-Championship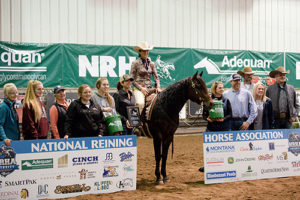 Lisa Dentoni and Kimberly Brokaw tied for the ancillary Prime Time Rookie Championship, with each rider marking a 209.5. Both riders gave much of the credit to their equine counterparts. Dentoni was riding Smart Little Dunnit, while Brokaw rode KR Ima Dreamer.
"Harry (Smart Little Dunnit) was just super, and we got through all the maneuvers. We just did the best we could, and it all worked out," Dentoni said. "I thank everyone here who has been there for me this week. We all pulled together. I thank everyone from the west coast who came together to support us all here."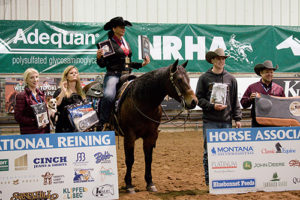 Dentoni purchased Smart Little Dunnit, by Smart Spook out of Jan Van Bar B Dun It, in July. "We picked him up from the McCutcheons, and he's just a kind horse. He's gentle, well-mannered, and good natured. He's just a pleasure to have in the barn," she said.
Brokaw has been riding KR Ima Dreamer, by Magnum Chic Dream out of KR Ima Tejon, for almost a year. "I probably couldn't have asked him for anything better. He did everything I asked him to do. I just love this horse," she shared. "He has taught me a ton. Tonight was probably the best run we've ever had. He just locked on and was awesome."
KR Ima Dreamer is owned by Kristen Avila. "I thank Bobby and Kristin Avila for the privilege of riding this awesome horse. I also thank my trainer and coach Josh Murphy," Brokaw said.