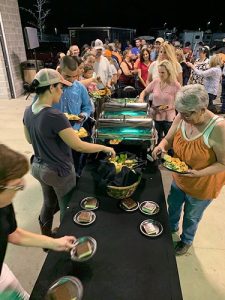 For Immediate Release – March 8, 2019 – Oklahoma City, Oklahoma – More affiliates and show managers for the National Reining Horse Association (NRHA) are participating in a fundraising and awareness campaign to support the Reining Horse Foundation (RHF), a 501(c)3 nonprofit that serves as the charitable arm of NRHA. Based upon small donations that add up to make a big difference, the campaign encourages show entrants to make a $10 donation when they enter select shows.
The show-entry campaign was piloted by the Arizona Reining Horse Association (AzRHA) in 2017 and then by the Florida Reining Horse Association (FRHA) in 2018. These two affiliates have contributed nearly $10,000 to RHF since piloted.
In 2019, FRHA launched the program at the Florida Reining Classic February 19-24 at the Jacksonville Equestrian Center. Adding the entry donation in 2019 is the National Reining Breeders Classic (NRBC), April 14-21, in Katy, Texas. Also committing is the Tulsa Reining Classic and South Central Affiliate Regional Championship, August 26-September 1, in Tulsa, Oklahoma. The Tulsa Reining Classic is managed by Global Reining Sport Group.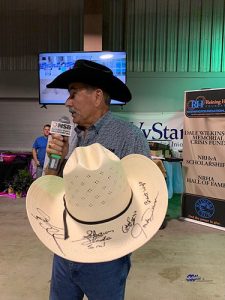 The Rocky Mountain Reining Horse Association (RMRHA) is offering the campaign at The Columbine Classic, May 15-19 in Pueblo, Colorado, and the RMRHA Summer Slide, July 28-August 4 in Denver, Colorado. Southwest Reining Horse Association (SWRHA) is participating in the campaign during its SWRHA Futurity Show, October 22-27, in Ardmore, Oklahoma. Also taking part is the Western Slope Reining Horse Association at its three shows this year and the NRHA Derby, managed by Pro Management.
Fundraising is expected to continue at the 2019 AzRHA shows, including the AzRHA Mother's Day Slide, May 14-19; AzRHA Inside Slide, August 13-18; and AzRHA Best of the West/Southwest Affiliate Regional Championships; October 1-6. All shows will be held at WestWorld in Scottsdale, Arizona.
The Oklahoma Reining Horse Association Ride & Slide I/II shows in Tulsa, Oklahoma, March 6-10, are offering a $5 donation option. Contributions will be matched by the organization. The Southeastern Reining Horse Association plans to offer a donation option, as well.
"We are thrilled to have these prominent shows represented through the show-entry campaign," said Tim Anderson, RHF vice president "This represents significant new funding. Just as important is the opportunity to share information about the Reining Horse Foundation and its mission of caring for the reining community and honoring the sport's legacy. It's a feel-good story that reiners can be proud of."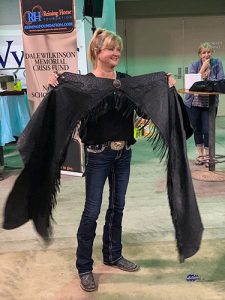 Exhibitors will find the option to donate or opt-out on their show-entry form, making it an easy way to demonstrate support for RHF. The most visible of the RHF core programs is the Dale Wilkinson Memorial Crisis Fund providing grants to reiners enduring hardships such as medical crises, accidents and natural disasters. Other core programs include youth scholarships and leadership development through the National Reining Horse Youth Association and perpetuation of the NRHA Hall of Fame.
"The show-entry program is an exciting step forward for the Reining Horse Foundation," said Leslie Baker, RHF executive director. "We know that reiners will help us innovate new ideas around this opportunity. For example, in Arizona, donors Tim and Kim Anderson provided a matching contribution that doubled the show-entry donations. The power of these $10 donations can do great things."
To notify the Reining Horse Foundation that you have an affiliate or show management group willing to participate in the show-entry campaign, contact Leslie Baker at rhf@nrha.com, (405) 946-7400, ext. 106.