For Immediate Release – Oklahoma City, Okla. – March 6, 2019 – The Reining Horse Foundation (RHF), the philanthropic arm of the National Reining Horse Association (NRHA), announces its 2019 Reining Boot Camps. Hosted by various NRHA affiliates, these one-day clinics help rookies and Non Pro riders learn how to prepare for the show pen in a fun, low-stress environment. Proceeds from this series benefit RHF's Dale Wilkinson Memorial Crisis Fund, which aids reiners enduring medical hardships, accidents, and disasters such as fires, floods, and tornadoes.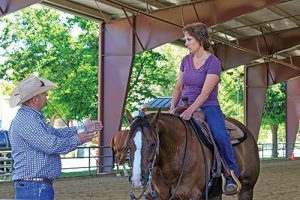 Reining Boot Camps rely on affiliate volunteers to secure a venue, conduct the clinic, and recruit NRHA Professionals to serve as volunteer clinicians. Additionally, some events incorporate NRHA judges who contribute their time to evaluate attendees as they perform the maneuvers of a basic reining pattern. While all proceeds bolster the Crisis Fund, affiliates can also earn cash back through the NRHA Affiliate Incentive Program and receive a bonus from RHF.
"Reining Boot Camps are important entry points for reiners, and they raise funds essential to the Dale Wilkinson Memorial Crisis Fund," said Becky Jordan, RHF Board Secretary/Treasurer and chair of the Reining Boot Camp committee. "We are excited about these 2019 events."
The Yankee Reining Horse Association will kick off the 2019 season with a clinic on March 31 in Gerry, New York. Other currently scheduled events include:
West Coast RHA Mother's Day Special, May 12, 8 a.m.-12 p.m. at the Western States Horse Expo, Murieta Equestrian Center, Rancho Murieta, California
West Coast RHA, May 18 at Booth Ranch in Sanger, California
Southwest RHA, May 25 at Cardinal Ranch in Aubrey, Texas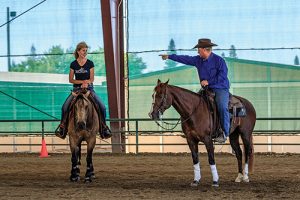 All clinics are open to both youth and adult riders. In addition to instruction time, the registration fee of $225 per adult or $125 per youth (18 and under) includes lunch. This year, a special half-day clinic will be held on May 12 in conjunction with the Western States Horse Expo. Registration for this unique event will cost $150 for adults and $75 for youth.
Additional dates and locations may be added. Similar clinics are anticipated in South America to help spread international awareness of RHF and its core mission to serve the reining community. A full schedule including details and registration information can be found at reiningfoundation.com/bootcamp. Affiliates interested in hosting a Reining Boot Camp should contact the RHF office at (405) 946-7400, ext. 106 or rhf@nrha.com.
Photos by Ed Glavis