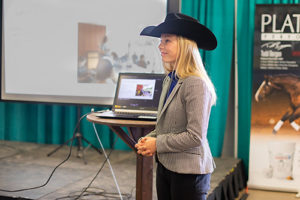 Youth member Reagan Stephens was a winner at the NRHA Derby, and she didn't even have to compete on a horse. Reagan had a clean sweep of the Cinch Youth Speech Contest, winning the A General, Prepared Public Speaking, and Community Service divisions.
The contest was officiated by representatives of NRHA Corporate Partners, and included Reed Kyle of Bluebonnet Feed, Steve Miller of Montana Silversmiths, and Traci Nelson of Adequan. "It had to have been such a tough job for the judges to decide between the speeches they heard. Each young woman who participated was so passionate about their projects and their hard work showed through the entire speech," noted Youth Programs Coordinator Sara Honegger.
For each division win, Cinch presented Stephens with a hat can, garment bag, and gift certificate.
"The NRHyA greatly appreciates the judges for taking time out of their busy schedules to give their feedback and scores to the participants. We know they will be able to take this feedback and continually improve their leadership skills because of these great Corporate Partners," Honegger said.
For more information about the opportunities available to youth riders, visit ww.NRHyA.com.