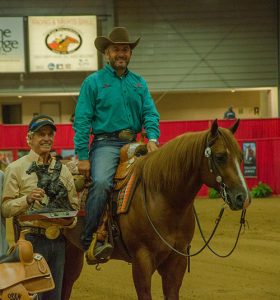 The Hollywoodstinseltown Open Futurity took the spotlight on Saturday at The Tulsa Reining Classic on Saturday, held at Expo Square. Big stops, fast spins and flashy horses were showcased in the open futurity in the Ford Truck Arena where 85 entries battled for championship honors.
Andrea Fappani turned in a crowd-pleaser to score a 224 aboard All American Vintage for owner Morris Kulmer to claim the Hollywoodstinseltown Level 4 Open Futurity championship. All American Vintage is 2014 stallion by A Sparkling Vintage and out of All Ruffed Up.
"I was nervous today just because we've had this horse for two years and I really believe in him, but it's the first time we've ever shown him and every time you show them for the first time you're going to find out for sure if what you thought was right or wrong," Fappani said Saturday's performance.
Fappani reiterated his belief in his mount saying the first time he saw All American Vintage he felt he would be a perfect fit for his program.
"He's a really feel-y horse, a smart horse," Fappani said. "He hasn't been the easiest just in the fact that you have to spend a lot of time with him, but those are the type of horses that I really find challenging and the ones that I think at the end of the day give you a lot of reward because they try really hard."
Although Fappani's mount took a little extra time to mature he says the 3-year-old has blossomed over the last several months, proving so in the show pen in Tulsa. Fappani has big plans for the talented athlete and plans to take him onto the bigger futurities.
"I couldn't have been any happier with him," Fappani said. "I love taking [my horses] to this horse show, because it's a nice big arena, there's places to warm up everywhere, and so through the years I've been taking my best ones to this pre-futurity, because it's a nice environment for the young horses."
Thiago Boechat rode Xtra Magic Doctor for owner Silver Spurs Equine to the Hollywoodstinseltown Level 3 Open Futurity championship. 223.5
"The run went great. The horse was there for me and it went just like we planned," Boechat said of the home bred and trained 3-year-old, which he says makes the win even more special.
In the Hollywoodstinseltown Level 2 Open Futurity Roberto Berti and Jordan Kole Price shared the co-championship with scores of 221.
Berti rode High Voltage Pep, a 2014 mare by Gun Smoke Dennis and out of Electropep. The mare is home bred, which Berti says made the win more meaningful.
"It makes it really special," Berti said. "I haven't owned a horse that I've shown in quit some time and she made it special."
The next stop for the mare is the NRHA Futurity in Oklahoma City and then the rest of her career will be planned one step at a time. Berti is hopeful for her successful future, in part because of her willing personality.
Price rode Checksworthy, a 2014 mare by Big Chex To Cash and out of Banjoes Shinning Star for owner Terry Leffew.
Price felt from the beginning of the run it was going to be a notable score, because of the way his mare warmed up and then because of her beginning maneuvers.
"She's a very consistent mare, but when I walked into the warm up pen she kind of shifted to a whole different mentality. She's probably the first horses I've had that when you get on her in the warm up pen it's like 'Hey, let's get serious," he said. "I would say she's probably going to be a show horse."
Price plans to show her at the All American Quarter Horse Congress and then at the NRHA Futurity in Oklahoma City and expects big things from the mare he's had for two years.
"The best thing that mare does is she's very consistent," Price said. "I think that separates her from my other horses is that she rides like she shows every night." 
The National Reining Horse Association is not responsible for information contained in this press release. Please contact the author or submitting organization for further information, requests or questions.