Mourning the Loss of 3 Million Dollar Sire Lil Ruf Peppy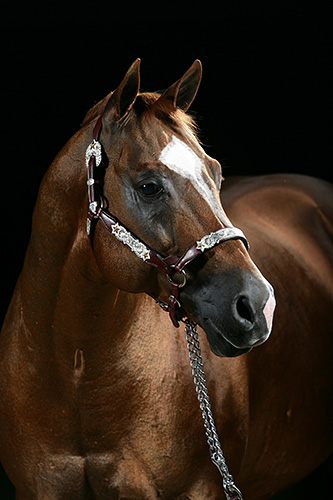 Oklahoma City, Okla., (2-16-2017) – The National Reining Horse Association (NRHA) is mourning the loss of NRHA Three Million Dollar Sire Lil Ruf Peppy. He will forever be known as one of the greatest NRHA multi-million dollar sires.
At 25 years old, the sorrel stallion was by American Quarter Horse Hall of Fame sire Peppy San Badger and out of Rufas Peppy. In his prime, Lil Ruf Peppy won more than $28,000 in NRHA Lifetime Earnings. In 1995, NRHA Million Dollar Rider Tom McCutcheon and Lil Ruf Peppy captured the NRHA Derby Limited Open title. The dynamic duo would continue to excel in the show pen for years to come. His success in the show pen led to his later syndication under the Lil Ruf Peppy Syndicate.
Besides his success in the arena, Lil Ruf Peppy made his mark in the reining industry when he sired horses such as Rufanicki, Sailin Ruf, Ruf Hearted Jac, A Ruf Gal and Pretty Peppy. Producing several money-earning daughters, Lil Ruf Peppy grand sired leading offspring such as Not Ruf at all, out of All Ruffed Up.
With a calm disposition, Lil Ruf Peppy enjoyed his last days grazing amongst mares in the pasture, according to Green Valley Ranch's Emily Mabey.
"He was a great sire," Mabey explained. "We loved him and were honored to have own him."
NRHA is saddened by the loss of Lil Ruf Peppy and sends its deepest condolences to all those involved with Lil Ruf Peppy.
Photo by John Brasseaux