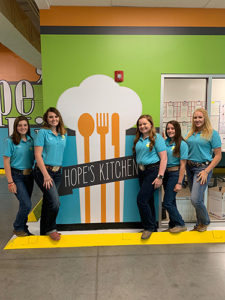 The National Reining Horse Youth Association (NRHyA) officers wear many hats while at the NRHA Derby in Oklahoma City. One of those is giving back to the community.
On Monday, June 22 the officers spent the morning volunteering at the Regional Food Bank of Oklahoma City to help package meals for Hope's Kitchen. This program helps provide fresh, healthy meals to children in need. The officers were part of a team that created 2,432 meals and an additional 840 snacks for the program.
"As youth members in the reining industry we have been so fortunate to be surrounded by such a loving and supportive family made up of friends, trainers, parents and more," said Liz Blaser, NRHyA president. "When volunteering at the food bank, we were able to be that support to someone else by packaging meals and literally/figuratively providing nourishment for people who need a reminder that they are loved and that someone is right there for them. It warms your heart and fulfills your soul to know you are making a difference in someone's life just by donating a few hours of your time."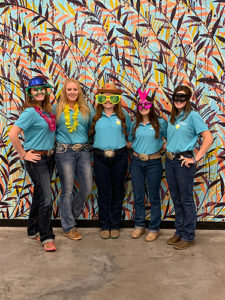 The officers learned that 1 in 6 adults in Oklahoma go hungry, and 1 in 4 children do. In the summer months, the number of children in need continues to rise, as they are not in school to receive meals, and there is a need for 6,000 meals per day for local children.
For more information on joining NRHyA, visit nrhya.com