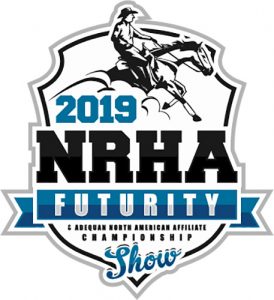 2019 edition will take back more finalists than ever before!

April 1st is the second payment deadline for the 2019 NRHA Futurity (Nov. 28-Dec. 7). Over the years, NRHA has used a coupon book system for payments. However, starting this year, new electronic options are available for your convenience. To make the second payment, choose from one of the options listed below.
PAYMENT OPTIONS
Call (580) 759-2424 or (405) 946-7400, ext. 134
Mail payments to:

NRHA Futurity, 13181 US Highway 177, Byars, OK 74831

Email events@nrha.com for further assistance
Not sure if your horse is entered? View 2019 NRHA Futurity received entries to date
Need to enter a new horse? The late fee until April 1 is $200 ($1,045 total)
80 MORE FINALISTS IN 2019!

Qualifying for the NRHA Futurity finals is an achievement that most reiners dream of, and starting in 2019, even more entries will have a shot at making that dream come true! In all, 80 additional finalist positions were created with the biggest increases happening in the level(L) 2 and L3 non pro and open divisions.
L4 Open – 30, plus ties
L3 Open – 30, plus ties
L2 Open – 30, plus ties (10 more finalists)
L1 Open – 30, plus ties  (15 more finalists)
L4 Non Pro – 30, plus ties (5 more finalists)
L3 Non Pro – 30, plus ties (10 more finalists)
L2 Non Pro – 30, plus ties (15 more finalists)
L1 Non Pro – 30, plus ties (15 more finalists)
PT Non Pro – 20, plus ties (10 more finalists)
(No changes to consolation)