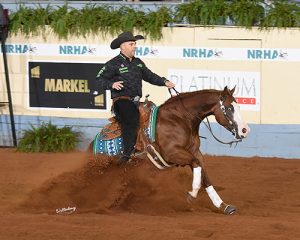 For Immediate Release – December 5, 2018 – Oklahoma City, Oklahoma – The National Reining Horse Association (NRHA) sends congratulations to its newest NRHA Four Million Dollar Rider: Craig Schmersal. Schmersal qualified three horses for the NRHA Open Futurity Finals this past weekend –Ladysdreamofblueeyes, The Star Jersey, and Pale Quistador – to reach the next level in his career.
On Ladysdreamofblueeyes, owned by Tim J. Anderson, Schmersal placed fourth in the level (L) 4 open division. He also rode Anderson's The Star Jersey and Pale Quistador, owned by B S Syndicate, winning nearly $80,000 in all. His added winnings have secured him a spot on the short list of riders who have earned in excess of four million dollars in official NRHA earnings alongside Shawn Flarida and Andrea Fappani.
Schmersal, an NRHA Professional and Judge, has competed in NRHA events since 1988. The Scottsdale, Arizona resident has moved through the NRHA ranks over the years, starting with his first show as a youth in Pennsylvania. He quickly became a name in the industry and a perennial major event finalist, along with the help of his wife Ginger.
Some of Schmersal's major NRHA achievements include:
2002 FEI World Equestrian Games Team Gold medalist and 2005 FEI World Reining Masters CRI-A Open Champion Tidal Wave Jack (owned by B S Syndicate)
2004 NRHA Derby Open Champion on Commanders Nic (owned by Craig and Ginger Schmersal)
2008 CRI-A Open USEF National Champion riding Mr Dual Rey (owned by Holly Casey)
2010 Alltech FEI World Equestrian Games Team Gold and Individual Silver medalist, as well as 2010 National Reining Breeders Classic Open Champion on Mister Montana Nic (owned by Boom Shernic Syndicate)
2011 FEI World Reining Finals and Ariat Tulsa Reining Classic CRIO-A Champion on Miss Lil Addy Tude (owned by KC Performance Horses, LLC)
2014 All American Quarter Horse Congress Futurity Champion on Xtra Electric Meter (owned by Eric Unger)
2017 NRHA Futurity Champion on Face The Attitude (owned by Hickory Creek Ranch, LLC)
Photo provided by Schmersal Reining Horses