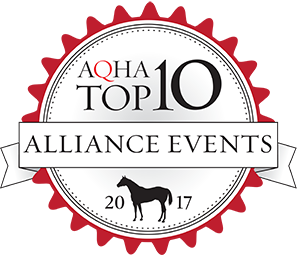 For Immediate Release – April 6, 2018 – Congratulations on being named one of the Top AQHA Shows of 2017!
We know the hard work, long hours and sacrifices your show team has given in making the NRHA Derby a successful event! We commend you!
New this year, rankings for the top shows were calculated by dividing the total number of entries for each event by the event's total number of show numbers; thus ranking by the average number of entries per judge. The show committee felt this change was a more accurate way of ranking, rather than the total number of entries as some events are not able to host as many individual show numbers as others.
Attached are two different format versions of the Top 10 Show seal which we invite you to use on your advertisements, show bills, webpages, fliers, newsletters, everywhere this show is mentioned!
Thank you for hosting AQHA exhibitors and making them feel welcome at your show. You are the face of AQHA and have done an excellent job!
Justin Billings, Manager of Shows
Melynda Ackley, Manager of Competition Operations
The National Reining Horse Association is not responsible for information contained in this press release. Please contact the author or submitting organization for further information, requests or questions.