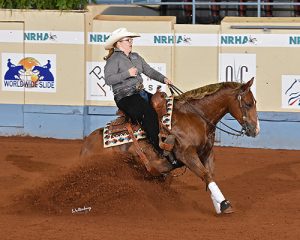 For Immediate Release – July 13, 2018 – Oklahoma City, Oklahoma – Each year, the National Reining Horse Association (NRHA) Derby is host to the Collegiate Reining Championship, an event allowing riders from colleges around the U.S. to represent their school while showcasing their reining abilities on a generously donated horse. The 2018 event was held between section one and two of the Non Pro Derby finals and was a great representation of the future of reining.
The competition consisted of 12 riders representing three organizations: NRHA, the National Collegiate Equestrian Association (NCEA), and the Intercollegiate Horse Show Association (IHSA). Contestants ran NRHA Pattern 3 under the bright lights of the Jim Norick Coliseum.
Drawing up first was Auburn University's Terri-June Granger (NCEA). Granger, unfortunately, had some bad luck and ended her run with a zero. Next to ride was Kendall Woellmer from West Texas A&M (IHSA). Kendal rode Sailin For Dreams to a 213 ½ which would ultimately put her in 11th place at the conclusion of the class.
Third in the draw was Kyndall Harper, University of Georgia, (NRHA) aboard Wimpys Lucky Girl. Together the duo earned a 213 ½ which earned them sixth place. Morgan Knerr from the University of Findlay (IHSA) piloted Malena Chic Olena to a final score of 210 and eighth place in the class. Also qualifying through the IHSA, Travis Fourtune from Murray State University drew fifth in the draw on The Boominator. Together they slid their way to a 211 ½ and seventh place.
Courtney Yohey was originally next in the draw however she was asked to trade horses by the judges. Yohey from Texas A&M University (NRHA) rode Check Out My Guns to a 216 ½ which earned her fourth place in the competition. Following Yohey was Madison Steed of Southern Methodist University (NRHA). Steed scored a 222 ½ aboard Kim Burnett's San Juan Whiz, claiming the Championship.
Paige Barton drew up eighth in the event. Barton from California State University (NCEA), rode Hooked On Boon to a 208 ½ and ninth place in the class. Annabeth Payne, University of Georgia (NCEA), took the reins of Lite N Juicey and marked a 220 and earned third place. From Southern Methodist University, Holly Lansidel, (NCEA) rode CNF Garrison Champ earning a 206 ½ and tenth place overall.
Next in the working order was Caroline Gute from University of South Carolina (NRHA). Aboard Don't Forget Baby, Gute earned a 220 and clinched the reserve championship for the class. Last to go was Danielle Paulson from the University of Wisconsin – River Falls (NRHA). Riding Rio One Step Closer, Paulson slide to a 214 and fifth place.
NRHA would like to thank the following individuals for donating their horses for the NRHA Collegiate Reining Championship:
Patrick Schwatz
Jason Torpey
Shane Brown
Jessicah Keller
Nicole Deary
Melanie Wilhelm
Andrew Fox
Karen Shedluaskas
Jocelyn Knerr