For Immediate Release – July 24, 2019 – Oklahoma City, Oklahoma – Following the presentation of the Hall of Fame Committee's recommended nominees, the National Reining Horse Association (NRHA) Board of Directors and past Hall of Fame inductees voted to approve Snip O Gun, Roberto Cuoghi, and Claudio Risso for induction into the NRHA Hall of Fame, a project of the Reining Horse Foundation (RHF).
Snip O Gun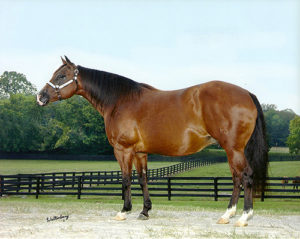 Snip O Gun, by One Gun and out of Miss Kim O Lena, was purchased by her current owner, Tammye Hutton of Hilldale Farm in Brashear, Texas, as a 4-year-old from Hill and Dollie Clements. While she has never shown in the arena, this exceptional mare has proven herself as a star dam from her first foal, producing some of today's most recognizable reining horses.
This 1993 mare's 17 money-earning offspring have placed her fourth on the NRHA Leading Dams list, with a total of more than $930,000 in NRHA Lifetime Earnings (LTE). Snip O Gun's first offspring, by NRHA Three Million Dollar Sire Nu Chex To Cash, was Flash Me A Chex who was a 2013 NRHA Limited Non Pro Futurity finalist. She's produced 13 additional foals by Nu Chex To Cash, nine of which were NRHA money earners. Some of the pair's most successful offspring include:
Big Chex To Cash ($194,260 LTE) who holds the titles of 2005 NRHA Open Futurity Reserve Champion and 2007 NRHA Open Derby Reserve Champion. He's also a prolific sire of reining horses with offspring approaching the million-dollar mark in NRHA competition.
Hot Smokin Chex ($186,598 LTE) who won the 2004 All American Quarter Horse Congress Open Futurity and placed in the top 5 at the 2004 NRHA Open Futurity, 2005 National Reining Breeders Classic (NRBC) Open, and 2010 FEI World Equestrian Games.
Chexmaster ($103,911 LTE) who was the 2014 NRHA Second Go Open Futurity finalist, 2015 Reining By The Bay Open Derby Reserve Champion, and two-time NRBC Classic finalist.
Snip O Satellite ($52,057 LTE) who was the 2015 NRHA Novice Horse Non Pro Level One Futurity Champion, a 2016 NRHA Derby L3 Non Pro finalist, and the 2018 NRHA Intermediate Non Pro World Champion.
Snip O Chex ($50,648 LTE) who was a 2006 NRHA Non Pro Futurity finalist and a 2008 NRHA Open Derby finalist.
Snip O Gun has also been matched with several other well-known NRHA stallions, delivering high achievers. Her most successful son in the arena is Inferno Sixty Six ($205,690 LTE) by Gunnatrashya, an NRHA Two Million Dollar Sire. She also produced Snip O One ($32,261 LTE) by A Sparkling Vintage, an NRHA Million Dollar Sire.
She had three offspring who were NRBC open finalists in 2019 and continues to produce quality offspring that leave their marks in NRHA history.
Roberto Cuoghi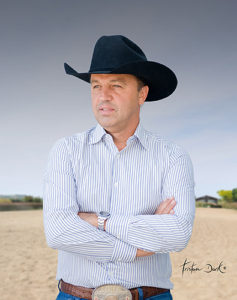 Roberto Cuoghi has been involved in the reining world for more than 30 years. Today, he's one of NRHA's most successful European owners, breeders, and nominators with offspring both on the top and bottom side of well-known, performing reiners. Cuoghi was the first owner to enter an Italian-bred horse, Master Snapper, in the NRHA Derby. Master Snapper went on to win all three divisions of the 2006 NRHA Open Derby with Kelly Zweifel. Cuoghi paved the road for many European breeders who've followed in his footsteps.
Cuoghi established Europe's successful Italian Reining Horse Breeders Association (IRHBA). He has an ongoing partnership with Eleuterio Arcese to purchase reining horses from the United States to use in the program. The IRHBA has played a vital role in the Italian Reining Horse Association (IRHA) through consistent sponsorships.
Beyond his success in the European breeding industry, Cuoghi has influenced other realms of the sport. He has served as an NRHA and IRHA board member, held the title of IRHA President since 2007, and been President of the NRHA European Council since its inception.
Additionally, Cuoghi supports and sponsors youth reining programs. His involvement spans the Federation Equestre Internationale (FEI) European Championships for Seniors, Juniors and Young Riders, the NRHA World Reining Championship, and his latest contribution hosting the inaugural NRHA/RHF/IRHA Global Youth Reining Cup in Cremona, Italy.
Cuoghi continues to be fundamental in serving as an intermediary between European members and NRHA leadership on important matters regarding the reining industry.
Claudio Risso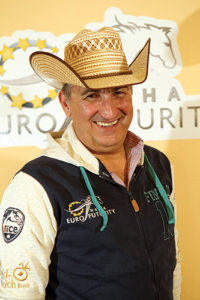 Claudio Risso's name is synonymous with reining all over the world. His NRHA membership dates back to the early 90s and spans many categories—owner, exhibitor, breeder, nominator, and mentor.
Risso is 14th on NRHA's Leading Owner list by breeding money-earning offspring that have accumulated more than $912,000 in LTE. Most recently, his horse Spat Olena made history as the first European horse to make NRHA's Million Dollar Sire list.
Not only has he supplied reining horses to almost all of Europe, but Risso is a big promoter of reining throughout Western Europe. He's mentored many well-known European reining trainers' careers including Maurizio Tonini, Mike Davis, Jim Kiser, Stefano Massignan, Martin Gamper, Nicoli Bruneli, Peirlugi Chioldo, Matteo Cunillo, and Matteo Nadalina. Risso is also an IRHA Past President and Board Member.
Risso has earned many accolades in the arena. Some of his top triumphs include 2002 NRHA European Championship Show Non Pro Champion, 2008 IRHA Non Pro Closed Futurity Reserve Champion, 2009 and 2011 IRHA Non Pro Futurity Champion, 2010 NRHA Breeder's Non Pro Snaffle Bit Futurity Champion, and 2009, 2013, and 2014 NRHA European Non Pro Futurity Champion. In the race for NRHA World Championships, Risso is the 2010 Non Pro World Reserve Champion, 2011 Non Pro World Champion, and 2012 Non Pro World Reserve Champion.
He has also been instrumental in the promotion of the FEI Reining Championships in Manerbio and worked very closely with Ceasare' Croce, the Italian Equestrian Federation, and the FEI to promote youth events around the world.
Hall of Fame Inductions
The inductees and soon-to-be-announced NRHA Lifetime Achievement Award recipient will be honored at Sliders' Night Out presented by Toyon Ranch on December 4 at State Fair Park in Oklahoma City during the NRHA Futurity. RHF is creating a special night recognizing new and previous NRHA Hall of Fame inductees. For details on how to become a Hall of Fame table host or major event donor, contact RHF Executive Director Leslie Baker at lbaker@nrha.com or (405) 946-7400.