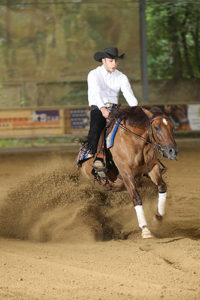 With a score of 213, 20-year-old Carlo Ambrosini took the lead in the Non Pro Futurity go round L4 aboard his stallion My Smart Show (My Showbiz Whiz x MS Linton Lena). The young Italian won the AustrianRHA Futurity last year, was fourth at the 2017 FEI World Championship in Givrins, NRHA European Futurity Champion L4 Non Pro 2018 as well as IRHA Derby Champion Non Pro L4 in 2019. Carlo also rode his Step In The Night (Saturdaynight Custom x Wimpy Surprise Chex) to 4th place in the go round.
Two riders tied for second place in L4 scoring a 212.5 each: Franziska Wallner aboard Shes Jerseylicious (Yellow Jersey x Shiney Enterprise), a mare bred by McQuays Stables, and Ewald Rifeser aboard Petra Burger's gelding One Day SG (One Gun x Connie All Dun).
The L3 and L1 were dominated by Nicole Haider an der mare Selectashininggun (Colonels Shining Gun x Selectively Done) who scored a 213.5. The horse was bred by Jan and Nadine Bodenstab. "I am so happy! This was my first Futurity," said Nicole Haider after her great run. "I've won some 'normal' NRHA shows so far, but this was my first real big show. My mare was so good to me today, and I cannot thank my trainer Klaus Lechner enough for his support."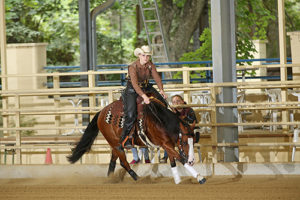 In L3, Franziska Wallner and Ewald Rifeser tied for second place. In L1, Franziska Wallner placed second with Alicja Olejnik and her mare CSG Lean With Gun (Colonels Shining Gun x Fly Flashy Whiz) following on third place.
Futurity Non Pro Go round, 4-year-old Horses: Carlo Ambrosini and Wolfgang Hammer take lead in L4
54 horses had been nominated for the AustrianRHA Futurity Non Pro go round of the 4-year-old horses. In L4, two riders took the lead scoring a 217.5 each: Carlo Ambrosini aboard his Jac N Lime and Wolfgang Hammer aboard his Chicago Lena. With his mare Jac N Lime (Tinsel Jac x ARC Yellow N Lime) 20-year-old Ambrosini won the 2018 AustrianRHA Futurity Non Pro L4 and L3 after leading the go round.
Wolfgang Hammer, who was IRHA Derby Champion Non Pro L2 this year, rode Chicago Lena (Smart Chic Olena x Bright Gun City) to the 2019 European Futurity Championship Non Pro L3 and L2 and Reserve Championship L4. Chicago Lena was bred by Sabine Schmid in Austria."He is a superb horse with lots of heart," Hammer says. "I bought him as a yearling as I liked his pedigree. You could that he could be a champion." Hammer especially thanked his trainer Thomas Martinek.
Timo Reichhart and his gelding Notorious Tupac (Gunners Last Oak x Nu Gold Chex) placed third in L4 scoring a 215.5. With this horse which was bred by Petra Ott, Reichhart was fourth at the NRHA Breeders Futurity Non Pro L4 as well as an IRHA Futurity Finalist.
With this, Wolfgang Hammer and Chicago Lena are also leading in L3 Non Pro with Timo Reichardt and Notorious Tupac placing second which was the lead in L1 as well.
Veit Ostermaier and Burnin Down Da House (Great Sun Burst x Whiz And Charm) followed on third place in L3 scoring a 215 and second place in L1. The gelding was bred by Martina Sgarzani.
Three riders followed on third place in L1 scoring a 213 each 213: Michaela Kogler aboard her stallion Thisroostergotsmarts (Smart Chic Olena x Rooster Hickory ), Kerstin Muller aboard her gelding Voodoowhiztictrick (Shiners Voodoo Dr x MP Huggamuggawhiz) bred by Susanne Duiker and Vittorio de Iulio aboard his stallion RS Hamal Feo Jac (RS Great Jac Feona x Boggie Bar Linda) bred by Claudio Risso.
The National Reining Horse Association is not responsible for information contained in this press release. Please contact the author or submitting organization for further information, requests or questions.