New Semifinal Event for NRHA Futurity
For Immediate Release – November 3, 2017 – Oklahoma City –  Each year, the National Reining Horse Association (NRHA) Futurity & Adequan® North American Affiliate Championship Show features the world's most elite competitors in the sport of reining. To highlight this talent, the NRHA created a new event that is sure to be thrilling for both spectators and reiners alike.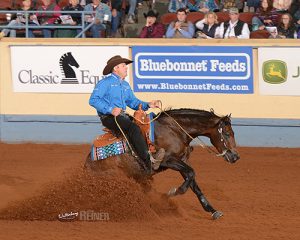 The Level 4 Open Silver Spurs Equine Semifinal is set to take place on Wednesday, November 29, at 10 a.m. in the Jim Norick Arena. Also sponsored by Not Ruf At All, the event will feature the top 75 horses (plus ties) in the Level 4 Open division from the first go-round, as well as competitors giving it all they have in hopes of making it to the event finals on Saturday. The horse and rider teams with the highest combined score from the first go-round and semifinal will advance to the final and go head-to-head for the winner's $150,000 guaranteed paycheck!
Approved at the February NRHA Board of Directors meeting, this new semifinal format provides more recognition to NRHA owners and riders and also showcases the amazingly talented equine athletes in the sport of reining. Additionally, a guaranteed payout will be made to each horse that qualifies for the Semifinal.
During the NRHA Futurity, the world's best reining horses and competitors come to Oklahoma City to compete for an estimated total purse and cash prizes of more than $2 million. For more information on schedules, tickets, hotel accommodations, sponsors and more visit nrhafuturity.com.