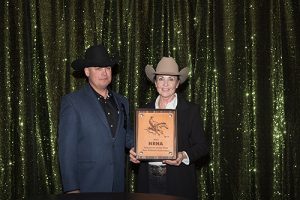 Each year, the National Reining Horse Association (NRHA) acknowledges one outstanding volunteer for commitment to giving back to the sport of reining. At the NRHA Awards Banquet on February 9, the 2018 honoree learned she would be acknowledged moments before accepting her award, but her dedication to NRHA has stood a far longer test of time. Ask any one of the many reiners whose lives she has impacted—Ann Salmon-Anderman couldn't be more deserving of this honor.
At just under 30 years with an NRHA membership to her name, Anderman has served the sport she loves in almost every role she could find, from NRHA board and committee member to judge and steward to competitor, and, of course, volunteer.  Through extensive involvement with her local affiliate, the Southwest Reining Horse Association (SWRHA), Anderman extends her passion for the sport to others, beginners and pros alike. After serving as president of SWRHA for three years, she continues to play an instrumental role in managing the SWRHA Futurity and Show as well as the SWRHA Reining Boot Camp. Her goal of giving every exhibitor a place to compete led her to introduce entry level classes to SWRHA shows.
Today, her desire to improve both her affiliate and the sport of reining as a whole has driven her to pursue innovative ways to increase communication between judges and exhibitors. As an NRHA Professional, Anderman and her husband train and host clinics at their facility in Pilot Point, Texas.
And her service to the sport of reining certainly won't stop now. After 20 years of dedicating herself to volunteer work in the industry, Anderman is ready to continue giving back to the horses she loves and the people who love them.
Founded in 1966, the National Reining Horse Association is a nonprofit association dedicated to promoting and encouraging the development of and public interest in the sport of reining. The focus is on developing and maintaining suitable standards of performance and judging and in providing a fun filled, family-oriented atmosphere. 
Media Contact:
Hayley Eberle
Manager of Marketing & Outreach
National Reining Horse Association
heberle@nrha.com
(405) 946-7400 x 103
###