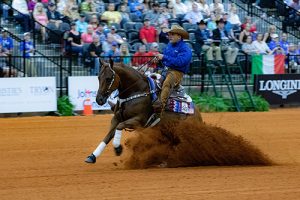 For immediate release – May 6, 2019 – Frederick Christen's 2010 mare Ms Dreamy (Magnum Chic Dream x A Gal With A Gun; LTE $179,169) has joined other outstanding equine members in The Horse Stars Hall of Fame as a 2019 United States Equestrian Federation (USEF) inductee. Established in 2013 by USEF and the EQUUS Foundation, the Horse Stars Hall of Fame celebrates the extraordinary talent of horses and their magical and powerful bond with people. The USEF inducts the horses recognized annually as "Horses of Honor" for their stellar athletic performances.
Those who have the honor of knowing reining superstar Ms Dreamy would agree that she has big talent and an even bigger heart. "This horse has a heart the size of the universe. I had a lot of success with her as an amateur rider, under the guidance of Dan and Wendy Huss," Christen said. "She had the heart to step up and be a contender for the 2018 FEI World Equestrian Games™ (WEG)." But qualifying for WEG was just the beginning for Ms Dreamy, who would go on to make not only her inner circle of riders, trainers, and owner proud, but the entire reining community.
Ms Dreamy, affectionately known in the barn as 'Dreamy,' has collected a multitude of remarkable accomplishments with four different riders over her five-year career. However, nothing can compare to the results the athletic mare and her current rider and trainer Dan Huss achieved in 2018.
During the Carolina Classic Derby and FEI World Equestrian Games Tryon 2018 Reining Test Event held in May, Huss rode Ms Dreamy to the high score of 224. In the second phase of the competition, they scored a 226 for a 450 composite tie and moved past the tie to win the event. During the WEG, Ms Dreamy and Huss helped the U.S. Reining Team earn their fifth consecutive team gold medal while placing second individually in the team competition. They finished WEG with the individual silver medal, making Ms Dreamy the first mare to individually medal for a U.S. team. Out of a field of 61 combinations in the WEG reining team competition, she was one of only 12 mares, and one of only four mares in the individual competition. "Her qualifying runs for the WEG were incredible," Christen added. "Both of her runs at the WEG also made her deserving of this recognition."
Christen's proudest moment involving Dreamy took place at the 2018 American Quarter Horse Association World Championship Show. While competing in the Senior Reining finals, an equipment malfunction where the headstall came unbuckled from the bit left Huss with no bridle, but that was not enough to stop Dreamy from putting down a stellar performance. Despite being bridleless, Huss and Dreamy stayed focused and executed a pattern that Christen described as "life-inspiring."
Throughout her career, Dreamy has accumulated many notable accolades, including the 2013 National Reining Horse Association (NRHA) Futurity Level 2 Non-Pro Reserve Championship; the 2014 American Quarter Horse Association Amateur Reining World Championship; the 2015 High Roller Reining Classic Derby Level 3 Open Reserve Championship; and the 2016 National Reining Breeders Classic Level 3 Non-Pro Championship. In addition, Ms Dreamy was named a 'USEF Horse of Honor' in 2018.
Christen, who has been involved in the equine industry for 27 years, is proud of Dreamy's countless accomplishments, and perhaps more importantly, her willing nature and big heart. "There is no quit in this mare," Christen said.
Read the entire release on all the 2019 Horse Stars Hall of Fame inductees here.
About EQUUS Foundation: The EQUUS Foundation, a 501(c)(3) public charity established in 2002, also known as Horse Charities of America, the only national animal welfare charity in the United States 100% dedicated to protecting America's horses and strengthening the bond between people and horses. Donations are tax-deductible to the full extent of the law. Contact the EQUUS Foundation, Inc., at 168 Long Lots Road, Westport, CT 06880, Tele: (203) 259-1550, E-Mail: mail@equusfoundation.org, Website: www.equusfoundation.org.
About US Equestrian: Established in 1917, the United States Equestrian Federation (US Equestrian), the governing body of equestrian sport in the United States, is dedicated bringing the joy of horse sports to as many people as possible. Learn more about the US Equestrian at www.usequestrian.org.
Contact: Lynn Coakley
mail@equusfoundation.org
203-259-1550
The National Reining Horse Association is not responsible for information contained in this press release. Please contact the author or submitting organization for further information, requests or questions.