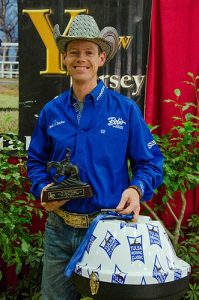 Friday featured the Novice Horse Open Levels 1 and 2 plus the Novice Horse Open Level 1 and 2 Affiliate Regional Finals in the Super Duty Arena, while the Mustang arena featured the Rookie and Rookie ARC classes at the Tulsa Reining Classic held at Expo Square in Tulsa, Oklahoma. Top riders earned honors as champs were crowned.
Gabe Hutchins rode Shinehollywoodshine for Tamarack Ranch to a score of 143.5 for the win in the Novice Horse Open. Shinehollywoodshine has been a great mount, which Hutchins hopes continues to improve.
"My plan is for him to be competitive in the Level 4 in the derbies next year, so it's been nice to be able to come here this week, do a little schooling, show him today and then I plan to put him in the Novice derby on Sunday." Hutchins said, adding that his mount performed well in Friday's class.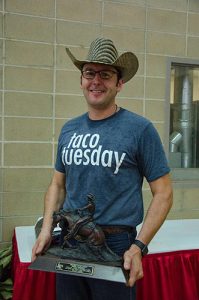 Jared Leclair topped the Novice Horse Open Level 2 and the Novice Horse Open Level 2 ARC with a score of 145.5 riding Smart Voodoo Doctor for owner Dean Spence. Smart Voodoo Doctor is by Shiners Voodoo Dr out of Smart As Sister and has led Leclair to a lot of success including a qualification to the NRHA Open Futurity Finals.
"I was just kind of showing him to qualify him for the affiliate [championships] so that I can show him at the Futurity, if I get him qualified," Leclair said. "He was really good to show and has been really good to show and he's just a really fun horse."
Kristen Avila rode Gunnerspecialplayboy (Gunners Special Nite x Shamless Playgirl) to a score of 143 to win the Novice Horse Open ARC. Avila said the 5-year-old has been with her for about year and was a little behind in his training and maturity.
"He was a little bit behind and he wasn't even ready to show until about May of this year," Avila said. "That was the first time we've shown him and so we've been doing all the novice events with him."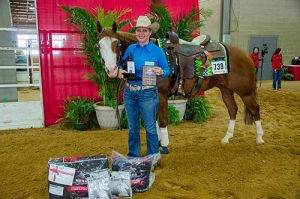 Despite his late start Avila says his calm personality makes him a joy to ride and be around.
"He's just a big dog. My son gets to ride him a little bit with my husband, because he's quiet and nothing really bothers him," she said. "He's just kind of an easy-going fella."
The rookies of the sport were highlighted Friday at the Tulsa Reining Classic. Two riders dominated the class with their flashy reining horses.
Wendy Hausner took the win in the Rookie Level 1 and Level 2 classes with a score of 142.5 riding HQH Crazy Rich (Slip Slydun Away x Sparklin Chic).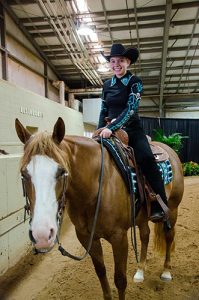 Kalena Reynolds took home the wins in the ARC Rookie 1 and ARC Rookie 2 classes with a score of 141.5 riding Gun Whiz It (Colonels Smoking Gun x Roll Whiz It). 7-year-old mare had her for 2 years.
"She was really smooth, she felt really good," Reynolds said of her run, which gives her a confidence boost going into Saturday's classes.
Barbara Biddix and Zins Smart Peppy (Tejons Peppy Doc x Smart Rowdy Lady) took home the Rookie Prime Time win with a score of 137.5. The 11-year-old gelding has been with Biddix for four years and after a lot of hard work they were able to pull together to get this win.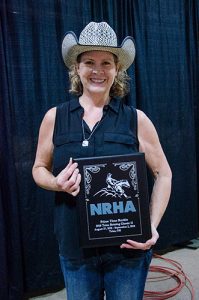 "It was just a nice run. He didn't stop like I like him to stop, he's a great stopper, but we had a good run," she said.
Biddix credits her trainer Brian Bell with their success saying that "Zin" was a bit of a handful before Bell got him show-ready.
Catch all the action of the Tulsa Reining Classic at www.tulsareining.com and by following along on social media.
The National Reining Horse Association is not responsible for information contained in this press release. Please contact the author or submitting organization for further information, requests or questions.