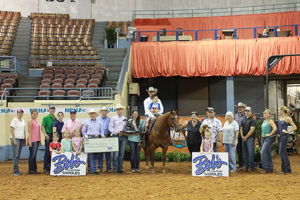 A new division was added to the National Reining Horse Association Derby presented by Markel Insurance. The Bob's Custom Saddles Novice Horse Open Derby provides a great opportunity for horses who had a late start or have not found their stride in the show pen another place to compete and add to their records.
The Novice Horse Open title was decided during the Open Derby preliminaries. Mathieu Buton and Smart As Hail topped the division with a 222.5, won $6,419, and also made the finals of Open Levels 3 – 1. "It went pretty well today. I trusted my plan and she was really good and honest," Buton said of the mare, owned by Addie McNeel. "I was very proud of her."
Buton has ridden Smart As Hail since the mare, by Smart Spook out of Hailstorm Jaci, was a late two-year-old. "Addie sent her to me and I always loved this mare. She has always been special to me. She's very physical. I only showed her once or twice as a three-year-old and missed the NRHA Futurity because I didn't have her healthy enough to go there," Buton explained. "She's stronger now and I'm glad I got to show her here."
That's why the opportunity to show in the Bob's Custom Saddles Novice Horse was appreciated. "This division is wonderful. I am so happy for this mare's owner, and I think it's phenomenal for the industry. I'm very happy about the win," he said.
Next up for Smart As Hail? The finals, of course. "We will try to do our best in the finals, and then show in Las Vegas for the High Roller. I think she'll be competitive there," he said.
Both Lorinaldo Gomes and Tom McCutcheon rode their horses to scores of 222 to tie for second in the division and win $3,419. Gomes was riding Snip O One, owned by Sarah Nimigan, while McCutcheon was showing Dun With Guns, owned by Turnabout Farm Inc. Snip O One is by A Sparkling Vintage and out of Snip O Gun, and Dun With Guns is by Gunners Special Nite and out of Belle Starr Dun It.