Press Release – August 22, 2018
What a fine AustrianRHA Futurity Go round of the 3-year-old horses! 70 horses had been entered for the Open in the four Levels. It was Manuel Cortesi who took the lead in L4 and L3 finally scoring a 215 – not with one, but with two horses: his mare PC Nana For Me (Dualin For Me x The Slide Surprise) and his stallion PC Tinsel Whiz (Hollywoodstinseltown x PC Sliderina Whiz). Both horses were bred and are owned by Az Agr Cortesi Piero. The 26-year-old Italian who was already FEI European Champion Young Riders and AustrianRHA Futurity Champion Non Pro, claimed 2013 Team Gold and Individual Silber at the FEI European Championships in Manerbio and was Austrian Futurity Champion L3 Open 2015.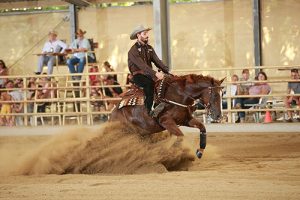 NRHA Million Dollar Rider and multiple Austrian Futurity Champion Rudi Kronsteiner placed third aboard Dr. Daniela Ratschews Dr Lee Jeff (Dr Lee Hook x Nu Rum To Smoke) scoring a 214.5. The stallion was bred by Glis Ranch.
In L2 and L1, Jeremy Ropert (France) took the lead aboard Jan Tobias Kock's QT Devil Of Heaven (214.5). The stallion is by Dun It On The QT out of Moms Lil Ruffian and was bred by Michael Jungfer-Schubert. Ropert won the NRHA Breeders Derby Open L1 this year after a run off.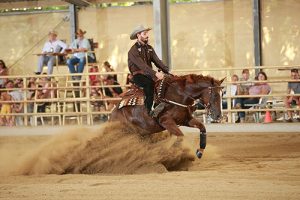 Steffano Cerutti and Giannitti Domenico's mare GD Wimpy Taris Step (Wimpys Little Step x Cutter Holiday Jacs) placed second in L2 scoring a 213, followed by Gal Grahelj and Walla Whiz A Dun It (Walla Walla Whiz x The Bun Is Dun), who scored a 212.5 placing second in L1. Sebastiano Valtorta and Ermenegildo Venturas LF Space Gun (One Gun x White Chex) placed third in L1 (212).
Level 4 Open Finalists
| | | | | | | | | | | | |
| --- | --- | --- | --- | --- | --- | --- | --- | --- | --- | --- | --- |
| 1 | PC Nana For Me | 39 | Manuel Cortesi | | Az Agr Cortesi Piero | 71 | 72 | 72 | 72 | 71 | 215 |
| 1 | PC Tinsel Whiz | 42 | Manuel Cortesi | | Az Agr Cortesi Piero | 71 | 71½ | 71½ | 72 | 72 | 215 |
| 3 | Dr Lee Jeff | 143 | Rudi Kronsteiner | | Dr Daniela Ratschew | 71½ | 72½ | 71 | 72 | 71 | 214½ |
| 4 | PL Colonelsmoking CX | 9 | Gennaro Lendi | | Luigi Parise | 71 | 71½ | 71½ | 71½ | 71 | 214 |
| 5 | PL Wimpys Jac Olena | 123 | Fabio Polesel | | Fabio Polesel | 70½ | 71 | 71 | 71½ | 72 | 213½ |
| 6 | I Am Charlie | 52 | Emanuel Ernst | | Jaqueline Seger | 70½ | 71 | 70½ | 71½ | 71½ | 213 |
| 6 | GD Wimpy Taris Step | 163 | Stefano Cerutti | | Giannitti Domenico | 71 | 70 | 71 | 71½ | 71 | 213 |
| 6 | Sailorsarcofpride BB | 65 | Cira Baeck | | Ruediger Diedenhofen | 71 | 70 | 71 | 71 | 71 | 213 |
| 9 | My Show Me The Spook | 147 | Rudi Kronsteiner | | Ambrosini Quarter Horses ASD | 69½ | 71½ | 70½ | 71½ | 70½ | 212½ |
| 9 | Walla Whiz A Dun It | 73 | Gal Grahelj | | Katja Zrimsek | 70 | 70½ | 71 | 71 | 71½ | 212½ |
| 11 | LF Space Gun | 289 | Sebastiano Valtorta | | Ermenegildo Ventura | 69½ | 70½ | 71 | 71 | 70½ | 212 |
| 12 | SL Shine Chic Voodo | 36 | Nina Weber | | Birte Zamani | 71 | 70 | 70½ | 71 | 70 | 211½ |
| 12 | Smart Milestone | 309 | Valentina Sagmeister | | Helmut Schulz | 70 | 71½ | 70 | 71 | 70½ | 211½ |
| 14 | Whizard Enterprise | 126 | Miroslav Baniari | | Gerald Lenhard | 68½ | 70½ | 69½ | 71 | 71½ | 211 |
| 14 | Spook Shot A Gun | 12 | Gennaro Lendi | | Alfredo Resi | 70 | 70½ | 70½ | 69½ | 71½ | 211 |
| 16 | Hollywhiz Mobidick | 35 | Nina Weber | | Lill Quarter Horses | 70 | 70½ | 70 | 70½ | 70 | 210½ |
| 17 | Miss Magnum Whiz | 57 | Giovanni Masi De Vargas | | Villa Il Tesoro Soc. Agr. Srl | 68½ | 69 | 70½ | 70½ | 70½ | 210 |
| 17 | Queen Whiz Sparks | 58 | Giovanni Masi De Vargas | | Beate Ooris Plueckhan | 70½ | 70½ | 70 | 69½ | 69½ | 210 |
| 17 | Whizper On Line | 107 | Arnaud Girinon | | Lisa Mahlein | 70 | 70 | 70 | 71 | 70 | 210 |
| 17 | Wimpyscaptainwhiz RD | 69 | Cira Baeck | | Sara Moonen | 70 | 70 | 69½ | 70 | 70 | 210 |
| 21 | Custom Cash Is Back | 46 | Lukas Brucek | | Paula Siekanska | 69½ | 69½ | 70 | 70 | 71½ | 209½ |
| 21 | Lil Royal Sailor BB | 68 | Cira Baeck | | Eifel Gold Ranch Baeck | 69½ | 69½ | 70 | 70 | 70 | 209½ |
| 23 | Smart Ruffle | 142 | Rudi Kronsteiner | | Schlager & Nestelberger Partnership | 69½ | 70 | 69½ | 70½ | 69½ | 209 |
| 23 | Gun With Stylish | 153 | Massimiliano Ruggeri | | Maurizio Ferrarol | 70½ | 70 | 69½ | 69½ | 69½ | 209 |
| 25 | Step In Your Skates | 81 | Roy Van Der Hoeven | | Roy Van Der Hoeven | 69½ | 69 | 70 | 69½ | 69 | 208 |
| 26 | Mr One Its Me | 127 | Vernon Sapergia | | Sandra Stangel – Sapergia | 69 | 69 | 68½ | 69 | 69 | 207 |
| 26 | Spat Split And Jac | 274 | Markus Schopfer | | Markus Schopfer | 70 | 69 | 68½ | 68½ | 69½ | 207 |
Level 3 Open Finalists
| | | | | | | | | | | | |
| --- | --- | --- | --- | --- | --- | --- | --- | --- | --- | --- | --- |
| 1 | PC Nana For Me | 39 | Manuel Cortesi | | Az Agr Cortesi Piero | 71 | 72 | 72 | 72 | 71 | 215 |
| 1 | PC Tinsel Whiz | 42 | Manuel Cortesi | | Az Agr Cortesi Piero | 71 | 71½ | 71½ | 72 | 72 | 215 |
| 3 | Dr Lee Jeff | 143 | Rudi Kronsteiner | | Dr Daniela Ratschew | 71½ | 72½ | 71 | 72 | 71 | 214½ |
| 4 | PL Wimpys Jac Olena | 123 | Fabio Polesel | | Fabio Polesel | 70½ | 71 | 71 | 71½ | 72 | 213½ |
| 5 | I Am Charlie | 52 | Emanuel Ernst | | Jaqueline Seger | 70½ | 71 | 70½ | 71½ | 71½ | 213 |
| 5 | GD Wimpy Taris Step | 163 | Stefano Cerutti | | Giannitti Domenico | 71 | 70 | 71 | 71½ | 71 | 213 |
| 7 | My Show Me The Spook | 147 | Rudi Kronsteiner | | Ambrosini Quarter Horses ASD | 69½ | 71½ | 70½ | 71½ | 70½ | 212½ |
| 7 | Walla Whiz A Dun It | 73 | Gal Grahelj | | Katja Zrimsek | 70 | 70½ | 71 | 71 | 71½ | 212½ |
| 9 | LF Space Gun | 289 | Sebastiano Valtorta | | Ermenegildo Ventura | 69½ | 70½ | 71 | 71 | 70½ | 212 |
| 10 | SL Shine Chic Voodo | 36 | Nina Weber | | Birte Zamani | 71 | 70 | 70½ | 71 | 70 | 211½ |
| 10 | Smart Milestone | 309 | Valentina Sagmeister | | Helmut Schulz | 70 | 71½ | 70 | 71 | 70½ | 211½ |
| 12 | Whizard Enterprise | 126 | Miroslav Baniari | | Gerald Lenhard | 68½ | 70½ | 69½ | 71 | 71½ | 211 |
| 13 | Hollywhiz Mobidick | 35 | Nina Weber | | Lill Quarter Horses | 70 | 70½ | 70 | 70½ | 70 | 210½ |
| 14 | Miss Magnum Whiz | 57 | Giovanni Masi De Vargas | | Villa Il Tesoro Soc. Agr. Srl | 68½ | 69 | 70½ | 70½ | 70½ | 210 |
| 14 | Chicago Lena | 281 | Tomas Martinek | | Wolfgang Hammer | 70 | 69 | 70 | 71 | 70 | 210 |
| 14 | Whizstar | 17 | Klaus Lechner | | Julia Gaupmann | 69½ | 69½ | 70½ | 70 | 71 | 210 |
| 14 | Queen Whiz Sparks | 58 | Giovanni Masi De Vargas | | Beate Ooris Plueckhan | 70½ | 70½ | 70 | 69½ | 69½ | 210 |
| 14 | Whizper On Line | 107 | Arnaud Girinon | | Lisa Mahlein | 70 | 70 | 70 | 71 | 70 | 210 |
| 14 | CM Red N Dunit | 303 | Andrea Manucci | | Jeremy Marani | 69 | 70 | 70 | 70 | 71 | 210 |
| 20 | Custom Cash Is Back | 46 | Lukas Brucek | | Paula Siekanska | 69½ | 69½ | 70 | 70 | 71½ | 209½ |
| 21 | Smart Ruffle | 142 | Rudi Kronsteiner | | Schlager & Nestelberger Partnership | 69½ | 70 | 69½ | 70½ | 69½ | 209 |
| 21 | Gun With Stylish | 153 | Massimiliano Ruggeri | | Maurizio Ferrarol | 70½ | 70 | 69½ | 69½ | 69½ | 209 |
| 21 | Whensungoesdown | 90 | Pavel Orel | | Vladimir Cejka | 70 | 69½ | 70 | 69½ | 69 | 209 |
| 24 | Vanilla Gun | 92 | Alessandro Fossat | | Alessandro Fossat | 69½ | 70 | 70½ | 68½ | 69 | 208½ |
| 25 | Bar Baby Stylish | 60 | Alessandro Coppari | | Cleo Pugnetti | 70 | 69 | 68½ | 69½ | 69½ | 208 |
| 25 | Step In Your Skates | 81 | Roy Van Der Hoeven | | Roy Van Der Hoeven | 69½ | 69 | 70 | 69½ | 69 | 208 |
| 27 | Ws Check My Pedigree | 101 | Kim Obenhaus | | Wessel Veld | 69½ | 69 | 69 | 70 | 67½ | 207½ |
| 28 | Just A Little Whiz | 116 | Kevin Gasser | | Josef Obrist | 69 | 69 | 69 | 68½ | 69 | 207 |
| 28 | Mr One Its Me | 127 | Vernon Sapergia | | Sandra Stangel – Sapergia | 69 | 69 | 68½ | 69 | 69 | 207 |
| 28 | Wimpysbackintown MH | 19 | Klaus Lechner | | Kathrin Lechner | 68½ | 68½ | 69 | 70 | 69½ | 207 |
| 28 | Spat Split And Jac | 274 | Markus Schopfer | | Markus Schopfer | 70 | 69 | 68½ | 68½ | 69½ | 207 |
Level 2 Open Finalists
| | | | | | | | | | | | |
| --- | --- | --- | --- | --- | --- | --- | --- | --- | --- | --- | --- |
| 1 | QT Devil Of Heaven | 133 | Jeremy Ropert | | Jan Tobias Kock | 71 | 72 | 71½ | 71½ | 71½ | 214½ |
| 2 | GD Wimpy Taris Step | 163 | Stefano Cerutti | | Giannitti Domenico | 71 | 70 | 71 | 71½ | 71 | 213 |
| 3 | Walla Whiz A Dun It | 73 | Gal Grahelj | | Katja Zrimsek | 70 | 70½ | 71 | 71 | 71½ | 212½ |
| 4 | LF Space Gun | 289 | Sebastiano Valtorta | | Ermenegildo Ventura | 69½ | 70½ | 71 | 71 | 70½ | 212 |
| 5 | SL Shine Chic Voodo | 36 | Nina Weber | | Birte Zamani | 71 | 70 | 70½ | 71 | 70 | 211½ |
| 5 | Smart Milestone | 309 | Valentina Sagmeister | | Helmut Schulz | 70 | 71½ | 70 | 71 | 70½ | 211½ |
| 7 | Whizard Enterprise | 126 | Miroslav Baniari | | Gerald Lenhard | 68½ | 70½ | 69½ | 71 | 71½ | 211 |
| 8 | Hollywhiz Mobidick | 35 | Nina Weber | | Lill Quarter Horses | 70 | 70½ | 70 | 70½ | 70 | 210½ |
| 9 | Spooks Gotta Deal | 99 | Lisa Schlatter | | Lisa Schlatter | 70½ | 70 | 70 | 69½ | 70 | 210 |
| 9 | Chicago Lena | 281 | Tomas Martinek | | Wolfgang Hammer | 70 | 69 | 70 | 71 | 70 | 210 |
| 9 | CM Red N Dunit | 303 | Andrea Manucci | | Jeremy Marani | 69 | 70 | 70 | 70 | 71 | 210 |
| 12 | Whensungoesdown | 90 | Pavel Orel | | Vladimir Cejka | 70 | 69½ | 70 | 69½ | 69 | 209 |
| 13 | Vanilla Gun | 92 | Alessandro Fossat | | Alessandro Fossat | 69½ | 70 | 70½ | 68½ | 69 | 208½ |
| 13 | OT Taris Sweet Gun | 7 | Andrea Napolitano | | Anna Reinhart | 68½ | 69½ | 70 | 70 | 69 | 208½ |
| 15 | LV Barny Remedys | 307 | Antonin Solansky | | Petr Julina | 69 | 69½ | 69½ | 70 | 69 | 208 |
| 15 | Bar Baby Stylish | 60 | Alessandro Coppari | | Cleo Pugnetti | 70 | 69 | 68½ | 69½ | 69½ | 208 |
| 17 | Il Be Automatic | 6 | Christian Possetto | | Quarter Dream S.r.l. | 69 | 68 | 69½ | 70½ | 69 | 207½ |
| 17 | Ws Check My Pedigree | 101 | Kim Obenhaus | | Wessel Veld | 69½ | 69 | 69 | 70 | 67½ | 207½ |
| 19 | Just A Little Whiz | 116 | Kevin Gasser | | Josef Obrist | 69 | 69 | 69 | 68½ | 69 | 207 |
| 19 | Mr One Its Me | 127 | Vernon Sapergia | | Sandra Stangel – Sapergia | 69 | 69 | 68½ | 69 | 69 | 207 |
| 19 | Spat Split And Jac | 274 | Markus Schopfer | | Markus Schopfer | 70 | 69 | 68½ | 68½ | 69½ | 207 |
| 22 | Chex Lectric Guns | 275 | Markus Schopfer | | Christoph Seiler | 69 | 68½ | 67½ | 69 | 68½ | 206 |
| 22 | Tinseltownconnection | 282 | Tomas Martinek | | Wolfgang Hammer | 69 | 68½ | 69 | 68½ | 68 | 206 |
| 24 | Shesa Tinseltown | 93 | Maarten Hirzel | | Sabine Hirzel | 67½ | 68½ | 68 | 69 | 68½ | 205 |
| 25 | Icy Callya | 59 | Francesco Marchegiani | | Francesco Nardi | 68½ | 67½ | 68 | 68 | 68½ | 204½ |
| 25 | ND Michelangela Spat | 25 | Johannes Hasenauer | | Gernot Pupacher | 68½ | 67½ | 68 | 68½ | 68 | 204½ |
| 27 | Cee N Blue | 137 | Stefano Ladetto | | Erwin Haider | 67½ | 66½ | 67½ | 66 | 67 | 201 |
| 28 | CSG Shootingstar | 310 | Fabi Cestari | | Katarzyna Roleska | 66 | 67 | 66 | 67 | 68 | 200 |
Level 1 Open Finalists
| | | | | | | | | | | | |
| --- | --- | --- | --- | --- | --- | --- | --- | --- | --- | --- | --- |
| 1 | QT Devil Of Heaven | 133 | Jeremy Ropert | | Jan Tobias Kock | 71 | 72 | 71½ | 71½ | 71½ | 214½ |
| 2 | Walla Whiz A Dun It | 73 | Gal Grahelj | | Katja Zrimsek | 70 | 70½ | 71 | 71 | 71½ | 212½ |
| 3 | LF Space Gun | 289 | Sebastiano Valtorta | | Ermenegildo Ventura | 69½ | 70½ | 71 | 71 | 70½ | 212 |
| 4 | Spooks Gotta Deal | 99 | Lisa Schlatter | | Lisa Schlatter | 70½ | 70 | 70 | 69½ | 70 | 210 |
| 5 | Vanilla Gun | 92 | Alessandro Fossat | | Alessandro Fossat | 69½ | 70 | 70½ | 68½ | 69 | 208½ |
| 5 | OT Taris Sweet Gun | 7 | Andrea Napolitano | | Anna Reinhart | 68½ | 69½ | 70 | 70 | 69 | 208½ |
| 7 | LV Barny Remedys | 307 | Antonin Solansky | | Petr Julina | 69 | 69½ | 69½ | 70 | 69 | 208 |
| 7 | Lex Revenge | 131 | Lorenzo Diello | | Giulia Ruffoni | 69½ | 69½ | 69 | 70 | 67½ | 208 |
| 7 | Bar Baby Stylish | 60 | Alessandro Coppari | | Cleo Pugnetti | 70 | 69 | 68½ | 69½ | 69½ | 208 |
| 10 | Il Be Automatic | 6 | Christian Possetto | | Quarter Dream S.r.l. | 69 | 68 | 69½ | 70½ | 69 | 207½ |
| 11 | Just A Little Whiz | 116 | Kevin Gasser | | Josef Obrist | 69 | 69 | 69 | 68½ | 69 | 207 |
| 12 | Shesa Tinseltown | 93 | Maarten Hirzel | | Sabine Hirzel | 67½ | 68½ | 68 | 69 | 68½ | 205 |
| 13 | Icy Callya | 59 | Francesco Marchegiani | | Francesco Nardi | 68½ | 67½ | 68 | 68 | 68½ | 204½ |
| 14 | Kalizgolden Lasvegas | 311 | Reinhard Hochreiter | | Waltraud Kogler | 68½ | 68 | 68 | 68 | 68 | 204 |
| 15 | AK Turn The Whiz | 100 | Zuzana Pacesova | | Carina Freudenthaler | 68½ | 67 | 67 | 67½ | 68 | 202½ |
| 16 | Cee N Blue | 137 | Stefano Ladetto | | Erwin Haider | 67½ | 66½ | 67½ | 66 | 67 | 201 |
| 17 | CSG Shootingstar | 310 | Fabi Cestari | | Katarzyna Roleska | 66 | 67 | 66 | 67 | 68 | 200 |