Tomas Martinek wins Int. Open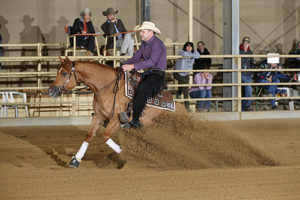 This AustrianRHA Futurity Open final of the 4-year-old horses won't be forgotten with ist fantastic runs. In the end, it was the leader of the go round who claimed the AustrianRHA Futurity Championship Open L4: Manuel Cortesi aboard PC Tinsel Whiz (Hollywoodstinseltown x PC Sliderina Whiz) owned by Az Agr Cortesi Piero. The two scored a 229 after a brilliant run. Cortesi was third with this stallion at the 2018 AustrianRHA Futurity, after leading the go round, and placed 11th in the NRHA Breeders Futurity Open.
Dominik Reminder and Martin Bachmann's Got My Baileys (Wimpyneedsacocktail x Smoking Walla Wanda) became Reserve Futurity Champion L4 scoring a 228. Reminder who was Futurity Champion Open of the 3-year-old horses shortly before this final, rode Got My Baileys to third place honours at the European Futurity 2019.
Scoring a 224.5, Tomas Martinek and Call Me Lil Josie (Lil Joe Cash x Call Me N Hollywood) owned by Wolfgang Hammer placed third in L4 which was also the Intermediate Open Futurity Championship. The mare was bred by Sergio Elia erzielte eine 224,5. Martinek was Reserve Champion in L2 at the IRHA Futurity 2018 with this horse.
The Intermediate Open Futurity Reserve Championship went to Pierluigi Fabbri aboard Hurricane Jaba (Broadway Jaba x Lydiah Chex), who scored a 222 for owner Igor Rozman. The gelding was bred by Az Ag Piero Pollarini SRL. Daniela Saupe and her Smart N Surprising (Smart Spook x Just Miss Enterprise) placed third scoring a 221.
Wolfgang Hammer claims AustrianRHA Futurity Non Pro L4 and Intermediate Non Pro Championship, 4-year-old Horses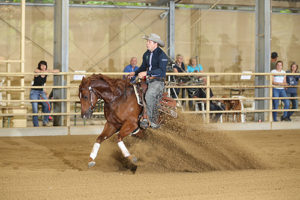 The fourth but last finalist of the AustrianRHA Futurity Non Pro claimed the Championship both in L4 and Intermediate Non Pro: Wolfgang Hammer from Austria aboard his Chicago Lena (Smart Chic Olena x Bright Gun City). The two had already been leading after the go round and scored a 220 in the final after a brilliant run. It was another huge success for the two this year: with Chicago Lena, Hammer was NRHA European Futurity Champion Non Pro L3 and L2 and Reserve Champion L4. Chicago Lena was bred by Sabine Schmid in Austria. "He is a great horse with lots of heart ," says Hammer. "I bought him as a yearling because I liked his pedigree. You could see even then that he had tons of talent and is a real winner."
The Futurity Reserve Championship L4 was claimed by AustrianRHA Futurity Champion Non Pro 2017 Sarah Ehrenreich aboard Gunners Special Gal (Gunners Special Nite x Dun Pretty Nifty). The palomino mare with whom Sarah was 7th in L3 at the NRHA Futurity Non Pro 2018, scored a 218.5.
Three riders tied for third place in L4 scoring a 215.5: Sara Karasova aboard her gelding Wallach KH Yankee Step (Rowdy Yankee x Step A Little Closer) bred by Lo F Boldog, Lisa Weiss aboard Lady Santabellum (Shine Chic Shine x Doc Santa Belle), a mare bred by Craig Johnson, and Andrea Pedrotti aboard his gelding Saturday Big (Saturdaynight Custom x Kachina Tag) who was bred by Ambrosini QH.
The Intermediate Non Pro Futurity Reserve Championship went to Veit Ostermeier aboard his Burnin Down Da House (Great Sun Burst x Whiz And Charm) who scored a 218.5. The gelding which was bred by Martina Sgarzani already won the L1 Futurity Championship. Lisa Weiss aboard Lady Santabellum and Andrea Pedrotti aboard Saturday Big tied for third place.
Photos courtesy of Christian Kellner
The National Reining Horse Association is not responsible for information contained in this press release. Please contact the author or submitting organization for further information, requests or questions.