The SmartPak Non Pro Derby at the Tulsa Reining Classic featured $26,000 in added money, and the one-go format meant every entry was riding for a win. It was a great day of competition, and SmartPak Customer Care Representative Annina McMillan was on hand for the awards presentation.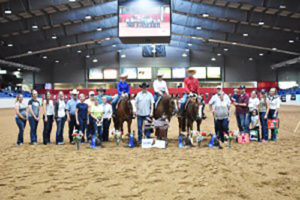 In the end, it was National Reining Horse Association $2 Million Rider Mandy McCutcheon who took home top honors with a score of 221.5. "I thank SmartPak for sponsoring this class. My husband Tom, my dad Tim (McQuay), and now my son Cade are all sponsored by SmartPak – Tom and Tim for over a decade. They're a great group of people and it's a great company that we're happy to be involved with," McCutcheon said.
McCutcheon, of Aubrey, Texas, was riding Codalicious, by Electric Code out of Custom Easy Breezy. She and Tom purchased the mare earlier in the year. "Joe Schmidt had her as a three-year-old and did quite well with her, and I saw her every day at the time. The owner told me she was just going to take her home and not show her, so I asked if she'd be interested in selling her," McCutcheon recalled. "I had never ridden her – just watched Joe show her – so I took her home, rode her and liked her, so we made a deal."
The pair's first event was in March at the Oklahoma Reining Horse Association show in Tulsa. Although they had some things to work at, they then made the finals at both the National Reining Breeders Classic and the NRHA Derby. "She's just a great-minded, solid show horse. Today she was really honest and sweet, and everywhere I wanted to go, she went," McCutcheon said.
It was a big day for the women of the McCutcheon family. Mandy's daughter, Carlee, was also competing, placing in levels 4 through 2 and winning the Non Pro Level 1. "I am so proud of Carlee. She's turned into such a great showman. She doesn't get to practice very often because she's busy jumping, but she did such a great job today," she said.
The McCutcheon crew brought a large group of horses to Tulsa. "We have 38 horses here. It takes a village to get us all where we need to go. I'm so thankful for our team. Joe did a great job training this mare. I also thank Tom, Debbie Brown, Fernando Salgado, my parents, Cade, and everyone who works for us at the barn. I'm so thankful," she said.
Lane Colston & Baileys Not Painted – Non Pro Level 4 Reserve Champions, Non Pro Level 3 and 2 Champions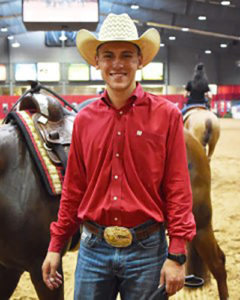 With a score of 220, Lane Colston and Baileys Not Painted finished in reserve of the Level 4, and claimed the Championship of the Non Pro Levels 3 and 2. All totaled, the pair pocketed $7,313. "I could tell he was ready to go and do his job today," Colston said. "He stopped probably the best he's ever stopped. Overall he was great."
Colston, who is 15 years old, has been showing reiners for six years, and rides with Tom McCutcheon and Fernando Salgado, although he resides in Kentucky. "My horse stays in Aubrey. They're a well-oiled machine there and do such a great job of keeping him ready for me to show," he said.
Colston actually purchased Baileys Not Painted, by Gunners Special Nite out of Darlins Not Painted, from the McCutcheons. "Mandy showed him, and Tom showed him some. We bought him and I've had him a year and a half and we've been successful. He's a really talented horse." He added, "I enjoy riding him. He always tries for me and I know he'll be good if I stay out of his way."
Colston, who will travel to Las Vegas next for the High Roller Classic, added, "I thank my parents Amy and Kevin, as well as Cade, Tom and Fernando. They all give me great advice and are always willing to help out and go the extra mile."
Carlee McCutcheon & A Special Sidekick – Non Pro Levels 3 & 2 Reserve Champions, Non Pro Level 1 Champions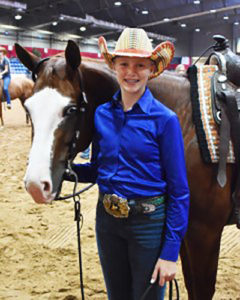 Carlee McCutcheon is following in her mother's footsteps. Not only is she an avid reiner, she has also seen much success in the hunter-jumper world. She does so, she noted, with lots of support. "I have my parents and grandparents who help me a lot and make everything easier on me. I also thank Debbie Brown. I couldn't do it without her. She helps me so much," McCutcheon said.
On Thursday, McCutcheon took the reins of her standout gelding A Special Sidekick, and piloted the gelding to a score of 217.5, finishing third in the Level 4, second in both Levels 3 and 2, and winning the Level 1, for total earnings of $5,515. "Today was the best run I've had on him. It was awesome," she said.
McCutcheon has been riding A Special Sidekick, who she calls Fitz, since he was a three-year-old. "He's always been really good and has taught me a lot," she said of the five-year-old by Gunners Special Nite out of A Shining Sidekick. "He's taught me to be brave, and we've had some success."
Taking Reserve in the Non Pro Level 1 was reigning NRHA Non Pro Derby Champions Jennifer Neudorf and Shining In Town with a 216. Shining In Town is by Hollywoodstinseltown out of Shine Ann.
Kaylee Naylor & Lil Ruf Dreamer – Novice Horse Non Pro Co-Champions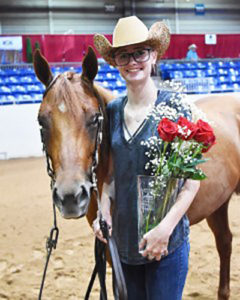 With a score of 216, Kaylee Naylor and Lil Ruf Dreamer tied for the win of the Novice Horse Non Pro division. That, totaled with placing in Non Pro Levels 4-2, brought total earnings to $3,603. "Our turnarounds were the best she ever has done. She did everything I asked her to in her circles, and we finally nailed our lead changes. This was the first time she's ever done a pattern up and down the middle, but she was really good," Naylor said.
Naylor purchased the four-year-old mare, by Magnum Chic Dream out of Lil Ruf Jessie, only a few months ago. "I got her from Casey Hinton. I like how honest she is and how she goes in and tries every single time," she said. "We're done for the year now, and will show again at next year's NRBC."
Naylor, an 18-year-old from Jenks, Oklahoma, attends school at Tulsa Community College. She added, "I thank my parents Brandy Naylor and Jared Redyke, as well as my trainer Sean Johnson and his wife for all their help."
Chalyce Head & Pure Revolution – Novice Horse Non Pro Co-Champions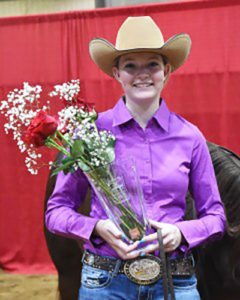 Also tying for the Novice Horse Non Pro division and placing in Non Pro Levels 4-2 for $3,603 was Chalyce Head and Pure Revolution. "I was really happy with my run. It's a really big pen and she's a little horse, so I was worried about her getting tired. Even though she was tired she tried. It's a long pen, but she was really good," Head said.
Head purchased Pure Revolution, by Einsteins Revolution out of MadeOf Pure Spangled, early in the mare's three-year-old year. "She's four now. I showed her at all the futurities. She's been great. She has taught me so much and given me so much confidence in the show pen. I can just go in there and she will try to do the best she can," she said.
Head rides with Abby Lengel. "It's been a big year for us. Today, Abby told me to go have fun and don't leave anything out there," she said. "I thank Abby and Sandy, and my friend Jennifer for supporting me. I also thank my whole family for all their help. They're all great."
The 15-year-old won't get much rest, as she'll be packing up and heading to Las Vegas as well.
Kelle Smith & WF Shez Gotta Whiz – Prime Time Non Pro Champions
With a score of 218, Kelle Smith and WF Shez Gotta Whiz claimed the Prime Time Non Pro title. The pair also placed in the Level 4 and the Level 3, for a total paycheck of $3,633. WF Shez Gotta Whiz is by Spooks Gotta Whiz out of Shez Dun Steppin.
Sean Pulley finished second in the Prime Time Non Pro with Spook In Sparks, by Smart Spook out of Setting Off Sparks.
Complete results and news for the Tulsa Reining Classic can be found at www.TulsaReining.com.
The National Reining Horse Association is not responsible for information contained in this press release. Please contact the author or submitting organization for further information, requests or questions.