The Turnabout Farm Non Pro Futurity took center stage at The Tulsa Reining Classic, held at Expo Square Aug. 27 – Sept. 2. The Non Pro Futurity featured smart maneuvers and big stops while two competitors topped the day.
Madison Steed nearly swept the Turnabout Farm Non Pro Futurity taking home the championships in the Level 4, Level 3 and Level 2 from a score of 220.
Steed rode Into The Nite, a 3-year-old stallion by Gunners Special Nite out of Chexy Dun It, that's she's had since he was a yearling. Steed just came off of a collegiate championship prior to the Tulsa Reining Classic and says the success has been almost too good to believe.
"I don't think it's hit yet. He obviously was super good for me and just wanted to be my buddy in the arena and I couldn't have asked for anymore from him," Steed said.
Steed said her plan was to trust her mount and let him do his job in the pen. The strategy paid off with the big score and ultimately the championship titles. Steed says although at first she was a little anxious once she got into a groove in the pen and Into The Nite settled in as well then she was able to relax and enjoy the moment.
"He really just gave me the confidence of an old broke show horse and he's been a lot of fun and I'm really thankful for him," she said.
While Steed credits her trainer Yonathan Baruch for both her and Into The Nite's success she was proud to say she helped in the training process.
"I've had him since he was a yearling and it was really fun to watch from the beginning to where we are now," she said. "So, it was cool to be a part of that process and see where we are from point A to point B.
"I ride with Yonathan Baruch and I rode [Into The Nite] for the summer of his 2-year-old year. This was a learning thing for me and I wanted to do as much as I could on him. I did the very first lead change on him, whether or not that was a good call or not I don't know," she said with a laugh, "but I can say I did that."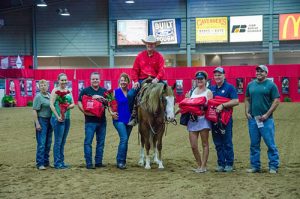 Michael Bulliard rode Ha Trashy Tune (Gunnatrashya x HA Chic A Tune) to the Turnabout Farm Non Pro Futurity Level 1 and Prime Time championships. In the Level 1 the duo marked a score of 218.5 for the win, while in the Prime Time they scored a 221.5. The 3-year-old gelding has been with Bulliard since February 2018 and says he really came into his own while his wife, Trudy, was riding him. In fact, he credits his wife to their success, saying she's the first to fully recognize the gelding's talents.
"Trudy said we haven't had a good one like this since 2009 (When Michael won the 2009 NRHA Futurity Non Pro Prime Time championship with My Royalty Chex), and Trudy said '[Ha Trashy Tune] was the best 2-year-old I've ever ridden since then,]" Bulliard said adding that they took the chance and the rest is history.
"Even through all the little bumps we've been through with him, he was really always a pleasure to work with," he continued. "I've grown into really, really liking him a lot."
Bulliard says he's excited to get the win and that it's a testament to the quality of horseflesh he's riding, adding that HA Trashy Tune is the highest top-tier stallion's offspring he's ever had.
"It means a lot when you're trying to compete at this level," Bulliard said of riding HA Trashy Tune's pedigree, which translated into Friday's run. "I was pretty confident going in all this week preparing and getting ready. I listened to the advice Steve had and applied it and the run today was just really fun. His engine got going and I felt a different horse."
Bulliard thanked Steve Archer, Trudy, Brian Bell, Casey Deary and Todd Martin for their support.
Catch all the action of the Tulsa Reining Classic at www.tulsareining.com and by following along on social media.
The National Reining Horse Association is not responsible for information contained in this press release. Please contact the author or submitting organization for further information, requests or questions.