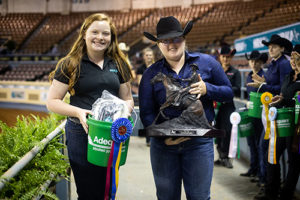 The Collegiate Reining Championships were held Friday between the two sections of Non Pro finals, and in the end, it was reigning champion Madison Steed, of Cochrane, Alberta, Canada who won the title. Steed was competing on Spook N Sparkle, a 10-year-old by Smart Spook out of Setting Off Sparks, generously donated for use in the competition by Rosanne Sternberg.
"This was really cool. Last year I was fortunate to ride a great horse and I was this year, too. It's a lot of fun to ride beneath the bright lights of Oklahoma City," Steed said.
Steed qualified to compete through NRHA and was part of the 2019 Southern Methodist University team that earned the reserve championship at Nationals.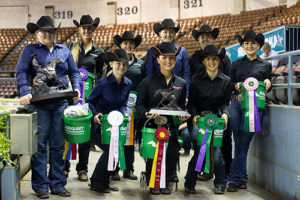 "This is a great opportunity to bridge the gap between NCEA and the NRHA, and an awesome opportunity to compete in a facility where so much history has been made. It's awesome to showcase the best of collegiate reining," Steed said.
Recently graduated, Steed is looking to start her career. "I just received notice my Visa came through, so I'm going to be working for CR Ranchwear full time," she explained.
The Collegiate Reining Championships are challenging. Four representatives from the NRHA, the Intercollegiate Horse Show Association, and the National Collegiate Equestrian Association compete on horses they've never ridden before. They are able to watch the horses show an example of each maneuver in a 15-minute warm-up under their owner or trainer. The collegiate exhibitors only get to ride the horses for five minutes before entering the show pen.
"The young athletes, their coaches, and their support have been such a joy to have at the NRHA Derby. It was incredible to watch them be so successful on a horse they were only on minutes prior to competing," noted NRHA Youth Programs Coordinator Sara Honegger.
Horses are donated to the competition by generous individuals in support of the youth programs. Donors to the Collegiate Championships include Rosanne Sternberg, Kristina Picciotti, Patrick Swartz, Sierra Palacios, Bud Lyon, Maron Neff/Michelle Chapman, Sally Berg, Jessicah Keller, Ryan Rushing and Spence Bell.
"We are so appreciative of everyone who donated their equine athletes for these young individuals to use. It's such a wonderful way to support the future of this sport, encourage these young people, and showcase their horse's willingness and talent," Honegger said.