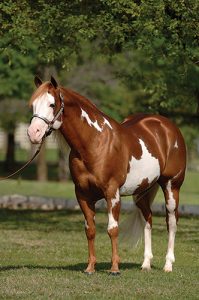 During the 2019 APHA Convention in Fort Worth, Texas, APHA honored impactful members, horses, and clubs at their Hall of Fame banquet. Among the honorees was one especially notable in the sport of reining: NRHA Million Dollar Sire Like A Diamond.
This 1992 Paint stallion (Grays Starlight x Diamond Jewel Wood) was bred by Jessica Kellogg and Susan Hearst, who owned 'Arnold' until his death in 2017. Although he did not achieve extensive success in the show pen, Arnold's offspring have dominated not only reining but a variety of other western disciplines as well. His progeny crossed the $1 million NRHA earnings mark in 2017, earning numerous major titles in the process.
Arnold's most distinguished offspring include:
RR Star (NRHA LTE $222,752)
RU Missin Diamonds (NRHA LTE $144,487)
Premier Diamond (NRHA LTE $66,846)
Gunnin For Diamonds (NRHA LTE $66,204)
Diamonds A Shining (NRHA LTE $40,000)
Visit apha.com for more information.