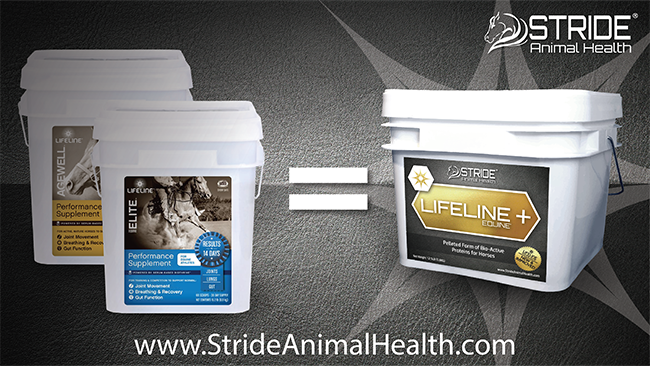 Stride Animal Health®, a division of Bluebonnet Feeds® of Ardmore, Oklahoma has acquired the rights to the LIFELINE Equine® brand of bioactive proteins.  APC, Inc., the Ankeny, Iowa supplier of the serum-based ingredient, reached an agreement with Stride Animal Health® to market and sell all LIFELINE Equine® products for the U.S. equine market, effective January 1, 2018.  "We are excited to add this unique technology to the Stride Animal Health® line, which offers innovative solutions for horses under stress and performance", announced John Langemeier, President of Bluebonnet Feeds. A new and improved product will be marketed under the name LIFELINE+ Equine® and will replace prior products, LIFELINE Equine Elite® and LIFELINE AgeWell®.
Bluebonnet Feeds® is dedicated to the nutritional health of animals, producing some of the most advanced feed products in the equine feed industry.  Bluebonnet® was a pioneer in digestive support technologies for decades, including utilization of probiotics, prebiotics, and other unique ingredients to help animals reach their genetic potential. Bluebonnet® was prompted to develop the Stride Animal Health® line of supplements for customers who didn't have regional access to Bluebonnet Feeds®.
Beginning with Stride® 101, one of the first equine diet balancers on the market, and Transform DSI®, the unique digestive support package in Intensify® horse feeds, the Stride Animal Health® brand was born. Stride Animal Health® offers innovative solutions that maximize health and reduce the risk of discomfort and disease. Stride Animal Health® offers natural technologies that may even serve as an alternative for drug use in some situations. Quality products that solve problems for horses are continuously being developed and added to the Stride® family which makes LIFELINE Equine® an excellent fit.
The mission of Stride Animal Health® is to utilize research and science to develop solutions that create longevity and fulfillment for your equine companion. A unique combination of FDA approved natural ingredients and exclusive manufacturing capabilities ensure integrity and efficacy of all ingredients.
For more information and to place orders, go to www.strideanimalhealth.com, visit your closest Stride Animal Health® or Bluebonnet Feeds® dealer, or call (800) 365-2456.
STRIDE ANIMAL HEALTH®
100 Mill St SE | Ardmore, OK 73401
P: 580-223-3010
F: 580-223-4737
E: info@strideanimalhealth.com
www.StrideAnimalHealth.com
The National Reining Horse Association is not responsible for information contained in this press release. Please contact the author or submitting organization for further information, requests or questions.