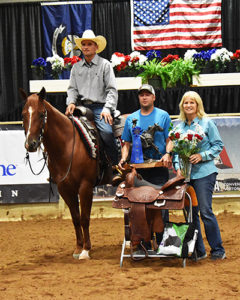 In early August, the Tulsa Reining Classic announced a new class for three-year-old reining horses – the Toyon Ranch Emerging Horse Futurity. The inaugural event was held Tuesday, August 22, and Kyle Shaw piloted Chics Dig Shiners to win the title. The pair also collected a check for $909, a saddle from Bob's Custom Saddles, a Back on Track sheet, and a gift certificate to Shorty's Hattery.
It was only the second time for Chics Dig Shiners, by Shine Chic Shine, to compete. "We've had him since about May. He's a little on the greener side, which is why we showed him here in this class. It all worked out really well," Shaw said.
Shaw noted that his goal for the three-year-old reiner, owned by Dan Atkinson, was a smooth run. "Our aim was to circle cute and stay out of trouble, so we pretty well accomplished that. He's a big turner and a big stopper, so I think the judging on that worked out in our favor," he explained.
The River Falls, Wisconsin, trainer added that, if the situation were right, he would show in the emerging horse division again. "I especially will if we have a horse in a similar situation that could benefit from showing two-handed. Why not? I am very appreciative that they held this class here. I give a big thank you to Toyon Ranch for sponsoring the Emerging Futurity," he said.
Shaw, who rides with Justin Michaels in River Falls, Wisconsin, will show again on Wednesday.
Finishing second was Mike McEntire and KR Smart Gun. The pair marked a 215 and took home $769. KR Smart Gun, by Smart Spook and out of Gunner Git Ya Dun, is owned by Megan Lindberg.
The idea for adding the new futurity was to create a three-tiered menu of options to allow trainers to choose the right level of competition for their 3-year-old reining horses at the Tulsa Reining Classic.
The second tier of the futurity divisions will be held on Wednesday, with the Tamarack Ranch Developing Horse Futurity. There will be more opportunities for futurity horses later in the week with the XCS Non Pro Futurity and the Hollywoodstinseltown Open Futurity.
Toyon Ranch of Pilot Point, Texas is owned by John and Nancy Tague. The ranch focuses on breeding and bringing to market the highest quality reining prospects by pairing a diverse and proven band of mares with the reining world's leading stallions.
Cheryl Cody of the Tulsa Reining Classic show management team said, "We thank John and Nancy Tague of Toyon Ranch for their support of this innovative class."
For information on Toyon Ranch, visit the Toyon Ranch LLC Facebook page.
Complete news and results can be found at TulsaReining.com.
The National Reining Horse Association is not responsible for information contained in this press release. Please contact the author or submitting organization for further information, requests or questions.